In a world that never seems to slow down, creating cherished family memories becomes a precious treasure. This month, Radisson Resort Ras Al Khaimah Marjan Island invites you to turn their cozy rooms into your family's personal oasis. It's a chance to stay in, unwind, and make the most of every second together.
Picture this: You and your loved ones, surrounded by the tranquil beauty of Ras Al Khaimah, basking in the gentle embrace of Radisson Resort's warm hospitality. It's a getaway that promises relaxation, fun, and countless memories to treasure. And the best part? You can book your next family escape directly on their website, starting at just AED 370 plus taxes.
At Radisson Resort Ras Al Khaimah Marjan Island, every family member is in for a treat. While parents enjoy a stress-free and relaxing staycation, kids get to embark on an exciting holiday of learning and fun. The resort offers an array of activities designed to keep everyone entertained.
For the little ones, the Kids' Club is a hub of excitement. This month's lineup includes Bear Mascot shows, Clown shows, drawing, painting, PlayStation, Lego, and disco nights. Kids can also let loose at the lifeguarded kids' pool, complete with thrilling waterslides that promise hours of aquatic adventures.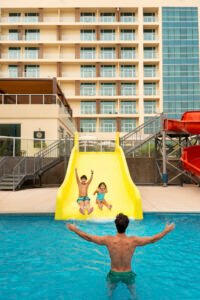 Adults, don't feel left out! Radisson Resort Ras Al Khaimah Marjan Island offers captivating live shows that will keep you entertained. From the mesmerizing Tanoura Dance to the fiery Fire Show, the acrobatic Led Show, and the entrancing Belly Dance, there's something for everyone. Catch these performances every Friday to Sunday from 8 PM to 9 PM at the beach.
If you're more of a music enthusiast, the resort has you covered as well. Enjoy the tunes of a live DJ every Tuesday to Wednesday from 9:30 PM till midnight at the RBG Bar. And on Thursday to Sunday, the beach and RBG Bar come alive with music from 7 PM to 12 midnight.
Families looking to add a splash of adventure to their stay can enjoy complimentary non-motorized water sports at the beach. From stand-up paddleboarding to kayaking and pedalos, there's a water activity for everyone. You can also bond over a game of beach volleyball, creating memories in the golden sands.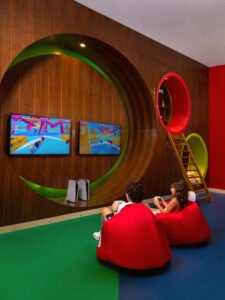 Satisfy your cravings at La Med Bistro & Bar with their Family Combo, perfect for sharing. Indulge in 2 pizzas or a Bucket of fried chicken along with 2 sides, 2 drinks, and 2 dips, all for just AED 125! This delectable offer is available from Friday to Sunday, 4 PM to 8 PM.
Nestled on Marjan Island, Radisson Resort Ras Al Khaimah Marjan Island offers direct access to the beach, spectacular views of the surrounding blue waters, and an abundance of on-site entertainment. Choose from stylish rooms overlooking the beach or the island and make use of premium facilities, including six dining options, outdoor pools, a designated kids' pool and play area, and a rejuvenating spa.
So, if you're dreaming of a family retreat where every moment is filled with joy, relaxation, and adventure, Radisson Resort Ras Al Khaimah Marjan Island is your destination. Create those unforgettable memories, one smile at a time!
Contact Details: Call +971 7 204 9000 or Email: reservations.rasalkhaimah@radisson.com
Visit the Website for more details.