As the scorching summer sun blazes on, escape the relentless heat and step into a thrilling world of unconventional entertainment at The Smash Room. Offering a unique package designed for the ultimate thrill-seekers, this summer promises to be an adrenaline-packed escape you won't soon forget. Gather your friends and family and get ready to break free from the ordinary.
Imagine a place where you can channel your energy and frustrations into an extraordinary experience. The Smash Room invites you to beat the heat by smashing away at 1 TV, 1 printer, and a whopping 30 glass items. This isn't just a leisure activity – it's an exhilarating outlet that lets you unleash your inner dynamo. From smashing the mid-week blues to feeling the rush of adrenaline with every shatter, this is your chance to experience an indoor adventure like no other.
The excitement doesn't stop there! The special summer package, priced at AED 349 for two people, allows you to dive headfirst into the smashing frenzy. Originally valued at AED 700, this is your golden opportunity to enjoy an incredible discount on an experience that promises both catharsis and a unique memory to cherish.
The thrill of The Smash Room is now even more accessible, with branches in both Dubai and Abu Dhabi ready to cater to your smashing desires. Whether you're in the heart of Dubai or exploring Abu Dhabi's vibrant scene, this electrifying escape is within your reach.
Venturing beyond the smashing realm, The Smash Room's new franchise location in Abu Dhabi introduces an exciting addition – "The Smash Room Café." Here, you can take a break and indulge in a variety of mocktails and specialty coffees that offer a moment of relaxation amidst the excitement. And for those who seek even more amusement, the new venue features the latest Arcade Games to keep you entertained between smashing sessions.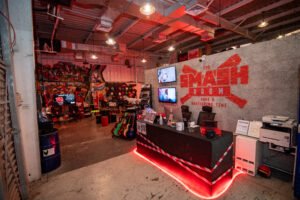 This summer, redefine your notion of fun and entertainment. The Smash Room's summer package invites you to step out of your comfort zone, release pent-up energy, and embrace the joy of breaking free. Valid until September 7th, this thrilling package beckons you to create memorable moments with your loved ones in a way that's truly out of the box.
It's time to shatter the ordinary and embrace the extraordinary. The Smash Room's sizzling summer package is your ticket to a unique adventure that combines exhilaration, bonding, and a whole lot of smashing fun. Whether you're in Dubai or Abu Dhabi, gather your crew and experience the rush of liberation as you unleash your smashing spirit. Book your spot now and let the smashing begin!
Visit the Website for more details.