Global Indian International School (GIIS) in Abu Dhabi recently got an electrifying jolt of creativity and rhythm with the arrival of one of India's leading music composers and singers, Shekhar Ravjiani. The legendary maestro behind chart-topping hits like "Tareefan," "The Disco Song," and "Radha," graced the GIIS Leadership Lecture Series initiative, giving selected students a rare opportunity to learn from the best.
But before the lucky few had a chance to audition for a spot in the Global Schools – Shekhar Ravjiani School of Music, Shekhar stole the show with a mesmerizing performance that left everyone spellbound. The GIIS student body erupted into thunderous applause, their voices and hands joining in perfect harmony with Shekhar's soulful tunes. It was a musical match made in heaven.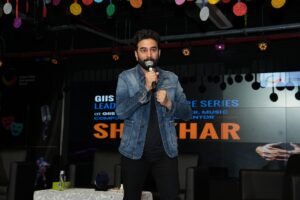 With the stage set and the students pumped up, Shekhar got down to business, sharing his insights and techniques with the eager aspirants. The session was an enriching and interactive masterclass, where Shekhar guided the students on how to bring out their best musical selves. He encouraged them to think beyond the notes and melodies and delve into the emotions that drive their passion for music. The students soaked up every word and beat, mesmerized by Shekhar's wisdom and charm.
The Global Schools – Shekhar Ravjiani School of Music is a unique collaboration between GIIS and the renowned musician. The program aims to nurture and mentor young talent in the field of music and offer a world-class music education that transcends borders. It's a testament to GIIS's commitment to experiential teaching methodologies that blend in-classroom and out-of-classroom experiences, like the Leadership Lecture Series.
Shekhar Ravjiani's association with GIIS is not new. He has been a valuable mentor and partner in the school's initiatives for many years. In 2020, Shekhar took his collaboration with GIIS to the next level by launching the Global Schools – Shekhar Ravjiani School of Music. The program has already made a significant impact on the music world, producing a new wave of musical prodigies.
During the Leadership Lecture Series, Shekhar also shared some exciting news about his latest venture – Garuda Musiic. The indie-record label is a creative platform that Shekhar launched earlier this year to showcase his songs and collaborate with new artists. The label has already made waves in the music scene with three successful releases in just three months. The fourth song, "Vasdaa," is slated for release on May 5th, with more exciting projects in the pipeline.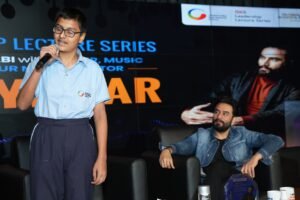 Mr. Amol Vaidya, Senior Director Operations, Country Director, UAE and KSA at Global Schools Foundation, said, "At Global Schools Foundation, we believe in investing in partnerships and initiatives that create a culture where talent and leadership are celebrated. Shekhar Ravjiani and Global Schools – Shekhar Ravjiani School of Music embody our vision and inspire our students to reach for the stars."
Shekhar Ravjiani's visit to GIIS Abu Dhabi was an unforgettable experience for everyone involved. The students left with a new perspective on music and a deeper appreciation for the creative arts. With Shekhar's guidance and inspiration, they are ready to take on the world, one note at a time.
Visit the Website for more details.