The anticipation is building as the illustrious Signor Sassi, London's most renowned Italian restaurant, prepares to make its grand debut on Dubai's culinary landscape. Set to open its doors at the end of September, this is a dining experience that promises to transport you straight to the enchanting landscapes of Lake Como.
The collaboration between Sunset Hospitality Group and San Carlo Restaurants brings us Signor Sassi – an Italian culinary haven nestled within the St. Regis Gardens at Palm Jumeirah, perched atop Nakheel Mall. With reservations now open, it's time to secure your spot at what is poised to be one of the most anticipated venue openings of 2023.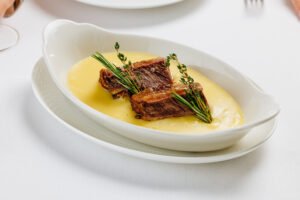 As you step into Signor Sassi Dubai, you'll find yourself immersed in a world inspired by the luxurious villas along Lake Como. The interiors reflect the opulence of the Northern Italian region, boasting colored marbles and polished timbers reminiscent of the elegant yachts that grace the lake's waters. A playful twist emerges with furniture selections inspired by iconic Italian designers like Gio Ponti, blending seamlessly with carefully curated décor elements from different eras and styles.
Prepare your taste buds for an unforgettable gastronomic journey. Signor Sassi's menu is a curation of Italian culinary mastery, promising dishes that capture the very essence of Italy. From the tantalizing Lobster "alla Catalana" with Tomatoes and Onions to the exquisite Tagliolini with Caviar and Lemon Sauce, every bite is an ode to the art of Italian cuisine. Don't miss out on the all-time favorites like The Famous Spaghetti Lobster, Seared Veal Escalope, and the delectable artisanal pizzas.
But it's not just the food that will enchant you. The restaurant boasts two bars – one within the indoor dining area and another on the covered terrace with a specially designed fountain. As the sun sets over Dubai's skyline, enjoy the meticulously crafted cocktails, including the signature Negroni, and explore an extensive collection of Italian wines and selections from around the world.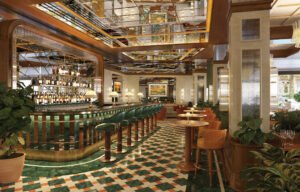 For the first month, the restaurant will open its doors exclusively for dinner service from 6pm to 2am, offering a perfect ambiance to revel in Italian excellence. And starting from October, you can enjoy an all-day dining experience that caters to your every craving.
Be part of the exclusive circle to experience the Italian magnificence of Signor Sassi in Dubai. Reserve your spot now and prepare for a dining experience that marries true Italian hospitality with a menu of unparalleled delights. Get ready to savor every moment, every bite, and every sip in a setting that encapsulates the spirit of Italy's culinary treasures. Your journey to Signor Sassi awaits!
Reservations are now open and can be made by visiting the website www.signorsassidubai.com, via email at reservations@seniorsassidubai.com, or by phone at +971 4 278 4848.