Get ready for an extraordinary indulgence as Belgian Beer Café proudly presents the "All Day Sunday Brunch" – a brunch phenomenon that will take your Sundays to new heights! Located in the heart of Dubai at the Grand Millennium Hotel, this epic culinary journey guarantees an unmatched experience filled with exciting games, tantalizing bites, and delightful beverages.
Aptly named the "All Day Sunday Brunch," this exceptional offering promises to elevate your taste buds to new heights. For just AED199 per person, including all drought beverages, guests are invited to enjoy a delightful 3-hour sitting at any time between 12:00 pm and 11:00 pm. The passionate team of chefs has curated an extensive array of traditional Belgian-themed food, bringing the vibrant streets of Belgium right to your table.
Kick off your brunch experience with beloved favorites like Bitterballen, Cheese Balls, Garlic Jalapeno Bread, Breaded Shrimp, BBQ Chicken Wings, and the iconic Belgian Fries.
The main course will spoil you for choice with options such as Grilled Salmon, succulent Beef Tenderloin, or juicy Grilled Chicken Breast, accompanied by Sauteed Mixed Vegetables and your choice of sauce from mushroom, pepper, or bearnaise. As you indulge in the delicious flavors, savor a free flow of exquisite Belgian draught hops, grape, and selected house spirits, ensuring your glass is always filled with delight.
But the All Day Sunday Brunch is not just about food and drinks; it's a celebration of fun and entertainment. Belgian Beer Café has set the stage for an exciting array of indoor games, including rooftop mini-golf, foosball, darts, and board games. As the jukebox fills the air with the freshest tunes, you get to choose the songs, keeping the party atmosphere alive all day long.
Sports enthusiasts are in for a treat as Belgian Beer Café is decked out with big screens, providing the perfect setting to cheer on your favorite teams while enjoying the delectable brunch.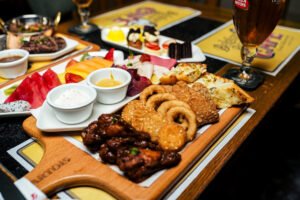 Priced at AED199 per person, the All Day Sunday Brunch offers an unparalleled value for an unforgettable experience packed with gastronomic delights, unlimited beverages, thrilling games, and live sports. Don't miss out on this culinary extravaganza! Starting from the 6th of August and continuing every Sunday, the All Day Sunday Brunch awaits you at Belgian Beer Café, ready to redefine your Sundays with an unmatched celebration of flavors, entertainment, and camaraderie.
Get ready to embark on a journey of delightful indulgence, where exciting games, mouthwatering dishes, and tantalizing beverages await. Gather your friends and family and head over to Belgian Beer Café for an all-day celebration that promises to leave you with lasting memories and a desire to return for more. The All Day Sunday Brunch is the ultimate way to elevate your Sundays and make them truly special!
When: Sundays from 12:00pm to 11.00pm  
Offer: Three-hour brunch sitting including unlimited food and selected house beverages  
Price: AED199 per person  
To book contact  fbreservations.gmhd@millenniumhotels.com or Direct Number:  04 423 4100
Visit the Website for more details.