Dubai's nightlife scene is about to get a whole lot hotter as En Fuego, the city's newest South American hotspot, launches 'Viva La Noche' ladies' night. Get ready for Thursdays to turn into sizzling soirées as En Fuego at Atlantis, The Palm, invites you and your friends to a night of culinary delights, electrifying performances, and endless fun.
The stage is set, and the date is locked: 'Viva La Noche' kicks off every Thursday, starting September 14th, from 9:00 pm to 1:00 am. Ladies, prepare for an unforgettable evening filled with the vibrant flavors of South American cuisine, all at an incredible value of AED 149. Whether you're looking for a well-deserved catch-up session or a chance to dance the night away, En Fuego promises a night brimming with joy, laughter, and exhilarating entertainment.
The ladies' night menu at Viva La Noche is a gastronomic delight. You'll have the choice between one starter and one main course or one main course and one dessert. The starters include mouthwatering options like Chicken Al Pibil, Black Bean Tostada, House Guac, and the irresistible Avocado Ceviche. Mains feature the sizzling Seabass Encocado, Chicken Quesadilla, Roasted Cauliflower, and the nostalgic Grandma's Enchiladas. And for those with a sweet tooth, delectable desserts await, including the indulgent tres leches featuring vanilla sponge with caramelized popcorn and corn ice cream.
The package also includes three beverages, offering a choice from a selection of house spirits, wines, beers, and En Fuego's special cocktails inspired by the bold spirit of South America. Whether you prefer a classic sip or an adventurous concoction, there's something to tantalize every palate.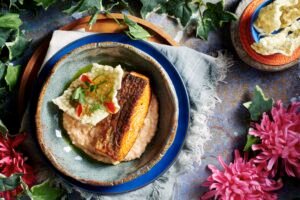 As the night unfolds, En Fuego will keep you entertained with live performances. A six-piece band will serenade you with popular South American hits, while energetic dancers set the stage on fire. Dance the night away with En Fuego's vibrant samba duo, and brace yourself for playful surprises with the Fire Gypsy.
So, gather your friends and mark your calendars for 'Viva La Noche,' the ultimate ladies' night that promises to rekindle friendships and create unforgettable moments. Starting September 14th, from 9:00 pm to 1:00 am, head to En Fuego, Atlantis, The Palm, and dive into a world of flavors, music, and fun. It's an experience priced at just AED 149 per person (21+).
Don't miss out on Dubai's newest hotspot's recipe for an unforgettable Thursday night – it's a fiesta you'll want to relive again and again!
Instagram: @enfuegodubai
Visit the Website for more details.