The electric mobility landscape just got a thrilling makeover with the launch of TVS X, the flagship crossover EV from TVS Motor Company. This groundbreaking machine is more than just an electric vehicle; it's a paradigm shift in sustainable urban transportation. Packed with cutting-edge design, unbeatable performance, and advanced technology, the TVS X sets a new standard in the global electric mobility industry. As we embrace a greener future, TVS Motor Company leads the charge by offering an exquisite blend of innovation, sustainability, and style.
With the world's eyes on electric vehicles, the TVS X emerges as a game-changer. Crafted with a 'rider-first' philosophy, this lean-mean-clean machine is engineered for rider-machine unity. Designed, developed, and proudly made in India, the TVS X boasts a powerful electric motor and state-of-the-art battery technology. It promises not just thrilling acceleration but also an impressive range, making it the ultimate zero-emission solution for urban adventurers.
The TVS X is built to deliver an electrifying performance. It's not just powerful; it's the most powerful EV in its segment, with 0-40 km/h acceleration in a mere 2.6 seconds and a sustained max speed of 105 km/h. This electrifying performance comes from the Permanent Magnet Synchronous Motor (PMSM) motor, supported by an integrated controller developed in-house by TVS Motor. It's the perfect blend of power and efficiency, offering you the ride of a lifetime.
At the heart of the TVS X is its cutting-edge design philosophy, where form follows function. The result? A visually stunning silhouette that's not just beautiful but aerodynamically optimized for speed and agility. The TVS Xleton frame, crafted from high-precision cast aluminum alloy, sets an industry benchmark for stiffness and durability. The minimized drag resistance ensures peak efficiency, and the segment-first Ram Air Cooled Motor keeps performance consistent.
In the tech-savvy world, staying connected is essential. The TVS X leads the way with a 10.2-inch HD+ TFT touchscreen, the largest in its class. Integrated with the next-gen TVS SmartXonnect platform, it brings context-aware information to your fingertips. The onboard navigation system, TVS NavPro, pre-emptively maps charging stations, making your journeys hassle-free and efficient.
Safety takes center stage with the TVS X. It introduces TVS Smart Xhield, a layer of proactive safety features including crash alerts and tow alerts, enhancing rider security. Live vehicle location sharing straight from the cluster is an industry first. Plus, the TVS X comes with the latest generation of ABS, ensuring confident stops in emergencies.
The TVS X is all about personalization. Choose from a wide array of widgets to customize your information display, select themes, or even upload your pictures as cluster wallpaper. It's your ride, your way. Unlock your TVS X in four unique ways, ensuring easy access and added security.
With its remarkable performance, premium aesthetics, and integrated, intuitive, and personalized experiences, the TVS X redefines electric mobility. TVS Motor Company's dedication to harnessing technology and innovation for a sustainable future has culminated in this incredible machine. As Mr. Sudarshan Venu, Managing Director, TVS Motor Company, says, "It leads the way to become a global benchmark for a machine that is born electric."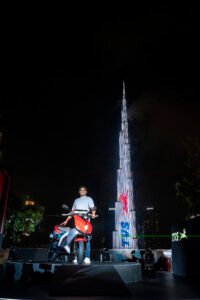 The TVS X is not just a vehicle; it's a statement, a shift towards a premium, sustainable, and technologically advanced future. As we focus on key international markets, TVS Motor aims to introduce the TVS X across the globe, offering an elevated commuting experience to customers worldwide.
The TVS X is available at a thrilling introductory price of INR 2,49,990 (Ex-showroom Bengaluru), with portable 950W chargers at INR 16,275 (including GST). For those who want the ultimate experience, a 3kW Smart X Home rapid charger is available as an option. Be among the first 2,000 owners of the TVS X, each distinguished by the coveted "First Edition" insignia. This exclusive offer includes Concierge service and a Garmin Smartwatch, designed to complement your TVS X journey, all for just Rs 18,000.
The future of electric mobility is here, and it's called the TVS X. Deliveries start in November 2023 in 15 cities, so be among the pioneers of this thrilling revolution. With the TVS X, the future of urban commuting is here. Get ready to embark on a thrilling journey towards sustainability and innovation!
Visit the Website for more details.