What better way to savor the joys of a leisurely Saturday than indulging in an exquisite lunch buffet at Medley Restaurant, nestled within the luxurious Pullman Dubai Creek City Centre. Get ready to embark on a culinary journey that will leave your taste buds dancing with delight. From international delicacies to a tempting array of desserts, this lavish spread promises to elevate your weekend to a whole new level of gastronomic bliss!
As you step into Medley Restaurant, the inviting aroma of freshly prepared dishes welcomes you with open arms. The elaborate buffet boasts a diverse selection of international flavors, ensuring there's something to please every palate. Begin your culinary exploration with crisp, fresh salads like the Greek Country Salad, enhanced by a delightful Oregano dressing and Feta Greek Yoghurt. Explore an array of appetizers, including the tantalizing Shrimp Tempura and an assortment of Sushi freshly rolled for your pleasure at a live cooking station.
The journey continues as you encounter a symphony of main course delights. Revel in the aromatic Mutton Biryani, thoughtfully paired with your favorite condiments, and savor the rich flavors of Chicken Tagine with olives and lemon. Seafood lovers will delight in the delectable Seafood Thermidor, a delightful treat for the senses. Each dish is meticulously prepared to perfection, offering a harmonious blend of culinary craftsmanship.
No culinary adventure is complete without a delightful finale, and Medley Restaurant delivers just that with an array of mouthwatering desserts. Treat yourself to the beloved Umm Ali, a traditional Arabic delight infused with the essence of indulgence. Delight in an assortment of pastries and cakes that will satisfy any sweet tooth, and savor the exquisite taste of the classic Tiramisu with coffee cream – a dessert lover's dream come true!
At Medley Restaurant, catering to your preferences is their top priority. Choose from a range of packages tailored to make your Saturday truly exceptional. For AED 135 per person, enjoy the buffet accompanied by refreshing unlimited soft beverages. For a more indulgent experience, opt for the AED 255 package, inclusive of house beverages to complement your meal. Families are well taken care of with the AED 85 package for children, offering unlimited soft beverages to accompany their delightful journey of flavors.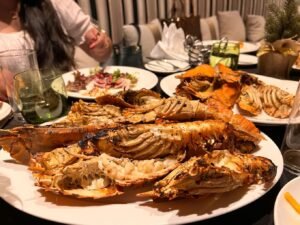 Making your reservations for this culinary extravaganza is a breeze. Call 04 603 8201 or reach out via WhatsApp at +971 55 959 1018. Alternatively, email H2022-FB2@accor.com to secure your spot at Medley Restaurant. Book early to avoid missing out on this delightful Saturday treat!
Step into the world of Medley Restaurant at Pullman Dubai Creek City Centre and unlock a culinary journey like no other. Embrace the flavors of the world, celebrate the joy of good food, and create cherished memories with your loved ones. Saturdays have never been more satisfying – with Medley Restaurant, they are truly done right!
Visit the Website for more details.