Brace yourselves for a game-changing experience as Drink Dry, the unstoppable force behind the non-alcoholic beverage revolution, unveils its latest masterpiece: Drink Dry Lab! Tucked away in the prestigious Dubai International Financial Centre (DIFC), this one-of-a-kind concept bar is about to take the UAE by storm. Get ready to join the party and unleash your inner adventurer, because Drink Dry Lab is here to shake up the sober curious scene like never before!
Folks, prepare to have your taste buds dazzled and your senses awakened! Drink Dry Lab is your golden ticket to a magical world of non-alcoholic wonders. Step through the doors of this enchanting establishment, located in the heart of Roberto's DIFC, and prepare for a journey like no other. With its team of skilled mixologists eagerly awaiting your arrival, you'll be guided on an unforgettable exploration through the vast Drink Dry universe.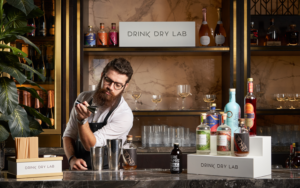 Calling all aspiring mixologists and flavor adventurers! At Drink Dry Lab, you get to be the maestro of mixology. Let your creativity run wild as you craft your very own non-alcoholic concoctions. From zesty citrus-infused mocktails to dreamy berry-blasted elixirs, the options are as limitless as your imagination. This is your chance to shake, stir, and sip your way to liquid bliss!
But wait, there's more! Drink Dry Lab isn't just for the individual enthusiasts; it's a paradise for hospitality superheroes too. Picture this: experienced drink connoisseurs working hand in hand with the talented Drink Dry team, conjuring up innovative and tantalizing non-alcoholic creations. Whether you're a seasoned industry pro or an up-and-coming star, Drink Dry Lab offers you a playground to bring your wildest beverage dreams to life.
Drink Dry Lab isn't just a bar; it's a vibrant ecosystem where ideas flow like sparkling streams. Dive headfirst into the sea of possibilities as you navigate the extensive Drink Dry portfolio. Discover an array of non-alcoholic drinks that will leave you breathless, each sip unveiling a new layer of flavor and excitement. Say goodbye to browsing through online catalogs or wandering aimlessly in supermarkets—here, you get to experience the magic firsthand!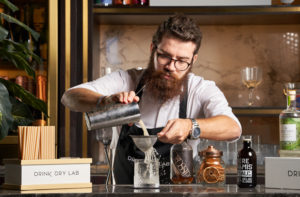 Hold on, it gets even better! Satisfying your non-alcoholic cravings has never been easier. Drink Dry offers free home delivery across Dubai on orders over AED 250, ensuring that the delicious elixirs you desire reach your doorstep in no time. Plus, if you place your order before 1:00 pm, you'll enjoy same-day delivery. Convenience has a new name, and it's Drink Dry!
Ladies and gentlemen, prepare to be dazzled, tantalized, and transported to a non-alcoholic wonderland like no other. Drink Dry Lab is your ultimate destination for non-stop flavor adventures and mixology magic. Step inside and let your taste buds take flight as you unlock the secrets of the NoLo revolution. Whether you're a curious individual or a hospitality trailblazer, Drink Dry Lab invites you to embrace the thrill of discovery, where taste knows no boundaries. Get ready to sip, savor, and celebrate the extraordinary at Drink Dry Lab—the hottest spot for non-alcoholic delights in the UAE!
Contact Details: +971 56 749 5255 or Email: sales@drinkdrystore.com
Instagram: @drinkdrystore
Visit the Website for more details.