Brace yourselves for the 8th edition of AI Journey, the international conference on artificial intelligence and machine learning, hosted by Sber. From November 22-24, this groundbreaking event will bring together leading Russian and international experts, converging on the forefront of AI innovation and its impact on science, business, and society.
AI Journey 2023 will delve into the heart of AI, exploring the latest designs, scientific breakthroughs, and the pivotal role AI plays in government initiatives and business development. This immersive experience will not only showcase the best AI implementations across various economic sectors but also shed light on cutting-edge technologies, including computer vision, speech analytics, graphs, large language models, and generative AI.
The conference agenda goes beyond technological marvels. It will address crucial aspects of AI, such as regulations, ethics, and its role in building solutions for the public good. Sustainability and ESG (Environmental, Social, and Governance) will take center stage, highlighting how AI can be a force for positive change in the world.
AI Journey will feature three subject-matter tracks: Science, Business, and Society. Top experts will share insights on AI implementation cases, practices, and the transformative impact of this technology. Additionally, the event will unveil the results of AI Journey Science, an open contest for research papers, along with two international online challenges in AI – the AI Challenge and AIJ Contest.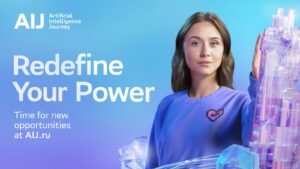 Alexander Vedyakhin, First Deputy Chairman of the Executive Board at Sberbank, expresses the significance of this gathering for the research community. He emphasizes the power of AI to unlock new talents, explore the unknown, and make groundbreaking discoveries. AI is not just a technological tool; it's a catalyst for global competitiveness.
"The international conference AI Journey has become a good tradition for this country's research community. Last year, it featured more than 150 speakers from 50 research and business organizations, streamed live in 193 countries. Artificial intelligence gives humanity true superpowers, helps unlock new talent, explore the unknown, and make great discoveries. AI enables our developers to create top-notch products that are highly competitive in the global market. I invite everyone who relates to this topic to join us on our AI Journey," says Alexander Vedyakhin.
AI Journey 2023 isn't just a conference; it's a journey into the future of artificial intelligence. Whether you're a scientist, a business leader, or someone passionate about the societal impact of AI, this event is your gateway to understanding and shaping the future.
Mark your calendars for November 22-24 and embark on the AI Journey with Sber. The future of AI awaits, and you're invited to be a part of it!
Visit the Website to follow the conference and livestream.