Get ready for a mind-blowing night of rock 'n' roll as the legendary Guns N' Roses teams up with the explosive rising stars Girish and the Chronicles (GATC) for an electrifying show at the Etihad Arena, Yas Island, Abu Dhabi. This thrilling collaboration brings together the icons of rock and the raw energy of the next generation, promising an unforgettable experience for all fans of Hard Rock and Heavy Metal.
Hailing from the scenic Sikkim region of India and now based in Bengaluru, Girish and the Chronicles have been making waves in the rock music scene since their formation in 2009. Their signature blend of Hard Rock, Melodic Rock, and Heavy Metal has captivated audiences far and wide. With soaring vocals, blazing guitars, thunderous basslines, and pounding drums, GATC channels the spirit of classic '80s rock with a modern twist.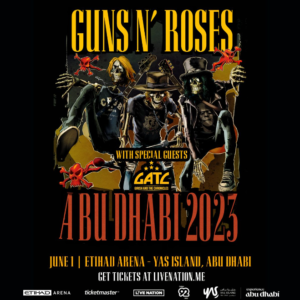 GATC's electrifying live shows have become the stuff of legends, earning them a dedicated following across India and beyond. Sharing the stage with renowned acts like Hoobastank, Poets of the Fall, and Destruction, the band has proven their mettle as a force to be reckoned with. Their albums, including the critically acclaimed "Back on Earth," "Rock The Highway," and the recent "Hail To The Heroes," have garnered praise from classic rock enthusiasts.
Prepare to witness an explosive collision of rock legends and rising stars as Guns N' Roses welcomes Girish and the Chronicles as their special guest in Abu Dhabi. This dynamic combination promises an unforgettable night of high-octane performances, as the iconic rock anthems of Guns N' Roses blend with the raw energy and passion of GATC. Brace yourself for a concert experience that will leave you breathless.
Don't miss out on this once-in-a-lifetime opportunity to witness the electrifying union of two incredible bands. Tickets for the Guns N' Roses show, featuring Girish and the Chronicles as the support act, are now on sale! Get ready to unleash your inner rocker as Guns N' Roses and Girish and the Chronicles join forces in Abu Dhabi. This explosive collaboration promises an evening of rock 'n' roll magic, where the legends of the past meet the rising stars of the present. Secure your tickets now and prepare for a high-voltage performance that will shake the very foundations of the Etihad Arena. It's time to crank up the volume and let the music take control!
Visit www.livenation.me to secure your spot and be part of a rock spectacle that will resonate for years to come.
For more information on Guns N' Roses, check out their official website www.gunsnroses.com or follow them on Instagram.
To dive deeper into the world of Girish and the Chronicles, visit www.girishandthechronicles.com.