In a symphony of culture and gastronomy, Dubai's Park Hyatt invites you to immerse yourself in the ethereal ambiance of Thai traditions during the enchanting Loy Krathong festival. Set against the backdrop of the city's dazzling skyline, The Thai Kitchen at Park Hyatt Dubai is poised to transform into a haven of elegance and heritage from November 27th to 28th, welcoming patrons to a celebration steeped in Thai culture and culinary finesse.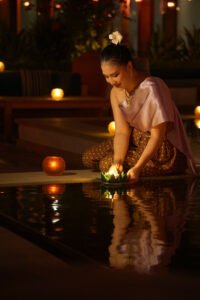 As twilight descends, an air of anticipation envelopes the evening. On November 27th at 6:30 PM, the mesmerizing Loy Krathong ceremony will commence—a time-honored Thai ritual celebrating water, light, gratitude, and good fortune. Guests will be entranced as floating baskets are released, adorning the water with a gentle glow, complemented by the soft melodies of traditional Thai music and the enchanting rhythm of cultural dances. Welcome drinks and delightful canapés on The Lounge terrace set the stage for the forthcoming festivities, teasing the senses and heightening the anticipation for the night's spectacle.
The Thai Kitchen, helmed by the esteemed Chef Bon, beckons connoisseurs of fine dining to partake in a specially curated, family-style sharing menu—an ode to tradition, luxury, and the artistry of Thai cuisine. The culinary odyssey commences with tantalizing starters, including the Thung Thong Gai and Pla Goong Yang, paving the way for the palate to explore the depths of Thai flavors.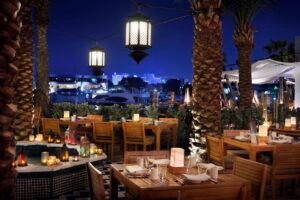 As the evening unfolds, guests are treated to a medley of flavorful mains, featuring the aromatic Panaeng Neua and Gai Nueng Samun Praiu, each dish a testament to Chef Bon's expertise and passion. A sweet symphony awaits as the meal concludes, featuring an array of exquisite Thai desserts, including the delectable Khao Niew Mamuang, Bua Loy, and I-tim Kathi, meticulously crafted to satiate the sweetest cravings.
Details:
Date: Monday, November 27th – Tuesday, November 28th
Time: 6 PM to 12 AM
Price: AED 475 for 2 persons (sharing-style)
Note: The Loy Krathong ceremony commences on Monday, November 27th at 6:30 PM at The Lounge terrace.
Visit the Website for more details.