As the calendar page turns to the end of September, Dubai residents and visitors alike have the chance to savor the last days of Restaurant Month at the illustrious JW Marriott Marquis Dubai. This renowned hotel, celebrated for its culinary excellence, invites food enthusiasts to embark on a gastronomic journey filled with enticing dining offers, starting from a wallet-friendly AED125. Whether your taste buds yearn for gourmet burgers, authentic Italian fare, tantalizing Thai cuisine, or exquisite Indian dishes, JW Marriott Marquis Dubai has curated an impressive array of options to cater to every palate.
At JW Marriott Marquis Dubai, discerning diners will discover an impressive roster of signature restaurants, each offering a unique culinary experience. Here's a taste of what awaits: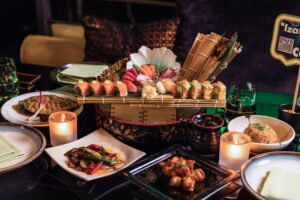 At Bridgewater Tavern, indulge in a laid-back dining experience with the special Big Boy Burger and two hops deal, all for a mere AED125. Alternatively, opt for the Lush Burger, a homegrown burger spot enticing diners with a Double Meal Combo featuring two burgers, a side of fries, froyo, and two bottles of hops.
La Farine beckons those seeking an elevated dining affair with a three-course meal that includes a delightful starter, a hearty main course, and a decadent selection from the dessert counter, all for just AED125.
Positano transports diners straight to Italy with bottomless Spaghetti Bolognese and Pizza, complemented by a scoop of Gelato or Tiramisu, available every night of the week.
Kitchen6 promises an epicurean adventure through an expansive international buffet, boasting a diverse selection of starters, salads, desserts, and a vibrant atmosphere to enhance your dining experience.
For those in search of a more sophisticated dining experience, Restaurant Month at JW Marriott Marquis Dubai offers exclusive deals at its award-winning restaurants:
Prime68 presents a three-course set menu against the stunning backdrop of Dubai's skyline, all for AED245.
Rang Mahal tempts patrons with a five-course set menu, featuring the best of Indian cuisine, with options for vegetarians.
Tong Thai offers a four-course menu that takes your taste buds on a journey through authentic Thai flavors.
Izakaya, a lively and upbeat Japanese spot, serves up a sushi and sashimi combo, accompanied by edamame and a delectable Yuzu Cheesecake for dessert.
Do not let this exceptional opportunity slip through your fingers. Explore the award-winning dining destinations at JW Marriott Marquis Dubai during Restaurant Month, and savor these delectable culinary deals before the clock strikes September 30th. Whether you're a connoisseur of gourmet burgers, a lover of international buffets, or an aficionado of Asian and European cuisines, JW Marriott Marquis Dubai promises an unforgettable dining experience. Hurry and make your reservation to delight in the flavors of Restaurant Month before it concludes!
For reservations, please call 04 414 3000 or visit https://www.marriott.com/en-us/hotels/dxbjw-jw-marriott-marquis-hotel-dubai/dining/explore-culinary-delights/seasonal-offers/ .
Instagram: @jwmarriottmarquisdubai