As the sun casts its golden glow over Dubai, Al Seef Heritage Hotel beckons travelers to experience the perfect blend of culture, relaxation, and savings. This summer, the renowned hotel unveils an irresistible offer that promises to make your stay truly memorable.
Picture this: You, basking in the lap of luxury at Al Seef Heritage Hotel, surrounded by the allure of old Dubai. Now, imagine getting more of it for less. With the "Summer Offer: Stay Longer and Save More," your dream vacation becomes a reality. Guests who book a minimum stay of 3 nights will be treated to an exclusive 20% discount on their bookings. It's not just a stay; it's a summer escapade like no other.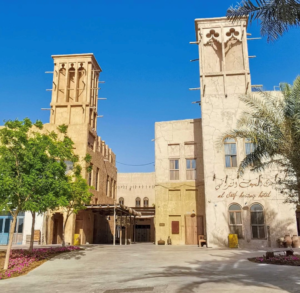 The beauty of this offer lies in its availability. This delightful opportunity to experience opulence doesn't have an expiration date – it's ongoing. So, whether you're planning a quick getaway or a longer retreat, Al Seef Heritage Hotel welcomes you with open arms and enticing savings.
But there's more to this story. Al Seef Heritage Hotel doesn't just offer luxury; it invites you to become a part of Dubai's rich history. With the "Complimentary Museum Ticket" offer, your stay transcends the ordinary. By using the code PR09BM while reserving your accommodation on Hilton.com, you gain complimentary access to the captivating Shindagha Museum.
The Shindagha Museum is a treasure trove of Dubai's vibrant past, a place where history comes alive. It's an opportunity to walk in the footsteps of generations, to immerse yourself in the city's heritage, and to create memories that will last a lifetime. Your stay at Al Seef Heritage Hotel is more than just a vacation; it's a journey through time.
So, this summer, escape to Al Seef Heritage Hotel and make it a season to remember. With enticing savings, cultural experiences, and the luxury you deserve, it's a chance to create stories you'll cherish forever. The heart of old Dubai is waiting to embrace you, and the time to book your getaway is now!
Visit the Website for more details.