Hey there, music lovers in the UAE, we've got some seriously cool news for you! Madame Tussauds Dubai has just unveiled the wax figure of none other than the legendary Arab artist, Majid Al Mohandis. It's like a dream come true for fans, and the big reveal happened at an epic event at Madame Tussauds Dubai on Bluewaters.
Now, we all know Majid Al Mohandis for his mesmerizing voice and those songs that tug at our heartstrings. But here's a little tidbit you might not know: When he first set out on his musical journey, he picked up an oud to practice and work on his songwriting skills. Fun fact: He's not just a musical genius; he's also an engineer by education, hence the nickname "Al Mohandis" which means "the engineer" in Arabic, given to him by his adoring fans.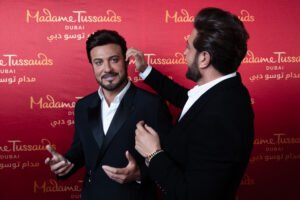 Majid has been rocking the music scene for over 20 years, and his soulful voice and emotional depth have won him countless awards and a place in the hearts of fans worldwide. They call him "the Prince," "Voice of a Diamond," and "the Engineer of the Arabic Song." His career is a glittering success story, and he's not slowing down anytime soon.
The decision to immortalize him in wax was met with sheer excitement from his dedicated fan base. At the unveiling event, Majid Al Mohandis came face to face with his wax doppelganger, and you can imagine the buzz it created among media folks and influencers who were there to witness the magic.
Creating this wax figure was no joke. It involved a lot of hard work from the talented artists at Madame Tussauds and a dedicated team that collaborated closely with Majid himself. The result? A wax figure that's a spitting image of the man, complete with a stylish suit that's just as unique as he is.
Majid himself was pretty stoked about it. He said, "I was super excited about the wax figure unveiling, and when I saw it, I was blown away by how much it looks like me – from the facial expressions to the body language. Today, this figure is another milestone in my career, and I'm thrilled to share it with my friends, fans, and the media."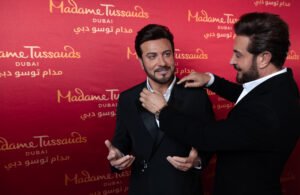 Sanaz Kollsrud, the General Manager of Madame Tussauds Dubai, couldn't hide her excitement either. She said, "We're absolutely thrilled to have Majid Al Mohandis at Madame Tussauds Dubai. We've put in a ton of work to make sure this wax figure captures his essence, and we invite fans from all over to come check it out."
And guess what? You can find Majid Al Mohandis' wax figure hanging out with the likes of Taylor Swift, Rihanna, and Justin Timberlake in the A-List Music Party Zone at Madame Tussauds Dubai. This just goes to show how committed they are to celebrating both international superstars and local legends.
So, if you're in Dubai, this is a must-visit spot for music and culture enthusiasts. You can interact with your favorite icons and be a part of this exciting new addition to the Madame Tussauds family.
Visit the Website for more details.