Step into the extraordinary as Trader Vic's, nestled within the vibrant heart of JBR at Hilton Dubai Jumeirah, unveils an enchanting extravaganza that will leave you in awe: Christmas in July! Get ready to experience the magic and wonder of the holiday season right in the middle of summer, where snowflakes mingle with sunshine and festivities take on a whole new level of excitement. From July 17th to 22nd, prepare to be transported to a winter wonderland like no other, where joy and merriment know no bounds.
Trader Vic's will be completely transformed into a whimsical winter wonderland that will ignite your imagination and awaken the childlike wonder within you. The entire venue will be adorned with stunning Christmas decorations, creating a magical atmosphere that will transport you to a land of festive cheer and joy. You'll find yourself surrounded by twinkling lights, glittering ornaments, and all the enchantment that makes Christmas truly special.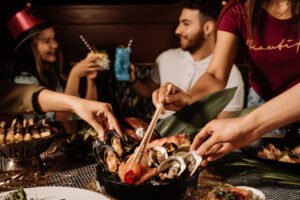 But it's not just about the visuals—prepare your taste buds for an extraordinary journey through the flavors of the season. From July 17th to 21st, Trader Vic's will offer a special Christmas menu that will tantalize your senses and leave you craving for more. Picture this: a mouthwatering Maple Glazed Turkey Roll and Trimmings, priced at AED 250. This culinary masterpiece features succulent turkey roll infused with a rich chestnut beef stuffing, accompanied by spiced pumpkin puree, roasted baby potatoes, sautéed Brussels sprouts, sautéed green beans, turkey gravy, and cranberry sauce. It's a feast fit for kings and queens, guaranteed to make your taste buds dance with delight.
Now, get ready for the grand finale—the epic "BIG Christmas Brunch" on July 22nd. This is the culinary experience you've been waiting for, where flavors and aromas from around the world come together to create a feast of epic proportions. Imagine starting your journey with hot starters like Jalapeño Cheese Balls, Vegetable Spring Rolls, and Chicken Wings with Spicy Maple Sauce. Dive into the tantalizing world of Wonton Tacos with a variety of mouthwatering fillings. And that's just the beginning! The Salad Bar and Main Course Carving Live Stations will tempt you with a delectable selection of seafood, roasted turkey, Asian Paella, roast beef, and so much more. But wait, there's more! Indulge in Crazy Poke Bowls, Bao Buns, Dim Sum, and Egg Noodles prepared right before your eyes. And to end the feast on a sweet note, a tempting array of desserts awaits, ready to satisfy your sweet tooth and leave you in a state of pure bliss.
Now, let the festivities continue with a fun twist. Put on your most festive attire and get ready for the "best dressed" competition during Saturday brunch. Show off your creativity and Christmas spirit with your finest Christmas attire, from quirky ugly Christmas sweaters to stunning holiday-themed outfits. The best-dressed guests will have the chance to win amazing giveaways and prizes. And that's not all—brace yourself for a special appearance by none other than Santa Claus himself! Santa will be spreading joy and cheer, posing for photos and adding an extra sprinkle of magic to your Saturday brunch experience.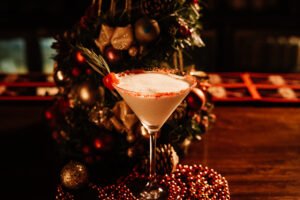 So, mark your calendars and get ready to immerse yourself in the holiday spirit at Trader Vic's Christmas in July celebration. Escape to a winter wonderland in the heart of Dubai and let the magic of Christmas fill your summer days with joy and merriment.
Don't miss this extraordinary opportunity to celebrate Christmas in July, where the wonders of the holiday season meet the warmth of the summer sun. Trader Vic's invites you to indulge in the magic, flavors, and festivities that will create memories to last a lifetime. Get ready to experience Christmas like never before—where dreams come true, even in July!
Contact Details: Tel.(0)4 318 2319 or Email restaurant_jbr@hilton.com.
Instagram: @tradervicsjbr
Visit the Website for more details.