Brace yourselves for an enthralling journey as Nirvikar Films pulls back the curtain on "Aakhri Sach," an electrifying Hindi-language crime investigation thriller series, exclusively available on Disney+ Hotstar. In this captivating series, you'll be taken on an unforgettable ride into the intricate web of fate, where concealed family secrets and unfathomable horrors await discovery. "Aakhri Sach" draws its inspiration from real-life events and unfolds the chilling tale of a family of 11 found mysteriously hanging in their Delhi home, leaving behind no explanation or apparent domestic turmoil. As the plot thickens, a determined young police officer, portrayed brilliantly by the talented Tamannaah Bhatia, embarks on a relentless journey to unearth the truth behind these baffling deaths.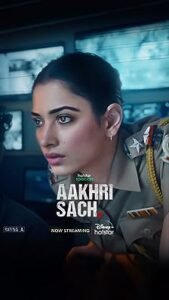 In a press conference that crackled with excitement, the creative geniuses behind "Aakhri Sach," Ujwal Anand and Shivin Narang, interacted with the media to introduce their latest masterpiece. This momentous occasion marks the debut of Nirvikar Films and Nikhil Nanda, a notable Producer/Actor, in the world of OTT entertainment, heralding a new era in the realm of storytelling.
Additionally, this auspicious occasion heralds the announcement of Nikhil Nanda's latest venture, Nikhil Nanda Motion Pictures, which pledges to deliver top-notch entertainment for both OTT platforms and the silver screen.
Nikhil Nanda, a distinguished entrepreneur and emerging actor-producer, couldn't contain his excitement for "Aakhri Sach." He stated, "The show promises to seamlessly blend emotions and thrills, making it a must-watch for audiences of all ages. With an exceptional cast, 'Aakhri Sach' has already taken India by storm, securing the coveted position of being the No. 1 show on Disney+ Hotstar. I extend my heartfelt gratitude to Gaurav Banerjee, Head Content at Disney+ Hotstar, and Varun Malik, Executive Producer at Hotstar, for their unwavering support. I'd also like to acknowledge the dedicated crew members who poured their heart and soul into bringing this show to life."
Ujjwal Anand, Executive Producer and an indispensable part of Nirvikar Films and "Aakhri Sach," reflected on the journey and said, "Filming in the scorching Delhi heat presented its challenges, but our exceptional teamwork transformed these challenges into opportunities, enabling us to create sheer magic. Led by Director Robbie Grewal, our team invested immense effort into this project. I'm elated by the response the show has received, reinforcing the fact that stories inspired by real events deeply resonate with audiences."
Shivin Narang, who brings Aman, the central character in the series, to life, shared his thoughts, saying, " 'Aakhri Sach' is a multifaceted, fast-paced crime series that will leave viewers yearning for more. The script's intriguing twists and turns compelled me to take the plunge and become a part of this remarkable project."
Nikhil Nanda Motion Pictures is currently engaged in discussions with prominent OTT players, with announcements regarding new projects expected shortly. Robbie Grewal takes the helm as the director of "Aakhri Sach," with Neeti Preeti playing pivotal roles within the Nirvikar Films team.
Prepare yourself for an immersive experience as "Aakhri Sach" unravels the enigmatic mysteries hidden beneath the surface. With suspense, emotion, and an exceptional cast, this thriller promises to redefine Indian entertainment. Don't miss out on this edge-of-your-seat journey, exclusively on Disney+ Hotstar.
Stream all the Episodes here.