Dubai's bustling streets witness a new arrival, a breathtaking amalgamation of audacious sportiness and refined elegance—the INFINITI QX55. Reverberating through the cityscape, this sporty coupe SUV isn't merely a vehicle; it's a statement, a promise of unparalleled driving fervor in a package that exudes sophistication.
At the heart of this automotive marvel lies a 2.0-liter variable compression turbocharged four-cylinder engine. Boasting an impressive 268 horsepower, the QX55 becomes a pulsating powerhouse, igniting the roads with its spirited presence. The Continuously Variable Transmission ensures a seamless journey, translating the slightest touch into a thrilling surge forward.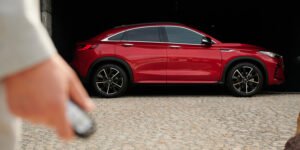 Yet, it's not just about raw power; it's about the harmonious dance between strength and grace. The standard Intelligent All-Wheel Drive ensures unwavering stability, empowering drivers to conquer diverse terrains with unmatched confidence.
Every inch of the QX55 is meticulously sculpted, embodying a sense of agility and might. The sleek silhouette and the option of vibrant colors like the passionate Sunstone Red beckon individuals to embrace their uniqueness while symbolizing the vehicle's dynamic persona.
Step inside, and the QX55 unveils its inner sanctuary—a haven where comfort meets innovation. The smooth suspension tenderly navigates the bustling streets while an array of safety features, from Forward Emergency Braking to Predictive Forward Collision Warning, stands as vigilant sentinels, ensuring a secure passage.
The cabin is an epitome of luxury and technological finesse. Dual infotainment touchscreens and the symphony-like Bose® premium audio system elevate the driving experience, creating an immersive environment that indulges the senses.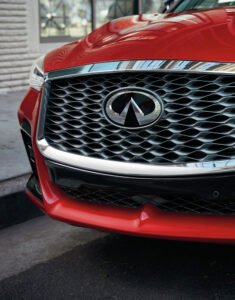 Ascend through the trim levels, and opulence becomes your companion. Every detail speaks of sophistication, from the meticulously crafted interiors to the supple leather panels that caress the senses.
The INFINITI QX55 isn't just a vehicle; it's a transcendent experience, designed to redefine standards and create new benchmarks. For those enthusiasts yearning for a seamless fusion of sporty thrill and refined elegance, the QX55 stands tall, ready to take you on an exhilarating journey.
Embrace the opportunity to explore the INFINITI QX55. Visit the nearest INFINITI of Arabian Automobiles center in Dubai, Sharjah, or the Northern Emirates, and experience the symphony of power and poise firsthand.
Visit the Website for more details.