In the heart of Dubai, where life pulsates ceaselessly, a new narrative is being spun by Pan Home. In a world that prizes every tick of the clock, Pan Home acknowledges that quality sleep is the cornerstone of a life truly lived. Recognizing the profound influence of sleep on our moods, productivity, and general well-being, Pan Home has embarked on a mission to redefine the art of slumber.
The Sleep Collection that they've unveiled is more than a mere assortment of products; it's a comprehensive journey towards rejuvenation and serenity. Every item within the collection is carefully chosen to address the multifaceted aspects that contribute to a restful night's sleep. From innovative mattresses tailored to cater to different sleep positions to temperature-regulating duvets that cradle you in comfort, and ultra-soft jersey cotton sheets that beckon tranquility, Pan Home's Sleep Collection stands as a testament to the brand's dedication to pioneering design and accessible opulence.
But what truly sets this collection apart is the fusion of aesthetics and utility. Pan Home has elevated the concept of sleep by marrying inventive design with the aspiration for peaceful rejuvenation. The result? Bedrooms metamorphosed into serene sanctuaries where luxury and serenity coexist in perfect harmony. The most delightful part? This luxurious sleep experience comes with an affordable price tag.
The focal point of every bedroom is unquestionably the bed, and Pan Home's array of beds is crafted to redefine your sleep journey. Constructed from robust materials meant to withstand the test of time, these beds come in an assortment of sizes, including extra king, king, queen, double, single, and day beds. Whether your preference leans toward sleek wooden frames or plush upholstered options in soothing taupe and grey tones, there's a bed here to cater to every sensibility.
To enhance the comfort of your slumber, Pan Home's Sleep Collection offers a diverse range of sheets and pillowcases. From fitted sheets to duvet covers and pillowcases, you'll find a wealth of options in classic whites, neutral hues, and bolder designs in brighter colors. Tailoring your bedroom to perfection has never been this straightforward.
Comprehending the science of sleep, Pan Home's collection includes an assortment of duvets and pillows engineered to address your specific requirements. With attributes like anti-microbial, anti-bacterial, and hypoallergenic properties, these essentials seamlessly blend comfort with well-being, promoting an environment conducive to healthy slumber.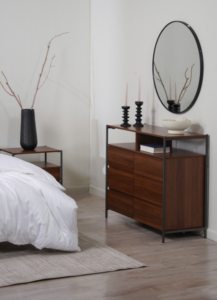 However, creating the ideal sleep space transcends luxurious bedding. Pan Home's Sleep Collection extends to the ambiance of your bedroom. With an array of ambient lighting options, blackout curtains, and tranquil aromatherapy fragrances, these additional elements coalesce to craft an oasis of serenity.
This Sleep Collection epitomizes Pan Home's unwavering commitment to quality, style, and innovation. Each piece in this collection mirrors the brand's scrupulous attention to detail, ensuring that your bedroom morphs into a haven of tranquility. From elegant bed frames to sumptuous mattresses, from chic nightstands to snug bedding, Pan Home's Sleep Collection offers everything needed to embark on a voyage to peaceful slumber.
In a world ceaselessly in motion, Pan Home invites you to pause, relax, and immerse yourself in the art of rest. Your journey to blissful slumber commences here.
Instagram: @panhomeuae
Visit the Website for more details.