Bollywood's action hero, Ayushman Khurrana, is all set to bring his electrifying energy to the stage of the IIFA Awards in Yas Island, Abu Dhabi. Fans are eagerly anticipating his performance at the 23rd edition of the world's biggest celebration of Indian cinema.
Khurrana is known for his dynamic performances and his ability to bring life to any role he takes on. He has won several awards for his acting skills and has become a household name in Bollywood. His unique style and versatility have set him apart from his peers, making him one of the most sought-after actors in the industry.
But it's not just his acting skills that make him so popular. Khurrana is also a talented singer and has released several hit songs, including "Paani Da Rang" and "Nazm Nazm." He has a knack for storytelling, whether it's through his music or his acting, and his performances are always full of emotion and energy.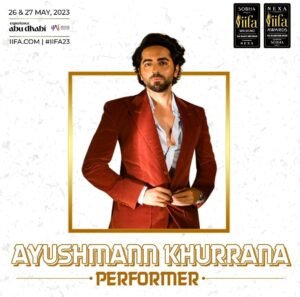 The IIFA Awards, which celebrates Indian cinema on a global scale, will be returning to Yas Island on May 26th and 27th, 2023, and Khurrana's performance is undoubtedly one of the most anticipated events of the weekend. Fans can expect an unforgettable show that will showcase his talent and leave them on the edge of their seats.
Apart from Khurrana's performance, the IIFA weekend promises to be full of glamour and fashion. Fans will get to see the stars hit the green carpet, and there will be plenty of opportunities to celebrate and welcome the Indian film fraternity.
If you're a fan of Bollywood and want to be a part of the global celebration of Indian cinema, then this is an event you won't want to miss. Book your tickets here and experience the glitz and glamour of the IIFA Awards for yourself. Don't miss out on the chance to witness Ayushman Khurrana's electrifying performance and be a part of a weekend that will be talked about for years to come.
Visit the Website for more details.