If you are a morning person, grabbing a fulfilling breakfast could be your jam! But why stick to the boring coffee and toast at home? Dubai has some amazing options to have an early-morning nutritious breakfast. Here are some of the best Dubai breakfast places that you should try out:
1. Rejuvenate at tashas Al Barsha's Yoga And Breakfast Session
Every tashas café branch features its own bespoke 'Inspired By' menu, which is curated specifically for each location and boasts of tastes that complement the venue's distinct environment and design. Kick-start the morning with tashas Al Barsha's star VIP dish Last Minute Eggs and satiate every appetite.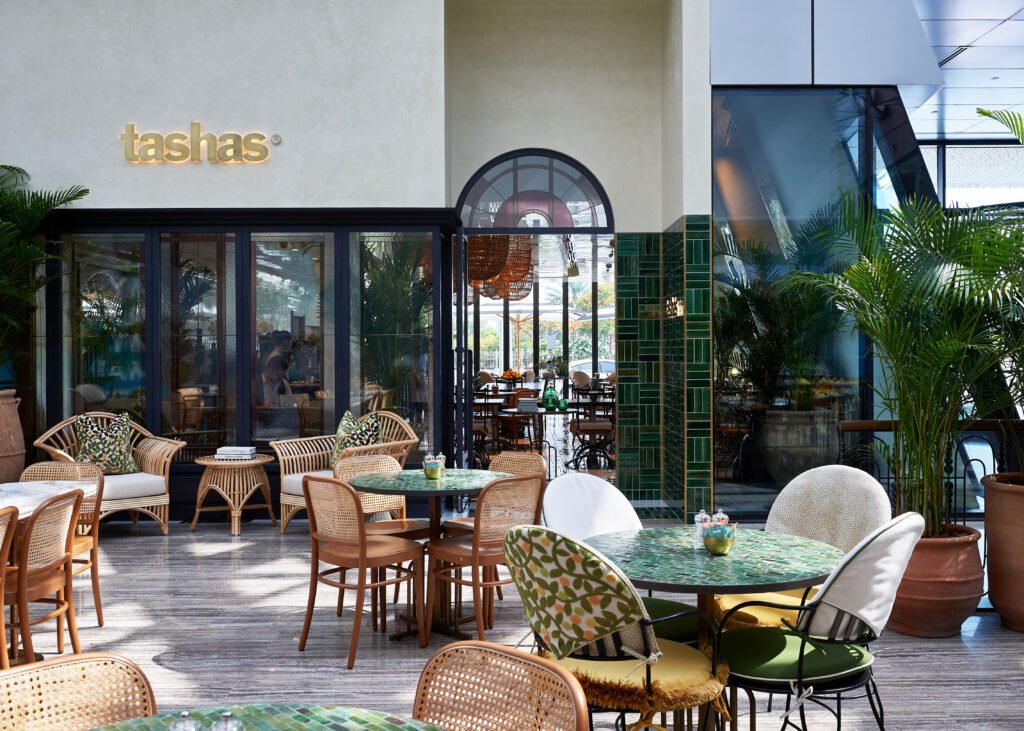 Other breakfast items on the menu include the housemade quinoa and nut granola, a Greek yoghurt and coconut panna cotta and Khachapuri, a three cheese baked bread with veal bacon and a fried egg. To complement their unique tasting journey, guests can choose from a selection of fruit elixirs made to order, such as tashas Lemonade, or the Super Carrot made with carrots, pineapples, lemons and a squeeze of cinnamon honey.
Complementing the serene view and vibes of the venue, tashas Al Barsha has collaborated with BeatX to offer guests a yoga class and breakfast experience every Saturday morning from 9:30am to 10:30am. Fitness enthusiasts can view the schedule and book sessions on the BEATX app. For AED 200, the package includes an hour-long yoga session followed by breakfast.
2. Stunning Breakfast Views At Bombay Bungalow
What better way to start your morning than with delicious twist of fluffed eggs alongside stunning views of Ain Dubai and nestled by the beach. Bombay Bungalow has launched a delicious and expansive breakfast menu that will transport you to the streets of India. Whether it's a twist on fluffy egg dishes, outrageously mouthwatering south Indian delicacies, or the freshest breakfast trays, Bombay Bungalow has you covered.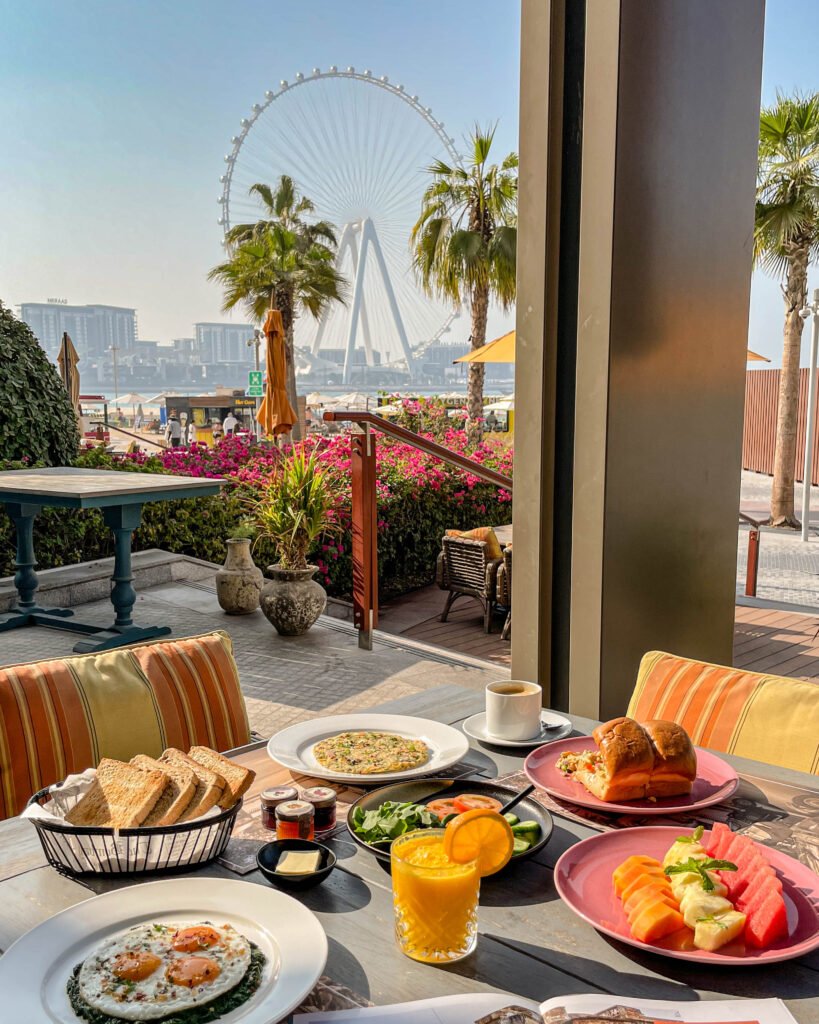 Open from 8:30 AM every day, Bombay Bungalow caters to all food palettes, healthy and indulgent. The Butter Chicken Omelette is an elevated version of the classics with a choice of eggs, toast, and butter and dipped in traditional butter chicken sauce
3. Go Vegan At SEVA Table's Natural Breakfast Menu
Dubai's leading vegan café, SEVA Table offers a delicious vegan breakfast menu. SEVA Table invites everyone to spend time in their beautiful garden – read a book, brainstorm ideas or connect with others! SEVA Table proudly sources seasonal and local ingredients when available, with an emphasis on vibrant organic living foods. All their produce is free from MSGs, GMOs, Gluten, Soy, Cane Sugar and trans fats.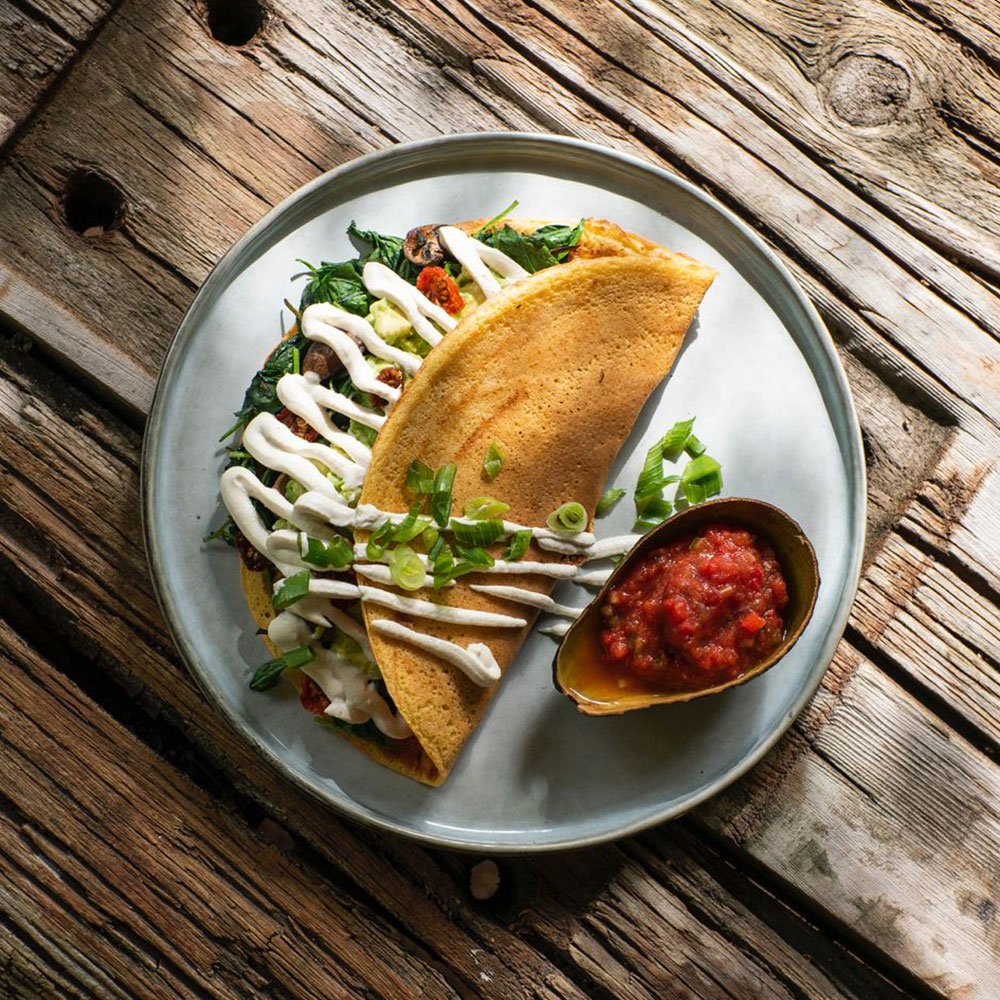 If you are looking for some different vegan breakfast options, SEVA Table is the best place! Their extensive tea and drinks menu is perfectly matches with dishes such as – eggless omelette, Acai bowl, in-house granola, a variety of toasts and much more.
4. Spoilt For Choice At Jebel Ali Club's Breakfast
One of the longest-running F&B establishment's in Dubai, Jebel Ali Club offers one of the most expansive breakfast menus. Breakfast lovers are in for a delight as the club proudly offers classics as well as innovative dishes. From keto and vegan options to traditional English Breakfast and protein-rich pork options – there's something for everyone at Jebel Ali Club.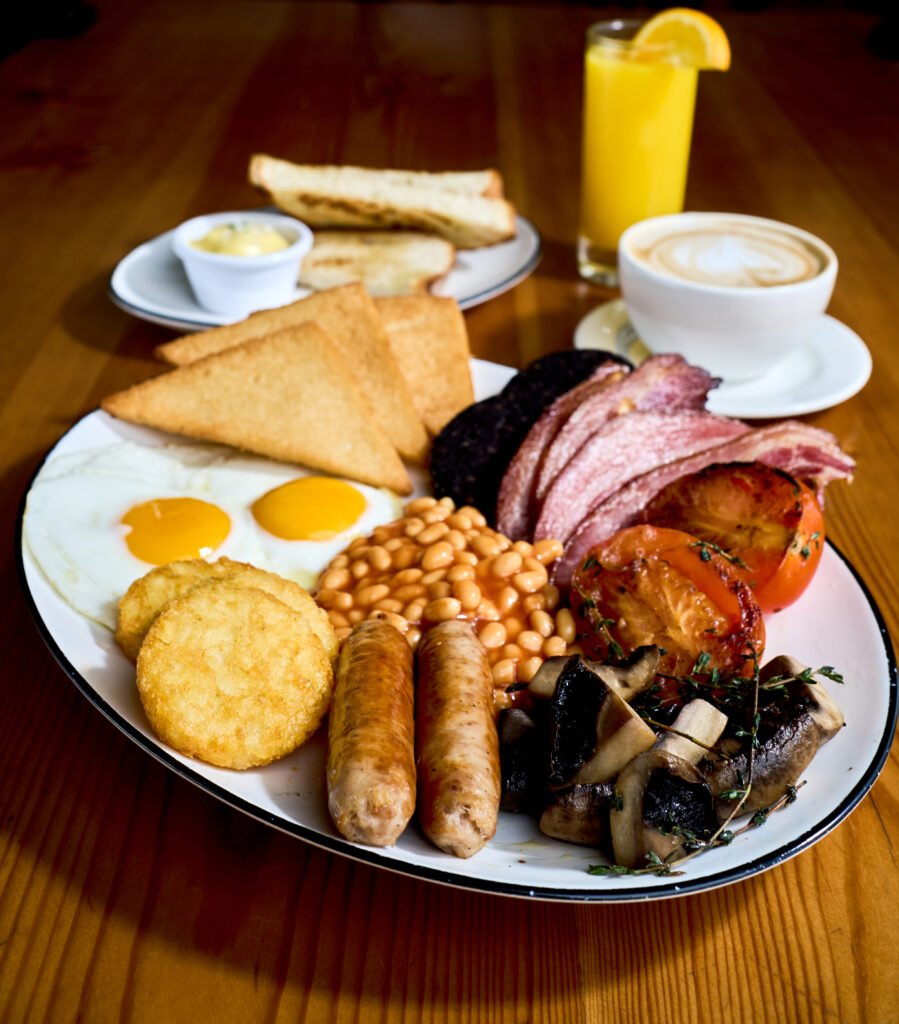 The restaurant features a special menu for kids with selections such as beans on toast, porridge, pancakes and more. Adults can choose their dishes separately or order their pre-set meals such as Full Breakfast, Detox or Royale. The menu also features sides, yogurt, smoothies, beverages and bakery items.
5. Breakfast the French Way at La Voile Rouge
As part of the ever-expanding portfolio of Dolce Hospitality has recently launched 4 new venues; one of them being La Voile Rouge. Dress up and show up to this French Mediterranean gem, hailing from the shores of St. Tropez, where the revered venue has reigned supreme for over 4 decades.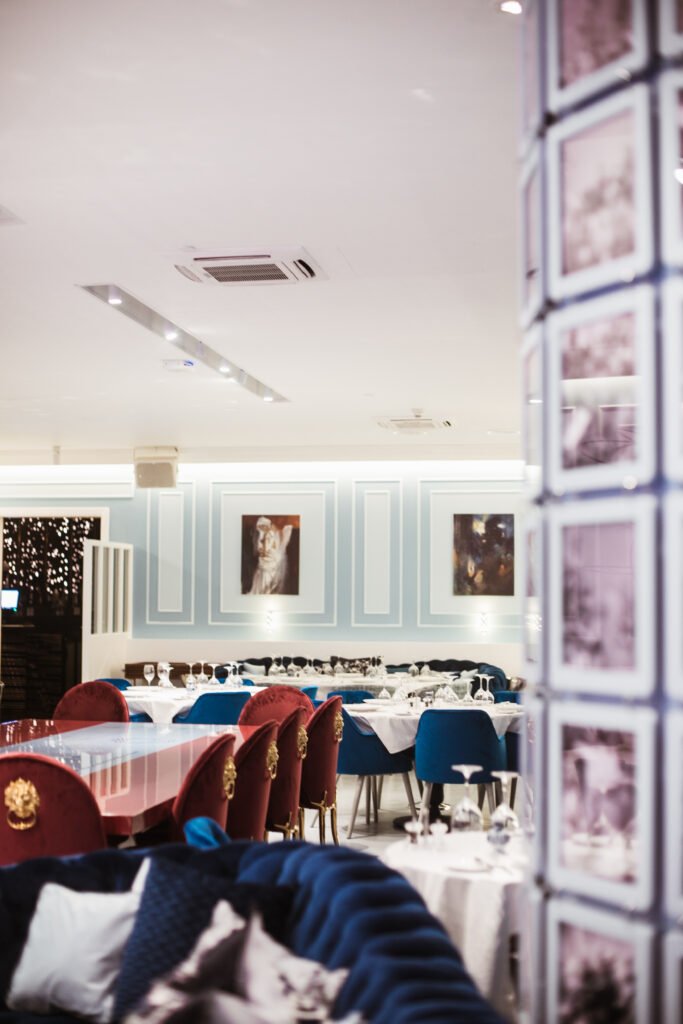 Serving up a 'sea of flavours', you can indulge in rich, delectable flavours including French favourites, Escargot, Duck Foie Gras Terrine and Niçoise Salad with a selection of steaks, Beef Bourguignon and seafood for mains. The weekday hours are from 7:00am for breakfast at La Voile Rouge. For more information and to make a reservation, please call +971 4 220 0321 or email info@dolcehospitality.com.
6. Delectable morning spread at Mondoux
Make Mondoux your next breakfast destination! Featuring delicious food, impeccable service, upscale interiors and stunning views of the city's skyline, this European-inspired culinary gem is located in the iconic Dubai Creek Harbour development.
Whether you are seeking healthy options or a guilty pleasure, the menu boasts an extensive range of Insta-worthy crowd-pleasers, including croque madame made with homemade bread, a colourful acai bowl, French brioche toast with salted caramel, and a mascarpone and blueberry crepe. Finish off your meal with a delicious smoothie or, for the coffee lovers amongst us, don't miss Mondoux's signature creation, coffee with chocolate – dark, white or milk! Espresso with chocolate and fresh roasted nuts is a definite guest favourite.
Breakfast is served from 8:00am until 12:00 on weekdays and 13:00 on weekends, and, during the cooler weather, can be enjoyed on the outdoor water-facing terrace. Bring your appetite, family and friends and relish the hospitality and laid-back ambiance.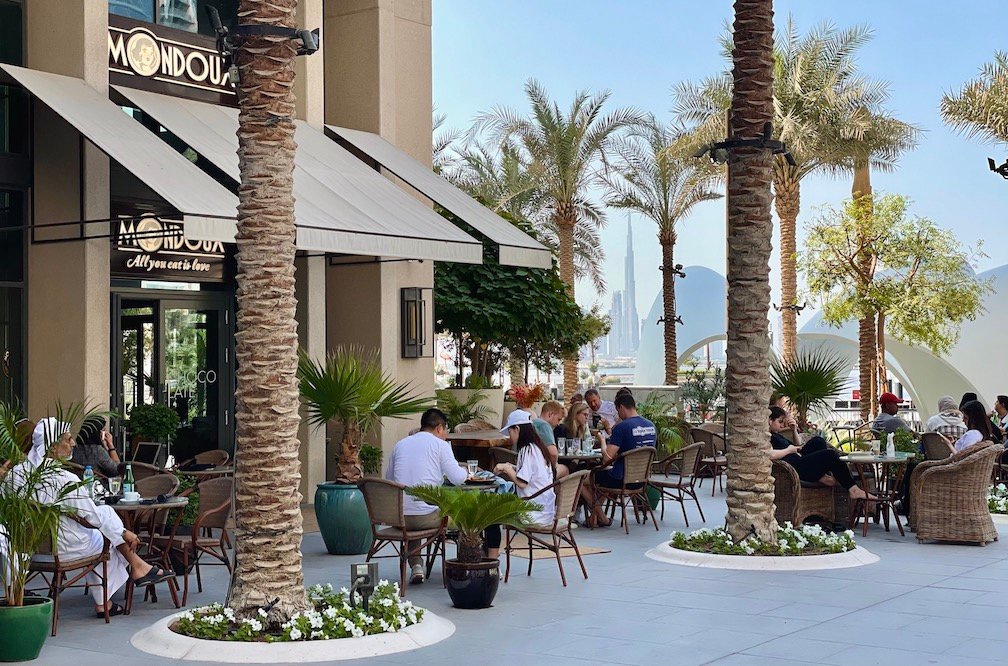 7. Grab A Hearty Breakfast At LA FARINE CAFÉ AND BAKERY
Freshly baked bread, crafted barista coffee and a selection of authentic European cuisine, La Farine is a contemporary café and bakery where guests can gather, socialize and enjoy gourmet fare in a casual and comfortable setting. Serving 'the best baguettes in Dubai', La Farine also features a delectable selection of homemade pastries and a range of boutique products.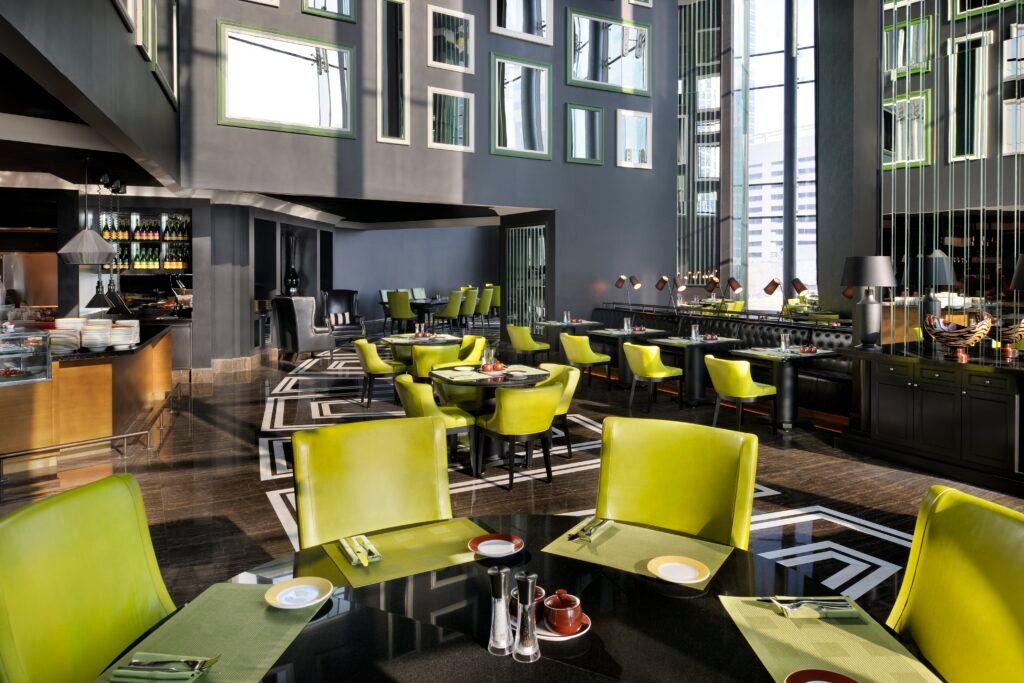 Breakfast is served daily from 6am – 11am. The vast menu features toasts, pancakes, acai bowl, muesli, and bakery items such as croissants and muffins for vegetarians. Non-vegetarian options include ham and cheese toast, crab benedicts, eggs, omelettes, steak and more. You can also relish sides such as hash browns, avocado, mushrooms, sausages and bacon along with your morning tea or coffee.
8. Enjoy A Comfortable Breakfast At Twice
Food lovers will experience modern-day, upscale, never-done-before dishes, crafting the ultimate menu, packed with 'double the flavor' and 'double the punch', capable of satisfying every customer every bite of the way. Located in the heart of one of Dubai's hidden gems, Safa Complex, Twice's mouth-watering breakfast delicacies were curated for diners who are looking for something light or want to gear up for an action-packed day.
Twice offers a must-try selection of breakfast dishes including favorites such as Avo Mash on a bed of sourdough with poached eggs, Deep Fried Halloumi, and Portobello Scrambled Eggs with swiss cheese. For American-inspired favourites, Twice offers its unique twist on Wings & Waffles, and Nona's Frittata.
For diners that desire a sweet start to their day, they can opt for Cereal French Toast, or Classic Pancakes. As exciting as the unique decor, their one-of-a-kind breakfast menu items will leave customers' taste buds wanting more.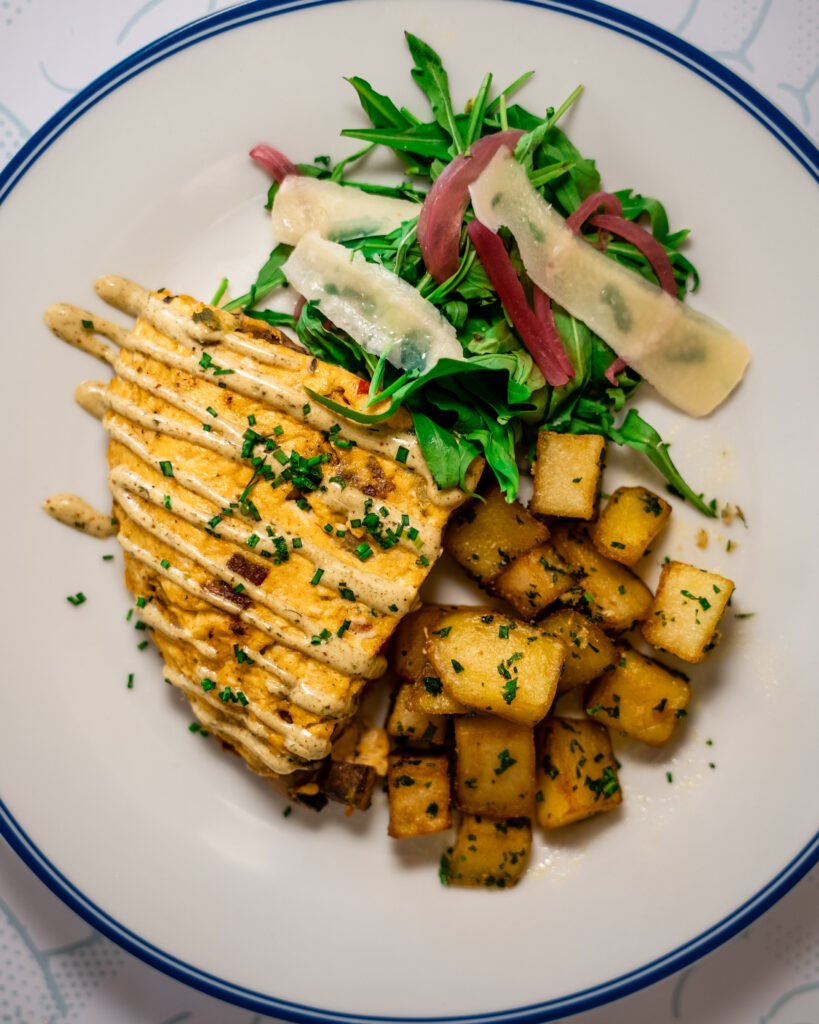 9. Bring the goodness of Eggs to your plate at Eggiterian Cafe JLT
Have the best time of the day while choosing the perfect egg dish for your breakfast from 100+ varieties. The chic styled café by the Lake is your place to savour the soul food. Eggiterian Cafe is your destination to sample 100+ palatable egg dishes, and it's always better to start with breakfast.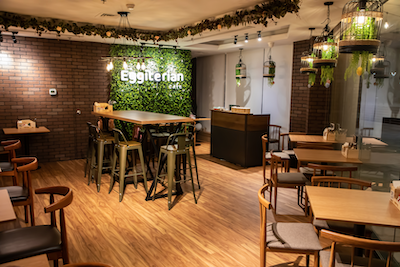 The place is ideal for outdoor breakfast scenes as the stunning locale compliments the outdoor setting. Get your plate filled with top egg dishes at Eggiterian like Egg Patra, Egg Cheese Bonda, Italian Omelette, Indian Masala Omelette, Egg Lachkka, and much more. The Egg variety starts at AED 15. Go and enjoy every bite of your eggs.
Where: Cluster J, Lake Level, Jumeirah Lake Towers, Dubai
Time: 8am-11pm
Call: 04 570 2444
10. Indian authentic Breakfast at Sagar Ratna In JLT
Sagar Ratna is here with their tempting Indian breakfast menu with outdoor sitting area by the Lake Side in Jumeirah Lakes Towers. Savour the vegetarian and Marwari delicious delicacies and experience a burst of flavours in your mouth.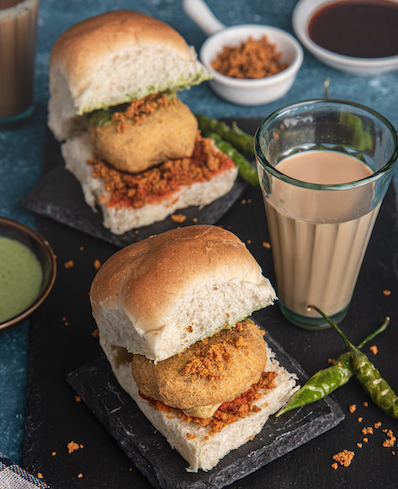 Sagar Ratna's breakfast menu includes Paratha's, Puri bhaji, Kachori's (pyaaz and mogar) , Vada Pav , Poha , Khichdi ,Mirchi Bada, Upma, Chola Puri, Sandwiches and much more along with Tea. The prices start at AED 4.
Where: Mag 214, Lake Level 3, Cluster R JLT.
Contact: 044-533364
Timing: 8am- 11pm
11. American Breakfast at Sauce
Sauce gives you an all American Dinner vibe in Dubai and services delectable American Breakfast starting at AED 69. The platter includes three rashers of crispy beef bacon, two buttermilk pancakes with strawberries and whipped cream, one sausage, two eggs, and a hash brown. Next in the American Breakfast Menu are triple-layered pancakes with strawberries and maple syrup, topped with whipped cream and fruits.
The sweet smell of cinnamon bread with berries are ideal for winter breakfast- the French Toast cost you AED 52. They also serve Waffles, and Croiffle at AED 55, cheese and sugar glaze Signature Kiri Danish at AED 41. Sauce has a little surprise for your Junior at their special Junior Breakfast that includes pancake, egg, crispy beef bacon, and hash brown at AED 41.
Where: Address– Noora Tower, Al Habtoor City, Dubai
Contact: 056 538 8388
Time- 8:30 AM – 2 PM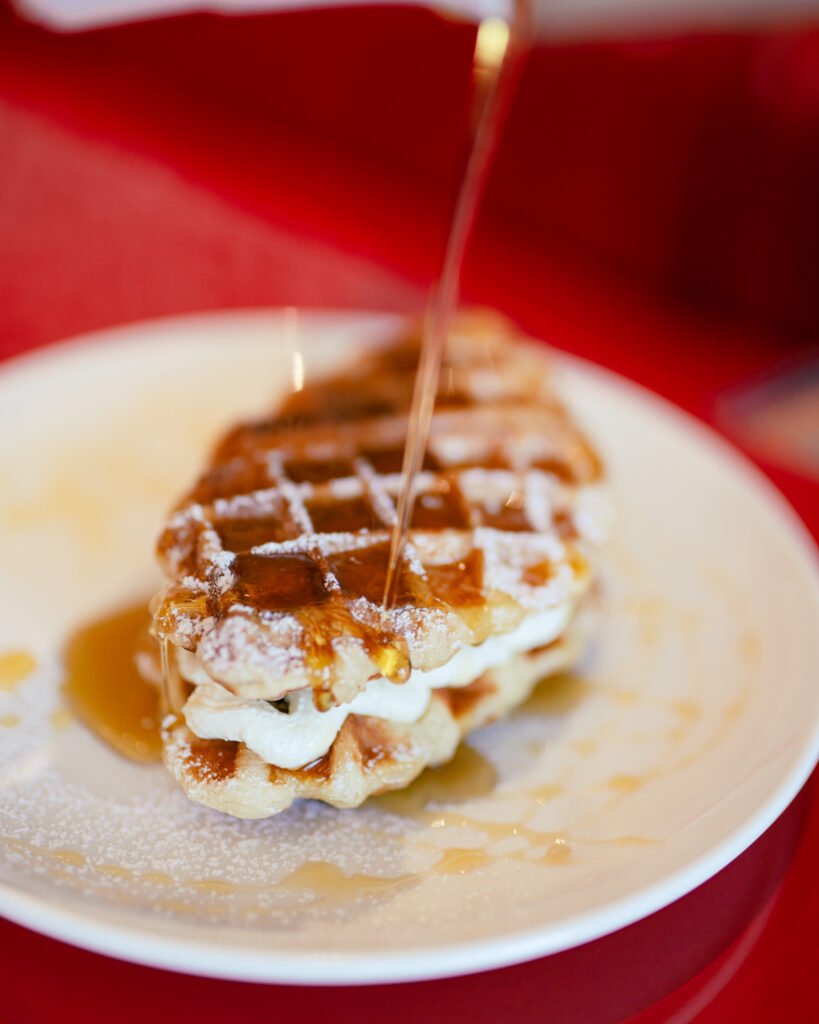 12. Savor a delicious breakfast from MyGovindas
MyGovindas is known for its holistic and healthy vegan and vegetarian food in the UAE. The breakfast menu includes-Poori Subzi, Pao Bhaji, Matar Kulcha, Dal Pakwan, Aloo Parantha, Tikki Choley, Samosa Choley, Veg Cheese Sandwich and Veg Grilled Sandwich. All the above items are served with Tea or Lassi.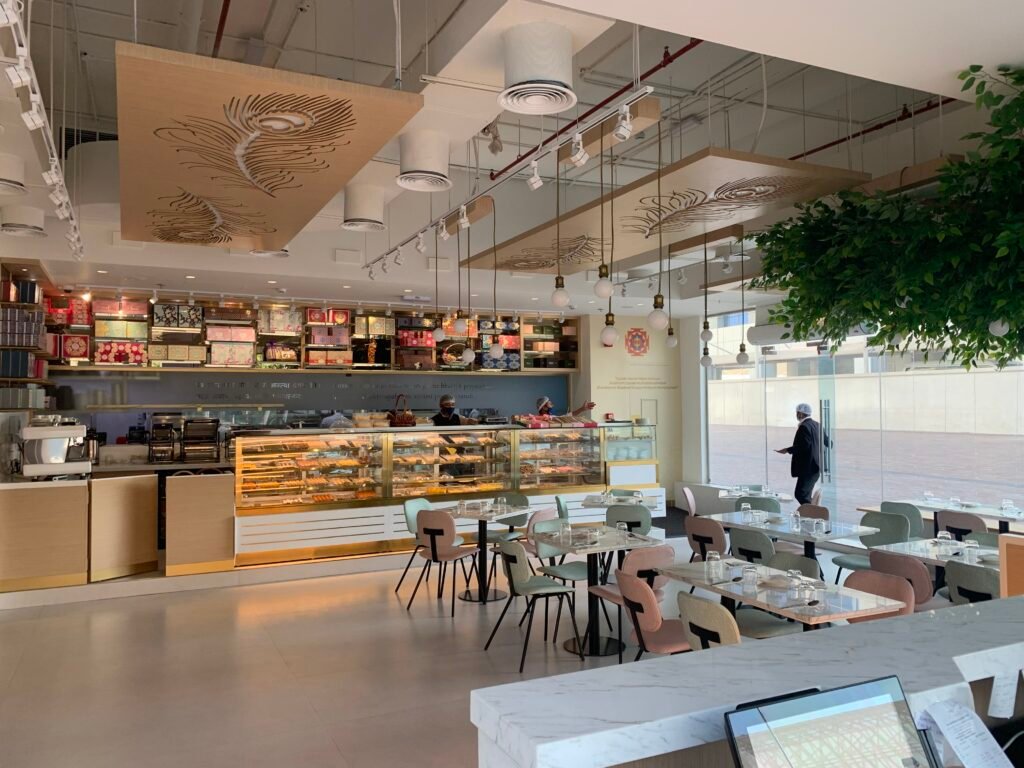 Cost- AED 19 per item
Where- Opposite Silicon Central Mall
Time- 8 am to 11 am
13. Grab A Nutritious Breakfast at RAW
The breakfast menu at RAW is a hit among people who love to have a nutritious and filling breakfast! Check out their latest breakfast menu below:
Avocado & poached eggs on toast 45.00
Tomato & pepper shakshuka 41.00
Smoked salmon & scrambled egg bagel 42.00
Bacon Eggs benedict 39.00
Big brekkie 60.00
Big Brekkie Inlcudeds: Fried eggs, hash brown, beef sausage, crispy beef bacon, semi-dry tomato, roasted mushroom & baked beans.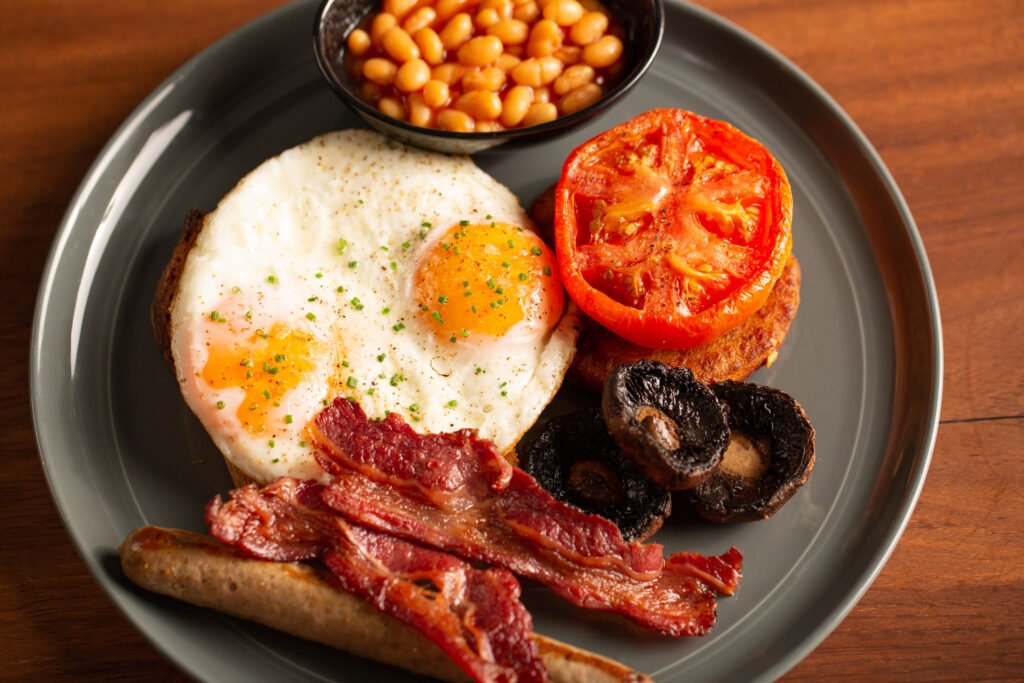 14. All You Need at Catch 22
Catch22 is the perfect place to grab an 'extra' breakfast! With lots of fun elements in store, Catch22 promises to be the perfect place for a casual breakfast or catching up with friends early morning.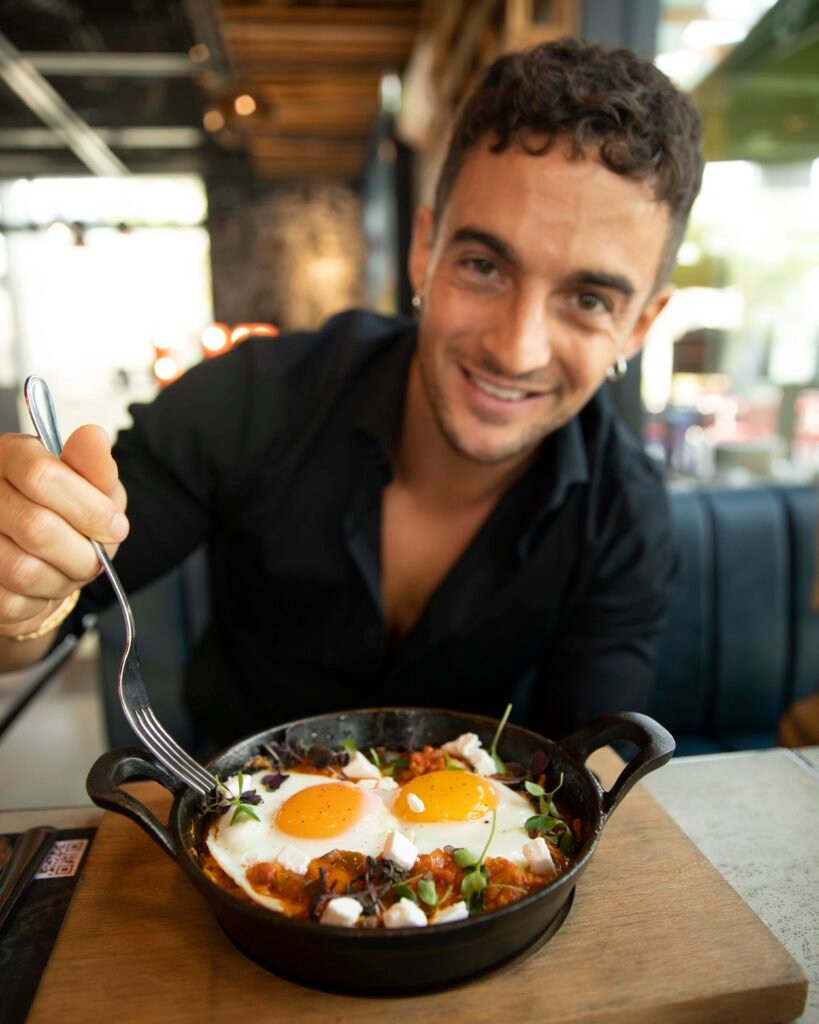 Apple crumble 48AED
Dreamy duo 48AED
Shakshuka 55AED
Crouque Madame 55AED
Avo toast 48AED
C22 eggs benny 68AED
15. Munch on Levanatine Cuisine at Awani
Using ancestral tools and ingredients, Awani create dishes from the past that rewrite our recipe for the future. Meat, vegetables or pulses, Levantine cuisine uses its natural flair to transform simple ingredients into complex dishes—reminiscent of home. Check out their amazing breakfast menu below: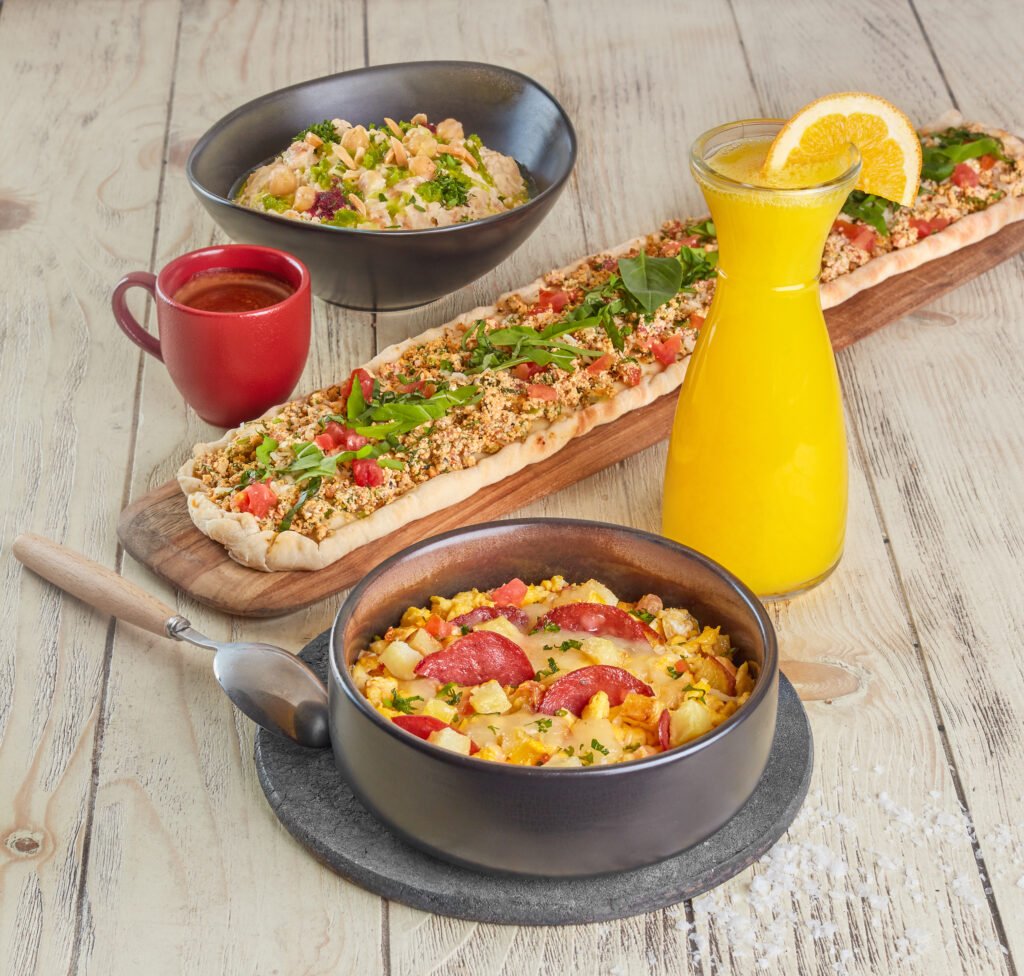 Fatteh chickpeas 29aed,  halloumi cheese 25AED, Qalayet bandora 22AEDV – mixed platter
Foul madamde 27AED
Zaatar manaesh 14AED
Pepperoni shakshouka 26AED
Awani shakshouka 26AED
Pepperoni & kashkaval cheese shanklish 25AED each
16. New Breakfast Menu at Jehangirs
At Jehangirs, relish the Modern Mughlai and Indian flavours through their new breakfast menu that offers an array of options to have a tasteful start to the day.
Jehangirs is a royal experience that serves Mughlai cuisine with a modern twist amidst an immersive ambience. The Breakfast menu is curated to satiate the soul with flavourful delicacies, and the fine presentation is a treat to the eyes.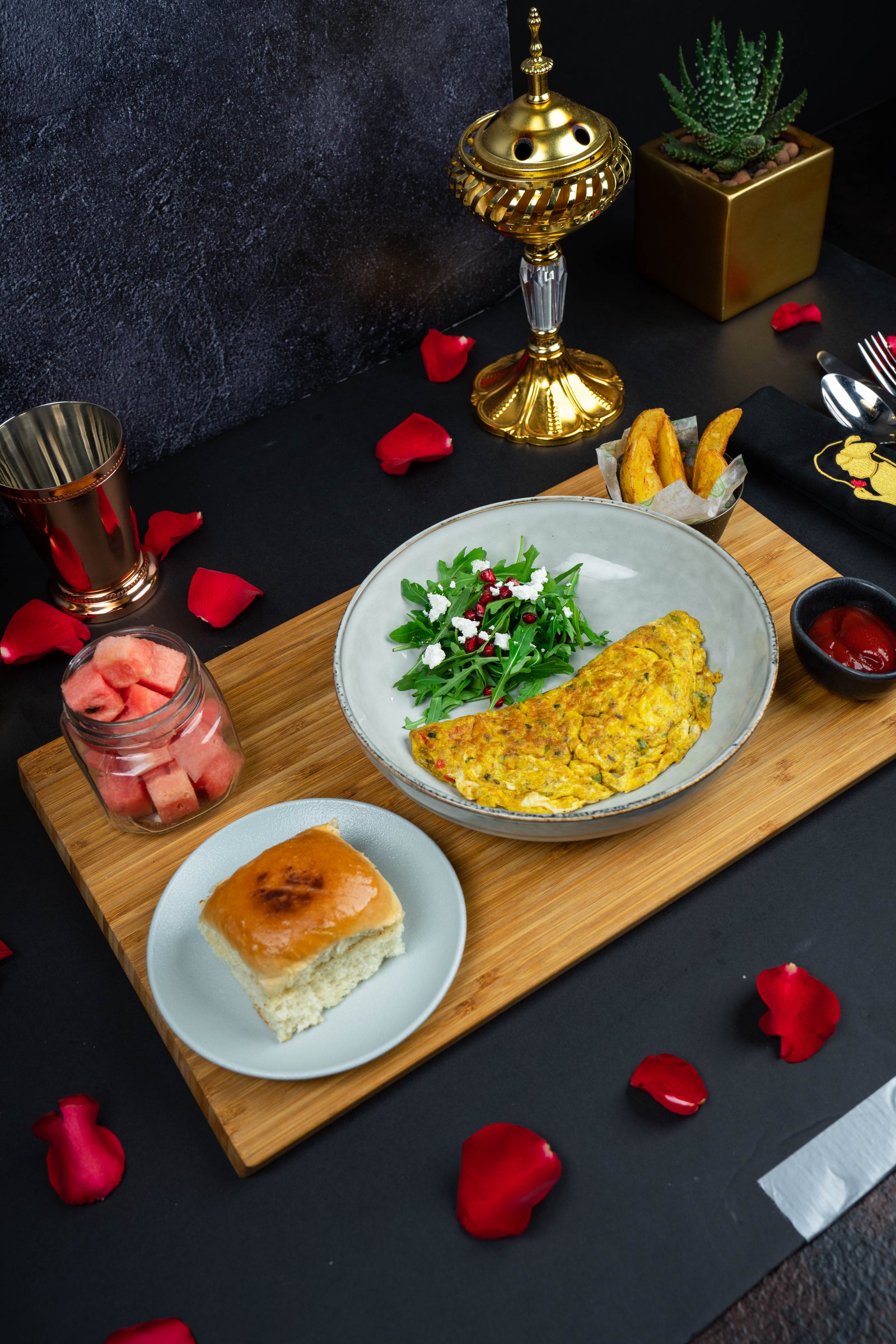 The menu is designed to offer a wide range of dishes for every kind of palate and is an amalgamation of Eggs & Wraps, Punjab de Parathey, Freshly Squeezed Juices, Morning Refreshers, Smoothy, and light servings. 
Enjoy a fancy and filling breakfast amidst a luxury setting every day 8am onwards at Jehangirs and have a Good Morning!