In an unprecedented move, CoveBeach, the heartbeat of Dubai's beach scene, is set to turn the tides with its renowned weekend party, 'Garden of Cove,' making a splash on the sandy shores exclusively this Saturday, 11th November.
As the sun kisses the horizon, party enthusiasts are in for a treat, with CoveBeach's signature vibes reaching new heights on the beach at Bluewaters Island. The atmosphere will be electric, thanks to the rhythmic symphony of resident DJ Who Is J Mitchell and the sensational beats of special guest DJ SOBERBOY, promising a euphoric escape for sun seekers.
Ladies, expect a warm sandy welcome with a special drink in hand as you dance your way into the weekend. The beach party kicks off at 12 pm and stretches into the late hours, offering an immersive experience that transcends the ordinary.
For the ultimate indulgence, CoveBeach presents specially curated packages for both ladies and gentlemen. Dive into the rhythm from 2 pm to 6 pm with a ladies' package, including entry, priced at AED199, and a gentlemen's package at AED299. Walk-ins are welcome, ensuring everyone can be part of this epic celebration.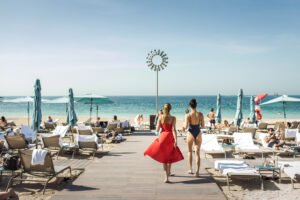 CoveBeach Dubai isn't just stopping at the beach. A new chapter is about to unfold, promising immersive beachfront experiences that will redefine the Dubai party scene. Before the big move to JBR, catch the magic at Bluewaters Island.
This Beach Edition of 'Garden of Cove' is not just an event; it's an experience crafted in partnership with Red Bull, adding wings to the already high-flying atmosphere.
To reserve your spot in this sun-soaked spectacle, contact the CoveBeach team at +971 50 454 6920 or via email at info@covebeach.com. The countdown to an unforgettable Saturday has begun!
Visit the Website for more details.