Prepare your taste buds for a culinary extravaganza as the beloved neighbourhood hangout, Cucina, steps into the spotlight at the 14th Italian Cuisine World Summit. It's not just a summit; it's a journey through Italian flavors, and Cucina is ready to dazzle your palate.
The Italian Cuisine World Summit, celebrating its 10th anniversary in Dubai, is a testament to the world's enduring love for Italian cuisine, culture, and tradition. This year, the spotlight shines on a unique partnership between Cucina and the renowned Michelin Star Chef Maria Grazia Soncini, a master of pasta creations.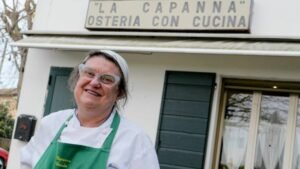 As a tribute to Italy's culinary heritage, Cucina and Chef Maria Grazia Soncini will unveil an exclusive set menu in collaboration with Cucina's Head Chef, Emanuele Rizzo, available for dinner on the 8th, 9th, and 10th of November.
The menu is a culinary masterpiece, promising a delightful journey for food enthusiasts. Begin with top-quality antipasti, including the Vitello Tonnato e Insalata Russa Piemontese and the heavenly Mazzancolle Con Panzanella e Crema di Burrata. But that's just the beginning! For pasta aficionados, handmade Cappellacci Alla Zucca and Tagliolini Alle Cozze e Bottarga await.
The main course features Pan-seared Langoustine, Mazzancolle Prawns, and the mouthwatering Breaded Veal chop known as Cotolette Alla Petroniana. Conclude this epicurean adventure with a choice between the indulgent Torta Tenerina al Cioccolato e Crema or the refreshing Pomegranate Sorbet.
The exclusive set menu, priced at AED 625 for two, promises an authentic Italian dining experience. In addition to the set menu, guests can order individual dishes from this exclusive collaboration.
Head Chef Emanuele Rizzo shared his excitement: "Being part of this summit, now as head chef at Cucina, is a dream come true. This event holds a special place in my heart, having been part of it in 2014 and 2015 at the beginning of my journey. With Master Guest Chef Maria Grazia Soncini, we're bringing tradition and elegance to your Italian dining experience."
The 14th Italian Cuisine World Summit places a spotlight on regional Italian cuisine, celebrating the authentic essence of Italy's culinary traditions. Aligned with the Italian government's commitment to well-being, the summit embraces the theme 'At the Table With Italian Cuisine: Health With Taste.' The support of sponsors, such as Masserie di Mare and italtouch, has made this summit possible.
To reserve a table, call (04) 666 1408, Email reservations@cucinathepalm.com.
Visit the Website for more details.