Eid al-Fitr is a time of great joy and celebration for everyone celebrating, as it marks the end of the holy month of Ramadan. As families and friends come together to celebrate, it's a time for reflection, gratitude, and generosity. And what better way to express your love and appreciation than through thoughtful gifts, delectable food, and exciting staycation deals? This Eid, we've rounded up the best F&B offers, staycation packages, and gift guides to make your celebrations even more special. Whether you're looking for a lavish feast, a luxurious stay, or the perfect present, we've got you covered. Read on to discover the top picks for Eid 2023.
Best F&B Offers
Eid al-Fitr with SushiArt's Exquisite Japanese Delights

This Eid Al Fitr, indulge in the finest selection from SushiArt, the premium casual dining destination. With a focus on using only the freshest ingredients and presenting visually appealing and innovative dishes, SushiArt offers a truly memorable dining experience for all sushi enthusiasts.For an explosive start to your meal, try the Dynamite Shrimp, a delectable appetizer that combines crispy fried shrimp with a creamy, tangy sauce that will leave your taste buds tingling with delight. Packed with an assortment of sushi rolls, a bestseller at SushiArt that is the most artistic rolls in a box with a selection of their most famous Signature Rolls, this box is perfect for a group celebration and guarantees a feast for the senses.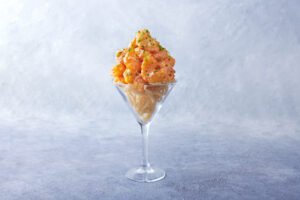 Instagram: @sushiartarabia
2. Celebrate Eid with the Jones Eid Big Breakfast
Jones the Grocer, the UAE's favourite café and gourmet grocer is serving up a scrumptious breakfast this Eid. For AED 99, you can enjoy a freshly baked pastry, your choice of eggs, a sweet breakfast dish and a choice of a coffee or tea. Indulge in some of Jones classic brekkie dishes like the classic benny, brioche french toast or coconut pancakes whilst watching your little ones have a blast with facepainters and balloon twisters. The Eid Big Breakfast promotion will run over the long Eid weekend from 8am to 4pm, at various Jones stores across Dubai, Abu Dhabi and Sharjah.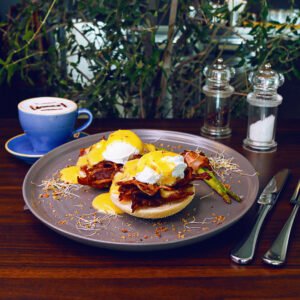 Contact Details: +971 52 527 1750
Visit the Website for more details.
3. Indulge In The Flavors of Greece: Elevate Eid at Ammos
AMMOS Greek Restaurant, located at Rixos Premium JBR, has some tantalising offers available this Eid at their authentic, ultra-chic beachside restaurant. Get ready for an exciting Eid weekend at AMMOS, the Greek restaurant that never disappoints. From mouth-watering Kouzina to live Greek music, Oyster Wednesdays and Ladies Nights with DJ John Handlis, diners are guaranteed a good time. Experience the best of the Greek isles with every dish served.
Contact Details: 052 777 9473
Instagram: @ammosgreekdubai
Visit the Website for more details.
4. Savour A Feast This Eid At Lo+Cale , Crown Plaza
Come celebrate Eid with your loved ones at Lo+Cale and experience the spirit of the holy month in style. Whether you prefer indoor or outdoor seating, you can bask in the stunning vistas of Dubai Marina from their beautiful terrace. Delight in a variety of mouth-watering dishes from around the world, including traditional Arabic fare, all served up in a luxurious buffet that features live cooking stations. Do visit Lo+Cale this Eid for a truly unforgettable dining experience.
Time: From sunset till 11pm
Price:
AED 175 per person
AED 85 for kids between the age of 7 to 11
Complimentary for 6 years old and below
Additional AED 100 onwards for hubbly bubbly
Where: Lo+Cale, Crowne Plaza Dubai Marina
Contact Details: + 971 54 997 8599
Instagram: @localedxb
Visit the Website for more details.
5. IntercityHotel Waterfront Al Jaddaf
IntercityHotel Waterfront Al Jaddaf invites guests to indulge in a mouth-watering Eid Al Fitr Dinner experience for only AED 75 per person. Kids aged 5 -11 can enjoy their meals at 50% off, and kids up to 4 years old eat for free. The menu features an exquisite selection of appetizers, including creamy Hummus, smoky Babaganoush, and refreshing Fattoush. For the main course, guests can savour the flavours of Lamb Ouzi with Oriental Rice, Dawood Basha, and Iranian Mix Grill, among others. And for dessert, indulge in sweet treats like Baklawa, Barazrk, and Jalebi, along with a delightful fruit salad. Guests can join the cosy and welcoming atmosphere for a truly unforgettable dining experience with their loved ones.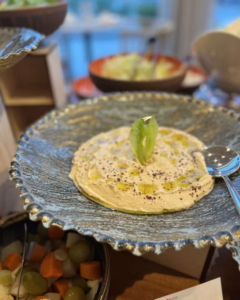 Contact Details: 04 574 3900
Visit the Website for more details.
6. Dubai Science Park's Kitchen25
Join the Holiday Inn & Suites Dubai Science Park in celebrating the joy of Eid with a sumptuous brunch in Kitchen25, promising to delight your culinary senses. From the heartwarming ambiance to the irresistible flavors of Middle Eastern dishes, every detail has been meticulously crafted to offer you an unforgettable experience. Renowned for its dedication to sustainable practices and community-driven initiatives, this hotel prides itself on providing exceptional and authentic experiences that foster a sense of togetherness among families and friends. Take advantage of their special Eid Staycation offer and enjoy a heart-warming Eid brunch offer with your loved ones during the Eid celebrations.
Contact Details: +971 4 567 1400 ; Email: reservations.hidsp@ihg.com
Visit the Website for more details.
7. Indulge in a delicious Neat Burger Milkshake this Eid Al Fitr
Neat Burger, the popular plant-based burger chain, is known for its delicious and innovative menu offerings. Two of the latest additions to their menu this Holy Month are the Date Milkshake and the Rose Milkshake – two unique and flavourful drinks that are garnering attention from foodies and vegans alike. Neat Burgers is dedicated to using only the freshest and highest-quality ingredients in all of its menu items, and the Date Milkshake and Rose Milkshake are no exception. These milkshakes are not only delicious but also healthier than traditional milkshakes because they are made with fresh, natural ingredients.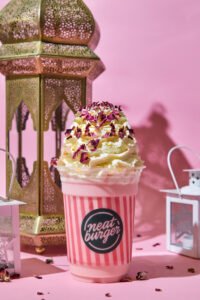 Instagram: @neat.burger.uae
8. Sensational Culinary Delights at Address Fountain Views
The Restaurant at Address Fountain Views, located in the heart of Downtown Dubai, is inviting guests to celebrate the end of Ramadan in the most delicious fashion as the space is set to host an unbeatable Eid al Fitr dinner. Boasting spectacular views of the Burj Khalifa, a spectacular feast of delicious local and international cuisines awaits, served buffet style, featuring live cooking stations and diners can expect to be treated to a myriad of tantalising taste sensations.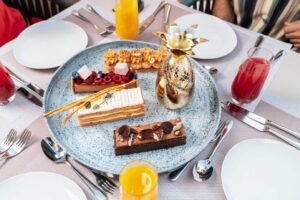 ​When: First day of Eid from 6.30pm to 9.00pm
Offer: Local and international style buffer dinner
Price: AED275 per person
Contact Details: +971 4245 8888 ; Email: dineatfountainviews@addresshotels.com
9. Oliva by El Greco Announces Smashing Eid-Al-Fitr Brunches
Oliva by El Greco Restaurant, the chic, contemporary, multi-cuisine venue at Courtyard by Marriott, is proud to announce its exclusive Eid Al Fitr brunch spread, available for three consecutive days of Eid. Promising to raise the bar higher on Eid festivities, the tantalising spread will offer top favourites from Arab, Continental, and Indian cuisines. Guests are in for an unforgettable experience as they taste the incredible flavours of Oliva by El Greco Restaurant at Courtyard by Marriott this Eid Al Fitr where every bite will leave them wanting more.
Location: Courtyard by Marriott WTC – Al Satwa – Dubai
Contact Details: 04 590 0125
Instagram: @oliviabyalgreco2
10. Celebrate Eid With Middle Eastern Delights at Entre Nous Restaurant
This Eid, Novotel World Trade Centre invites guests to Entre Nous Restaurant to celebrate the occasion with an array of Middle Eastern dishes. Guests can indulge in the mouth-watering Lamb Ouzi and other grill favourites while creating memories with their family and friends. For only AED 149 per person, this wonderful experience will be available from 12pm to 3pm. Furthermore, children under the age of six dine for free, making it the perfect family celebration.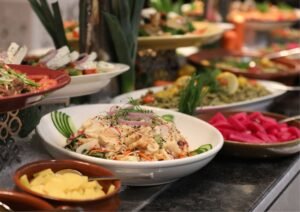 When: During Eid holidays
Time: 12pm – 3pm.
Where: Entre Nous Restaurant, Novotel World Trade Centre, Dubai
Price: AED 149 per person
For reservation: Email; h5261-fb1@accor.com
Visit the Website for more details.
11. Celebrate Eid with Eid Brunch's exquisite menu

The Eid Brunch is the perfect fit for a family gathering with its heart-warming feast featuring a wide array of delectable traditional and Middle Eastern dishes. From succulent lamb ouzi, to live Arabic mixed grill station, and a live falafel and shawarma station that is sure to delight your taste buds. The extensive dessert station is also not to be missed, featuring a wide variety of sweet treats. Children can enjoy a variety of fun activities, including face painting and coloring books while parents indulge in the scrumptious feast. With something for everyone, this is the perfect opportunity to gather your loved ones and celebrate Eid in style.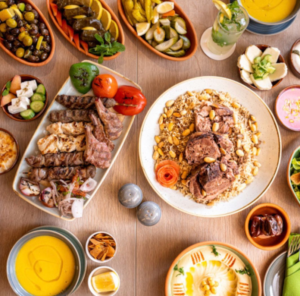 What: Eid Brunch
Where: Holiday Inn & Suites Dubai Science Park
Dates: Thursday April 20 to Sunday April 23
Cost: Starting from AED139 per adult and AED79 per child
Contact Details: +971 4 567 1400 ; Email: reservations.hidsp@ihg.com
Instagram: @holidayinnsuitesdsp
12. Gastronomic Experience for Eid Al Fitr At Hayal by St. Regis Downtown
The fine dining hotspot serving flavours and aromas of the Middle East will celebrate Eid Al Fitr with a festivity showcasing traditional dishes and lively entertainment. Hayal will offer a three-course set menu which will feature a selection of cold and hot mezze to share and main courses such as Slow-cooked Lamb Shoulder, Grilled Whole Chicken marinated in fermented harissa paste, Grilled Sea Bass Fillet, and more. The feast is concluded with an array of local desserts to choose from such as Walnut and Chocolate Baklava, Saffron Cremeux, and sorbets. The vibrant and artistic venue will also put out a traditional Turkish ice cream cart and a live DJ set, creating an experience for the senses.
Date: April 20th to 23rd
Time: 12 pm to 4 pm
Price: AED 215 per person
Contact Details: +971 4 512 5555 ; Email: reservations@hayaldubai.com.
Visit the Website for more details.
13. Eid Dining at Katsuya Hyde Dubai
A contemporary take on Japanese food. Katsuya is the ideal spot for art and food enthusiasts to experience top quality Japanese cuisine. World renowned sushi master and Katsuya's head chef Pavel Nigai will entice your tastebuds with a menu that is second to none, finished off with a simply delicious complementary dessert this Eid.
What: Eid Dining Offer
Where: Katsuya Hyde Dubai
Date: Thursday April 20 to Sunday April 23
Timings: From 12pm — 1am
Contact Details: +971 4 871 1111
Visit Website for more details.
14. Celebrate Eid with Breathtaking Fireworks at Virgin Izakaya Dubai
The city's vibrant Japanese hotspot, Virgin Izakaya Dubai located in the heart of Bluewaters Island, is welcoming guests to a special celebration over the upcoming Eid Al Fitr weekend. Patrons will be treated to an unforgettable evening filled with exquisite cuisine and captivating entertainment, complete with a spectacular series of fireworks displays at Bluewaters Dubai.
Fireworks at Bluewaters Island Overview:
Location: Virgin Izakaya
Date: Eid Weekend
Time: 10PM
Contact Details: +971 4 589 8689
Visit the Website for more details.
Staycation Offers
As Eid approaches, many hotels offer an array of destinations in the Middle East perfect for families and couples to celebrate and honor the end of holy month. Whether looking for a spiritual escape or simply want to immerse in the traditions of Ramadan, these hotels offer exceptional service and amenities to make an unforgettable stay.
HOLIDAY INN & SUITES DUBAI SCIENCE PARK

Experience the ultimate city escape with an Eid Staycation at the Holiday Inn & Suites Dubai Science Park! Starting from just AED399, this hotel has everything you need for a relaxing and rejuvenating city escape. Take a dip in their refreshing outdoor swimming pool or work up a sweat at the fitness gym before unwinding in the steam sauna. For those seeking a little extra pampering, indulge with Spa Treatment packages to truly unwind and rejuvenate. With taxes and other charges already taken care of, you can enjoy your stay without any additional worries.
What: Eid Staycation
Where: Holiday Inn & Suites Dubai Science Park
Dates: Thursday April 20 to Sunday April 23
Cost: Starting from AED399
Contact Details: +971 4 567 1400 ; Email: reservations.hidsp@ihg.com
Visit the Website for more details.
2. RIXOS PREMIUM SAADIYAT ISLAND, ABU DHABI
The All Inclusive All Exclusive Rixos Premium Saadiyat Island Experience is designed for guests to discover a new sense of freedom and discover a world of possibilities through an endless stream of award-winning worldly cuisines, luxurious stays in stylish scenic accommodations, energetic entertainment, fun-packed activities, and an exemplary display of Turkish hospitality. UAE residents can indulge in an irresistible offer of 20% discount on the resort's deluxe all-inclusive stay packages during Eid and throughout summer. Non-hotel residents can also avail a 20% discount on any of their restaurants & bars, as well as an additional 25% off on all treatments longer than 60 minutes at the blissful Anjana Spa.
What: All Inclusive All Exclusive Eid Staycation
Where: Rixos Premium Saadiyat Island, Abu Dhabi
Dates: Available until 30 September 2023
Cost: Starting from AED 1500 per person, per night *2 night minimum stay
Contact Details: +971 2 492 2222
Visit the Website for more details.
3. HYDE HOTEL – Eid Package: Shop and Stay
Experience the ultimate Eid staycation at HYDE, the coolest hotel in town! The Shop & Stay package, available April 20-24, offers an AED 100 voucher for the trendiest shopping at Dubai Mall, a complimentary shuttle, and 20% off our cutting-edge spa treatments. Plus, score a free 30-minute scrub or facial with every 60 or 90-minute massage. Embrace the chic lifestyle and create unforgettable memories – book your stylish Eid escape today!
What: Eid Package: Shop and Stay
Where: Hyde Dubai
Date: Thursday April 20 to Monday April 24
Cost: Starting from AED 495 per person, per night.
Contact Details: +971 4 871 1111
Visit the Website for more details.
4. Celebrate Eid Al Fitr with the Ultimate Getaway at Palazzo Versace Dubai
The iconic hotel invites guests to enjoy exclusive deals throughout the celebratory weekend of Eid Al Fitr with discounts of up to 25% and special culinary offers. End Ramadan on the sweetest of notes with a series of celebratory Eid offerings by Palazzo Versace Dubai. The city's most fashionable address is welcoming guests to celebrate the auspicious occasion of Eid Al Fitr with a series of specially curated offers, perfect for the entire family.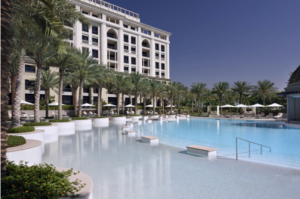 What: The Ultimate Eid Getaway Staycation
When: 21st April to 30th April 2023
Price: AED 1,250+++ per night
Visit the Website for more details.
5. Staycation at The St. Regis Downtown Dubai
This Eid Al Fitr, St. Regis Downtown Dubai offers patrons a luxurious half-board experience in one of its elegant rooms that features an unrivalled luxury of space and complimentary breakfast at the Italian eatery Basta, with a lovely waterfront setting overlooking the Dubai Water Canal. Staying guests will also receive the royal treatment from the hotel's signature St. Regis butler service, ensuring their stay is personalised and tailored to their tastes and preferences, access to the infinity swimming pool and a portfolio of fine dining restaurants.
Dates: 23rd March to 23rd May
Price: starts from AED1,490 per night
Visit the Website for more information.
6. HOTEL INDIGO DUBAI DOWNTOWN DEBUTS A RELAXING EID STAYCATION EXPERIENCE
This Eid holiday, Hotel Indigo Dubai Downtown, the city's design-led boutique destination, offers a relaxing staycation for two starting at a price of AED 549 for stays during 20-23 April. Bookings over two nights or more receive complimentary breakfast for 2 at Open Sesame as well as 25% off in any of the dining outlets within the hotel. Showcasing a distinct fusion of Dubai's modern Downtown and the Old Dubai neighbourhoods, the unique art hotel offers a world of creative contrasts.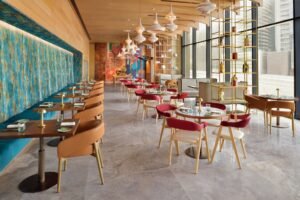 Whether admiring the artworks in the hotel with an afternoon tea at Open Sesame, or the city skyline with bites and shisha at sunset at the pool deck of Orange Feels Bar & Shisha Lounge – it's a vibrant and creative living.
Contact Details: 04 210 2222
Visit the Website for more details.
7. ENJOY AN EID STAYCATION AT THE NEW CHEVAL MAISON – THE PALM DUBAI
Situated on the iconic Palm Jumeirah, the newly opened Cheval Maison – The Palm Dubai is the ideal Eid getaway for families, couples or groups of friends to relax while escaping the hustle and bustle of the city. The property is within footsteps of Nakheel Mall, close to popular attraction The View, as well as the lively restaurants and scenic beaches for which the Palm Jumeirah is famed. Whether guests are staying for just one night, one week, or for months at a time, you can expect five-star service and a personal touch.
The contemporary apartments provide the freedom, flexibility and space to create your own personal sanctuary, but still with easy access to the vibrant sights and sounds of this unique city.
Date: Valid from now until 31st August 2023
Price: Starting from AED555 per night for a one-night stay in a one-bedroom apartment.
Offer: Enjoy early check-in from 11 am and late check-out until 4 pm.
Visit the Website for more information.
8. Enjoy a Lavish Eid Gateaway with Bürgenstock Collections.
The Bürgenstock Collection portfolio, known for inhabiting Switzerland's most picturesque landscapes and unique destinations, offers Eid escapes that embody the true values of Swiss hospitality, with a range of experiences focusing on true heritage, wellness concepts, and refined cuisine while connecting guests with the local identity of their destination.
Experience the ultimate Eid getaway with the Bürgenstock Collection, where luxury and enchanting settings merge to create unforgettable memories. Immerse yourself in the local heritage, indulge in wellness concepts, and relish the refined cuisine in picturesque surroundings.
Visit the Website for more details.
9. Celebrate Eid al Fitr in style with Vida Hotels' unbeatable staycation offer
If you're looking to treat yourself to a luxurious getaway this Eid al Fitr, look no further than Vida Hotels. With exquisite hotels set in prominent locations throughout the UAE, each Vida Hotel is designed with you in mind. From culinary excellence, unrivalled amenities, and impeccable service, whatever your vibe, Vida Hotels has you covered. In celebration of the end of Ramadan, anyone that books their stay from the 19th to the 26th of April 2023 can take advantage of up to 40% off on stays, along with a complimentary breakfast.
This is the perfect chance to indulge in a relaxing escape with your loved ones and create unforgettable memories that will last a lifetime. With an offer this good, it's time to pack your bags, grab the fam, and book a 'vacay' full of big feasts, excitement, and feel-good vibes.
Offer: Up to 40% off on stays, inclusive of complimentary breakfast
Booking Dates: Book between April 19 to 26, 2023
Stay Dates: Stay between April 27 to September 30, 2023
Contact Details: +97144286888 ; Email: hithere.downtown@vidahotels.com
Visit the Website for more details.
10. The Perfect Eid Al-Fitr Offerings Await at Hampton by Hilton Marjan Island
The world's largest Hampton by Hilton is offering a memorable staycation this Eid Al-Fitr to guests in Ras Al Khaimah. From the 21st to 23rd April, Hampton by Hilton Marjan Island is celebrating with a spectacular roster of entertainment and unbeatable offers from its celebrated dining outlets in CLAW BBQ and TripAdvisor's number 1 ranked restaurant in Ras Al Khaimah, Karma Kafé by Buddha-Bar. The Eid festivities will kick-off on 21st April with the impressive dining outlets at Hampton by Hilton are the perfect place to be this Eid Al-Fitr with its special promos suited for the long weekend celebration.

Contact Details: 07 209 0099 or +971 50 410 4901
For Karma booking link click here.
Visit the Website for more details.
11. ESCAPE IN STYLE FOR AN INTIMATE STAYCATION AT ONE&ONLY THE PALM
GCC travellers looking for an intimate Dubai-based staycation are invited to reside in complete seclusion at One&Only The Palm for a luxurious island retreat. Located on the furthest tip of The Palm's West Crescent, the resort is surrounded by manicured gardens, secluded suites and villas with sparkling private pools and round-the-clock service. Guests can gain exclusive access to a private golden beach and the ocean right on their doorstep.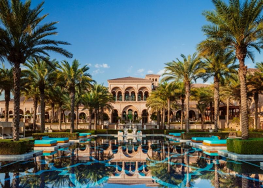 For an eid-getaway filled with exciting activities, guests seeking adventure-packed or personalised experiences can expect a range of aquatic adventures via private boat to yacht cruises and historical tours of Dubai's cultural sites. The KidsOnly Club offers fully personalised itineraries of fun activities, including board games, crafting, painting, bubble blowing and more.
Visit the Website for more information.
12. SAVOUR BEACHFRONT LIVING AT ONE&ONLY ROYAL MIRAGE
There's no better opportunity to plan the ultimate Dubai staycation and discover the ultra-luxury One&Only Royal Mirage. Resting on a private beach overlooking The Palm and nestled within 65-acres of lush, landscaped gardens, the legendary One&Only Royal Mirage conjures stylish Arabian hospitality juxtaposed with the modern backdrop of the spectacular Dubai Marina skyline, effortlessly encompassing the traditional with the contemporary.
UAE residents checking in to the resort during the Eid holiday can avail an exclusive room rate to relax and recharge with a stay at Dubai's most legendary beach resort. Enjoy a curated itinerary packed with feel-good activities for all ages, indulge in world-class culinary experiences or retreat to the One&Only Spa to discover a path to wellness, health and beauty.

Visit the Website for more details.
13. DUBAI'S ICONIC HERITAGE DESERT RESORT AT BAB AL SHAMS
Nestled within the glistening golden dunes of the desert on the outskirts of Dubai, Bab Al Shams offers a secluded sanctuary for those looking to escape the city this Eid. The recently reimagined heritage resort is the original immersive desert experience in Dubai, featuring architecture and interior design inspired by the earthly tones of the desert throughout the day. The iconic resort blends seamlessly in the surroundings with 115 lavish rooms and suites housed in 16 two-storey buildings. A modern oasis, the resort is a relaxing haven with a subtly Moorish accent.
Guests are invited to enjoy an array of one-of-a-kind vibrant experiences, including theatrical dining, holistic wellness treatments and therapies, and nomadic desert adventures, such as camel riding, discovering the ancient sports of falconry and archery, or a guided walk among the desert dunes, the highly anticipated Bab Al Shams Desert Resort offers a unique selection of activities for the whole family to enjoy.

Visit the Website for more details.
14. SUNSET BRUNCH AT WALDORF ASTORIA KUWAIT
Connected to The Avenues, the country's largest retail, entertainment, and luxury lifestyle destination, and just 11 kilometres and a 15-minute drive from Kuwait International Airport,Waldorf Astoria Kuwait's prime location offers guests convenient access to beloved local attractions such as the Kuwait Opera House, Sheikh Jaber Al-Ahmad Cultural Centre and the Grand Mosque. The iconic Waldorf Astoria Kuwait brings unrivalled luxury, world-class hospitality, and exquisite dining to the heart of Kuwait City. In celebration of Eid Al-Fitr, Waldorf Astoria Kuwait invite guests to experience their first-ever Sunset Eid Brunch at Kubbar Poolside Restaurant, available from April 21 to April 23, 2023.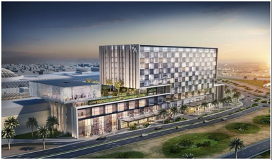 Contact Details: +965 2477 4414 ; Email: restaurantreservations.kuwait@waldorfastoria.com
Visit the Website for more information.
15. EMBRACE THE ESSENCE OF WELLBEING AT ZULAL WELLNESS RESORT
Dedicated to adults seeking an immersive lifestyle reset this Eid, Zulal Wellness Resort by Chiva-Som offers guests looking to embrace lasting change a unique haven of peace and tranquillity. Blending Traditional Arabic and Islamic Medicine (TAIM) with holistic health and wellbeing philosophy, Zulal is the perfect destination for those looking to rejuvenate and take a break from the hustle and bustle of life in order to restore the body, mind and spirit for optimal wellbeing this Eid.With the Wellness Plus offer, guests who stay longer, save more, and ultimately improve their overall health and wellness with Zulal's generous stay/pay offer.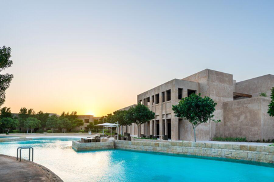 Guests who pay for two nights, will receive an additional night stay with compliments, extending their stay to a total of three nights. Additionally, guests who pay for three nights, stay five nights; and guests who pay for four nights, stay seven nights.
Contact Details: +974 4477 6555 ; Email: reservations@zulal.com
Visit the Website for more details.
16. Celebrate Eid with a Bang: All-Inclusive Getaway at Premium C Mauritius
Eid El-Fitr is quickly becoming a popular time for travel. Many are celebrating this period by exploring new exotic destinations, leaving behind the worries of life, and unleashing the explorer within. C Mauritius on the east coast of the island of Mauritius invites guests to connect with the inner child inside them, feel free and let go during Eid. C Mauritius, a sophisticated yet casual hotel, brings new concepts to the travel industry by creating a lively atmosphere for guests to relive the free spirit of their childhood and turn every day into an adventure.
With colourful designs that evoke feelings of joy and celebration, guests will feel the festive spirit of Eid in every corner. The vibrant colours range from pure white or bright blue to cotton candy, making for a visually stunning experience. The dynamic environment of the hotel is packed with multiple activities that encourage guests to interact and make new friends.
Visit the Website for more details.
Gift Guide
AMAZÓNICO'S BRIGADEIRO GIFT BOX

In celebration of Eid al-Fitr and in the spirit of sharing and giving, Amazónico in DIFC brings the exotic flavours of Latin America to the heart of Dubai. To commemorate the festivities, the rainforest-inspired restaurant introduces a thoughtful box of Brigadeiros; a traditional Brazilian truffle, perfect for gifting or enjoying throughout the festivities.
The limited-edition truffles will blend the treasured flavours of the Middle East and the Levant with bespoke Ramadan and Eid flavours of Orange and Saffron, Pistachio, and Halawa. Designed to inspire celebration and sharing, the Brigadeiro gift box has been created and prepared by Amazónico's expert pastry chefs and will be available to purchase as a 16-piece gift box for 160 AED.
Instagram: @amazonicodubai
2. Bring together your loved ones with an exclusive Eid gift fromForrey & Galland
Bring your loved ones together to mark the end of Ramadan with an exclusive gift from Forrey & Galland Chocolatier. Sweeten your Eid and exchange a sophisticated gift box or hamper filled with the finest handmade sweet treats infused with authentic Arabic flavours. Each hamper in the collection is filled with a hand selected array of chocolates, Arabic sweets, cookies and dates handmade by our team of culinary experts.
Forrey and Galland pride themselves on using only the finest ingredients sourced from around the world, combining classic French traditions with the local culture to produce a fine collection of sweet treats with a unique touch. Each exclusive gift box is adorned with vibrant intertwining patterns. The special pattern was inspired by acres of intricate arabesque motifs featured on mosque domes while the elegant gold foiling that completes each gift box is a unique expression of art and beauty.
Visit the Website for more details.
3. Elevate Your Eid Celebration with Halal-Certified, Zero-ABV French Bloom
This Eid holiday, celebrate in the most stylish way as you quench your thirst and indulge in all the festivities with French Bloom. Launched in the UAE at the end of 2022, French Bloom has quickly managed to create a new category and position itself as a market leader in the super-premium 0.0% alcohol, vegan, and halal-certified sparkling categories.
With Eid being the time to give and share the lover, as well as gather and rejoice in all the wonderful Arabic and Levantine cuisines, French Bloom becomes the ultimate accompaniment to all the gatherings as it elevates the experience and makes everyone feel included.
Visit the Website for more details.
4. Ben's Cookies Gifting Tins
As Eid Al Fitr approaches, what better way to express gratitude to loved ones than with a gift that everyone can share and enjoy together? Ben's Cookies gifting tins are the ideal way to spread joy and love during this special time of the year, making them an excellent choice for sharing with family, friends, and colleagues.
Choose from a wide range of delectable ooey gooey cookies, such as their Milk Chocolate Chunk Cookie, White Chocolate & Cranberry, Milk Chocolate & Dates, Triple Chocolate Chunk and Vegan Milk Chocolate Cookie, to name a few. Each flavour has been carefully created to cater to a variety of tastes, making them a sweet addition to any Iftar or Eid gathering. ⁠⁠⁠⁠⁠⁠⁠
Visit the Website for more details.
5. Swiss Arabian's Fragrances
Embrace the spirit of generosity and tradition with Swiss Arabian's collection of perfume oils and fragrance gift sets, perfect to treat yourself or your loved ones. This Eid, discover this leading homegrown brand's selection of iconic fragrances and create beautiful memories with all your loved ones. Swiss Arabian's gift ideas to make you feel extra-special, with a scent to suit every mood and personality.
Visit the Website for more details.
6. FNP's Eid Collection
As the holy month of Ramadan draws to a close, FNP (Ferns N Petals) is delighted to announce the launch of an exclusive range of gifts for Eid al-Fitr celebrations. Following the successful Ramadan #BetheLight campaign, the new collection features a range of traditional and contemporary gifts, catering to a diverse audience. FNP's Eid collection has been designed keeping in mind the cultural and religious significance of the festival. The collection includes a wide range of gifts, from traditional to modern and trendy products, to cater to a diverse audience. Customers can choose from items such as luxury dates, personalized photo frames, dry fruit boxes, designer lanterns, and much more.
Customers can choose from a range of delivery options, including same-day delivery, midnight delivery, and 1-hour delivery available 24×7, to ensure their gifts are delivered in a timely and efficient manner.
To view the collection, please visit the Website.