IZEL Fashion, a premier luxury brand renowned for its elegant and contemporary women's apparel, has just unveiled its Fall/Winter abaya collection. This exclusive collection, available on their e-commerce platform, is a testament to sophistication and craftsmanship, blending tradition with a trendy twist.
The Fall/Winter abaya collection is all about elevating visual allure through intricate surface embellishments. From delicate linen tassels to elegant wrap styles, each abaya in this collection boasts exquisite details that exude sophistication. It marries the essence of tradition with the flair of modernity, reimagining the classic abaya as a fashionable and modern cover-up.
Among the standout pieces, the Moss Green Linen Abaya takes center stage. Its unique wrap detailing breaks the mold of the conventional abaya, offering a chic and contemporary twist. IZEL Fashion's Fall/Winter collection dares to redefine the perception of an old-fashioned abaya.
The collection is a testament to diversity, featuring a range of styles that reinvent the traditional abaya. The Organza Blue Abaya is a statement piece with pleated detailing on the sleeves that wraps into a bow at the cuff, adding a sweet accent to your ensemble. For a chic weekend brunch, the Linen Blue Tassels Abaya with its delightful tassel detailing is the perfect choice.
IZEL's commitment to quality extends to the fabric selection, with pieces crafted from Nidha, Zoom, Organza, Linen, and more. Each abaya is not only a display of quality but also a symbol of comfort, designed to cater to the functional aspects of an abaya while maintaining an elegant aesthetic.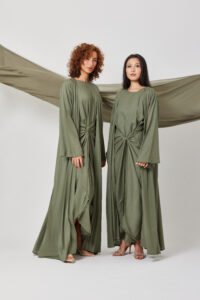 This collection features a captivating array of unconventional designs paired with modern embroidery, offering versatility for various occasions. The Hand Embroidered Abayas in beige and black colorways are ideal for everyday wear, whether you're heading to the office or running errands. Intricate embroidery and tassel detailing on the sleeves strike the perfect balance between classic and contemporary fashion.
IZEL Fashion, co-founded by the talented duo Hafna Sakhaf and Ziya Mariyam, aims to provide stylish yet modest options in a fashion space that is often limited. Hafna Sakhaf, the Co-Founder and Managing Director of IZEL, expressed her excitement about the collection, emphasizing their mission to offer vogue trends and designs that cater to women's diverse tastes without compromising on style and comfort.
As IZEL Fashion opens the doors to its Fall/Winter abaya collection, it invites you to embrace the fusion of tradition and trend in the world of fashion.
Visit the Website for more details.