Al Noor Training Centre for Persons with Disabilities proudly announces its inaugural "Al Noor- Al Masraf Bank 30 X 30 Corporate Challenge," scheduled to illuminate the city's landscape from November 14th to 18th. This groundbreaking event, a testament to solidarity and wellness, takes inspiration from the Dubai Fitness Challenge, fostering camaraderie and supporting a noble cause.
Nestled in the heart of Al Barsha 1, Al Noor Training Centre welcomes a five-day celebration of spirited sportsmanship, igniting the competitive spirits of corporate teams. Padel Tennis, Indoor Football, and Indoor Basketball take center stage, serving as conduits for teamwork, skill, and the promotion of health and fitness—a holistic embodiment of Dubai's 30 X 30 theme.
Director of Al Noor Training Centre, Ms. Ranjini Ramnath, shares her vision, stating, "Our aim resonates with Dubai's fitness initiative—engaging corporations in sports activities to foster a health-conscious mindset while championing the cause of people of determination. We extend gratitude to the Dubai Sports Council and the Community Development Authority for their unwavering support, inviting the community to join us in empowering individuals with determination."
Following the exhilarating five days of spirited games, Al Noor orchestrates a distinguished award ceremony under the patronage of Mr. Khalid Al Halyan, Chairman of the Al Noor Association. The celebration culminates with an inclusive match integrating individuals of determination, honoring participants and supporters pivotal to the event's success.
This year's event, generously sponsored by Al Masraf Bank as the title sponsor, receives additional support from First Abu Dhabi Bank (FAB) and Dubai Police. Charles Doghlass, Acting CEO of Al Masraf, expresses pride in the partnership, affirming their commitment to promoting inclusion and diversity within the communities they serve.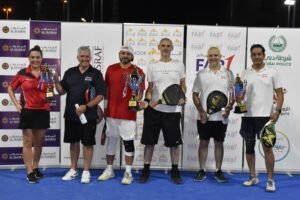 Mr. Doghlass further adds, "As the title sponsor of the 30 X 30 Corporate Challenge, we stand in solidarity with Al Noor Training Centre's commendable cause. Our dedication extends to fostering exceptional customer experiences and supporting diverse communities."
Al Noor Training Centre for Persons with Disabilities, established in 1981, stands as a beacon of empowerment for individuals of determination. With a comprehensive approach focusing on holistic development, the Centre's dedication to enhancing the lives of over 205 students from diverse backgrounds reflects in its tailored programs and exemplary facilities donated generously by HH Sheikh Mohammed bin Rashid Al Maktoum.
As the "Al Noor- Al Masraf Bank 30 X 30 Corporate Challenge" unfolds, it not only champions sportsmanship but also embodies the spirit of unity, inclusion, and unwavering support for individuals of determination.
Visit the Website for more details.