Imagine a luxurious getaway where you and your four-legged companion can revel in the lap of opulence. Park Hyatt Dubai, nestled along the serene waters of Dubai Creek, offers precisely that. This esteemed hotel is not just a haven of luxury for its guests but extends a warm welcome to their cherished pets as well.
For guests with petite pooches weighing below 12kg, Park Hyatt Dubai introduces an unparalleled world of experiences. It's a privilege available to those staying in the Family Lagoon Beach Rooms and Suites located on the ground floor. Here, you and your furry friend can soak up the sun on the room's terrace, creating delightful memories while surrounded by the hotel's exquisite ambiance.
But that's not all – the hotel extends its pet-friendly spirit to various terraces, including NOÉPE, Jones the Grocer, Lakeview, and Marina Promenade. These scenic spots provide the perfect setting for both guests and their pets to relish. To make the experience even more memorable, guests can take their furry companions to a Dog Park in the Holiday Villas community area, where the dogs can enjoy some extra fun and play.
Park Hyatt Dubai ensures a stress-free in-room check-in process for guests with pets. Moreover, they provide Evian water for your dogs, offering special treats to pamper them throughout their stay.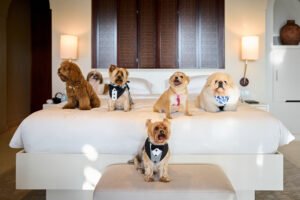 At Park Hyatt Dubai, hospitality knows no bounds. As guests explore the hotel's offerings, their furry friends are not just visitors; they are cherished family members. They are embraced and pampered in the true spirit of hospitality, ensuring a memorable and heartwarming stay for all.
Important Details:
Booking for this exclusive offer starts on October 27th, 2023.
A cleaning fee of AED300 per pet applies.
Visit the Website for more details.