Dubai's culinary scene just got a whole lot more exciting with the dazzling transformation of 53 Restaurant & Lounge. After a month-long renovation, the restaurant reopens its doors with a glamorous new look, boasting three unique sections that cater to every guest's whim.
First up, Summus is the dedicated restaurant area, offering up divine Asian Mediterranean cuisine in a sumptuous setting. With its soft lighting, plush furnishings, and mesmerizing decor, Summus is the perfect spot for an intimate evening with that special someone or a night out with friends. The restaurant opens at 2 pm and closes at 3 am, giving guests plenty of time to enjoy the exquisite dishes on offer.
Next, 53 Dubai is where the real magic happens. Featuring live acrobatics, aerialists, and a sensational live band, this section provides guests with an unforgettable entertainment experience that perfectly complements the gourmet food and drinks on offer. Whether you're in the mood for a romantic evening or a night out with friends, 53 Dubai will leave you spellbound.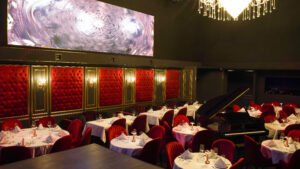 If you're looking to let your hair down and party the night away, OCCHIO Nightclub is the place to be. With its separate entrance and capacity for up to 100 people, this chic new club promises breathtaking views of Downtown Dubai and an electric atmosphere that will keep you dancing until the early hours. Open from 11.30 pm until 3.00 am, the club invites you to revel in the city's dazzling skyline while you let loose on the dance floor.
Shayan Azim, the Founder of 53 Restaurant & Lounge, says, "The investment in the refurbishment aligns with our vision to grow with the region's ever-changing trends and to lead new trends for the F&B industry. We enjoy challenging the market while staying true to our brand values and signature offerings of top-quality food, engaging ambiance, and impeccable service paired with unique performances."
And speaking of unique performances, 53 Restaurant & Lounge has pulled out all the stops to provide guests with a one-of-a-kind experience. Mr. Vim and his band will be performing live on Thursdays, Fridays, and Saturdays, delivering smooth vocals and musicality that will keep you entertained and energized. Natalia and her live band will take over on Wednesdays, Tuesdays, and Sundays, serving up a mix of popular jazz standards, funky tunes, and catchy pop songs that will have you tapping your feet and humming along in no time.
Last but not least, acrobats and dancers will perform every day except for Mondays, adding an extra layer of excitement and intrigue to an already spectacular line-up. With its stunning new look and incredible entertainment, 53 Restaurant & Lounge is the ultimate destination for those seeking an unforgettable night out in Dubai.
The brand welcomes guests to revel in the new and improved nighttime destination and soak in the breathtaking views, gourmet cuisine, and unforgettable shows.
For bookings, contact +971 56 253 5353, or visit Sevenrooms.com.