Get ready to embark on a technological journey like never before as GITEX 2023 takes center stage in the heart of the UAE. This year's edition promises to be a beacon of innovation, drawing tech enthusiasts, industry leaders, and visionaries from around the globe. As we delve into the digital realm, GITEX 2023 unveils a captivating landscape of the latest trends, groundbreaking technologies, and visionary insights that will shape our future. Join us in this roundup as we unravel the most exciting highlights from this technological extravaganza!
1. Urbi 
Urbi, a prominent GIS & Location Intelligence company, celebrated as the recipient of the "SMART CITY SOLUTION OF THE YEAR" award at the Entrepreneur Tech Innovation Awards 2023, is preparing to captivate audiences with its groundbreaking solutions at GITEX Global 2023. Urbi introduces its largest updates to its flagship products. CityLens, is now equipped to recognize speed bumps, dumpsters, and many more road objects promising an unparalleled level of road detail.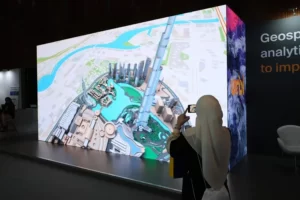 Demonstrating unparalleled expertise in location intelligence, navigation, and geospatial business analytics, Urbi is set to unveil significant solutions during the prestigious exhibition, solidifying its commitment to pioneering advancements in the geospatial sector.
Instagram: @urbi_ae
2. EcoFlow
 EcoFlow, a leading eco-friendly energy solutions company, today unveiled three ground-breaking devices for the Middle East region at GITEX Global, taking place at Dubai World Trade Center. The solutions are EcoFlow RIVER 2 PRO, DELTA 2 and WAVE 2. These devices harness the advantages of EcoFlow's battery technology to deliver energy-efficient performance at home and for outdoor adventures.
With a product lifetime six times longer than the industry average, the RIVER 2 Pro delivers a new level of long-term value in the portable power station market and ensures as many people as possible can access the very latest in sustainable energy innovation.
Visit the Website for more details.
3. Nedaa
Professional Communication Corporation – Nedaa, is thrilled to announce its participation at the 43rd GITEX Global, where it will introduce a range of innovative smart city applications that cater to the evolving needs of leading security, government and first responder agencies focused on security and safety.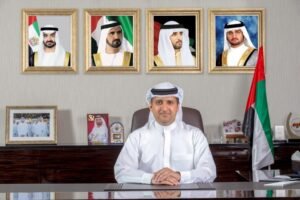 At the heart of Nedaa's showcase will be the revolutionary Mentura COREMOTE Tactics, operating seamlessly on the Nedaa 4G Network. This solution offers situational awareness features, automatic vehicle location management, fleet management, and a dispatching solution designed for organizations managing mobile field forces.
Visit the Website for more details.
4. Magic Leap
Over the past three years, Magic Leap has accelerated its pivot to focus on enterprise applications, brought its industry-leading capabilities to new customers, and strengthened both the financial and technological foundation of the company.
The company has fortified its financial and technological underpinnings, heralding a new era of innovation. Notable recent developments include the launch of its second-generation AR marvel, Magic Leap 2, and strategic collaborations with industry giants such as Geopogo, Cisco Webex Hologram, VMware, NVIDIA, and Google Cloud, aimed at revolutionizing AR-driven virtual collaboration in professional settings.
Visit the Website for more details.
5. Ajman Tourism 
The Ajman Department of Tourism Development (ADTD) is taking center stage at GITEX 2023, hosted at the Dubai World Trade Center from October 16 to 20. They are proudly showcasing dynamic initiatives which include Digital Mapping of Hotels and Tourist Facilities and Holiday Homes Initiatives, designed to stay in tune with the evolving landscape of the tourism industry, foster dialogue with fellow participants at the exhibition, and share experiences and insights with innovators and experts.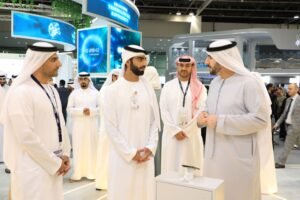 The launch of the significant initiative Digital Mapping of Hotels and Tourist Facilities offers a one-stop solution for all your cultural, sports, and restaurant needs in Ajman. Our integrated system consolidates information from various sources, eliminating the need to search separately across different websites. This initiative ensures that you can easily access details about cultural events, sports activities, and dining options within the emirate, all conveniently located in one place.
Visit the Website for more details.
6. RAKEZ
Ras Al Khaimah Economic Zone (RAKEZ) participates in GITEX Global 2023, one the world's of most significant technology exhibitions, taking place at the Dubai World Trade Centre, until 20 October. The event is bringing together innovators, industry leaders, and tech enthusiasts from around the world. The economic zone's presence at GITEX Global 2023 aims to highlight the thriving opportunities available for investors in the UAE's flourishing technology industry.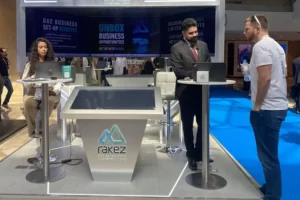 RAKEZ's participation underscores its commitment to fostering innovation, entrepreneurship, and economic diversification in Ras Al Khaimah. The economic zone offers a robust ecosystem tailored to the unique needs of IT companies, including streamlined business setup processes, state-of-the-art infrastructure, value-added business support services, and a business-friendly regulatory environment.
Visit the Website for more details.
7. Yasmina
Yango, a global tech company, is excited to offer a sneak peak of its current project – an Arabic-speaking, human-like AI assistant called Yasmina. This smart assistant is an empathetic companion that goes beyond basic tasks like streaming music or turning on smart home appliances.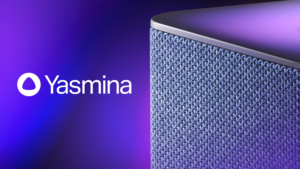 What sets Yasmina apart from other assistants is the ability to maintain engaging, fun, and consistent dialogs that feel like you are talking to a real person. Yasmina's ability to engage in a human-like conversation is based on a proprietary large language model that was thoroughly fine-tuned with the help of hundreds of content professionals, who edited and perfected Yasmina's dialogs. A great number of people from different locations, like Riyadh, Jeddah, Dammam, and more, were involved in training Yasmina to recognize a wide variety of speech patterns, intonations, and dialects!
You can sign up for the public beta testing of Yasmina at yasmina.yango.com.
8. Insticc Digital™
Insticc Digital™ Solutions, a leading digital transformation and custom software development company gearing to change the sustainable technology landscape in the AMEA region, has announced its Platinum Sponsorship of GITEX Impact 2023 – a global event bringing together stakeholders to explore innovative solutions in sustainable tech & finance, ESG investments, climate, and public-private partnerships.
With a team of driven entrepreneurs and a vision to solve the world's most pressing technological challenges, Insticc Digital™ Solutions focuses on creating enterprise solutions. From speed-to-market efficiencies and automation to cost-effective open source tech, the Insticc Digital™ team comprises technology engineers, developers, and architects, combining 35+ years of experience in the rapidly evolving tech space.
Visit the Website for more details.
9. Nokia
At the week-long annual tech event GITEX ending today in Dubai, Nokia's Network Infrastructure (NI) team demonstrated how disruptive network technologies for infrastructure is pushing the boundaries of innovation and sustainability to open new opportunities for the telecom industry. The global B2B innovation leader showcased its technology prowess to help the telecom industry customers transform their business to the 'power of n' and harness the exponential potential of networks.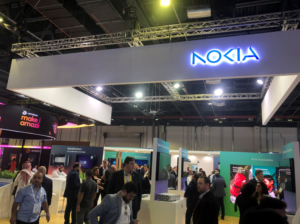 Nokia's recently launched 7730 Service Interconnect Router (SXR) platforms with a revolutionary approach, has also been brought for GITEX audience. It delivers the power and benefits of service routing into IP access and aggregation networks to meet the capacity and capabilities demanded by broadband investments and evolving cloud network architectures.
Visit the Website for more details.
10.  PROW
PROW is bringing its comprehensive portfolio of cybersecurity and data management services for the fifth consecutive year to GITEX, the biggest event and platform for technology and innovation in the region.
Following last year's expansion into the markets of Bahrain and Uzbekistan, PROW has strengthened its presence and impact in the regions of Middle East (ME), Gulf Cooperation Council (GCC), and Commonwealth of Independent States (CIS). Apart from GITEX, PROW actively participates in industry events around the world, including the Central Eurasia Cybersecurity Summit in Tashkent, Uzbekistan – a testament to the company's global engagement and commitment to staying at the forefront of cybersecurity trends.
Visit the Website for more details.