Step into a realm of enchanting experiences this September at Centara Mirage Beach Resort Dubai. Designed with family fun in mind, this beachfront haven offers an abundance of exciting adventures for guests of all ages. From thrilling water slides to leisurely drifting along a lazy river, and indulging in delectable cuisine at one of the seven restaurants, there's something for everyone at this incredible beach resort.
For those seeking a thrilling and lively escape, look no further than Centara Mirage Beach Resort Dubai's Virtual Sports Zone. This electrifying gaming zone is now available complimentary for all in-house guests. Located in the Jasmine Rooms on the Lobby Level of the hotel, the Virtual Sports Zone is an extension of the resort's popular E-Zone. Recently, the sports zone has added four exciting arcade machines, making it the ultimate destination for sports and game enthusiasts looking to beat the heat and indulge in some indoor gaming adventures.
From football to golf to bowling and everything else in between, there's something for everyone to enjoy. Don't miss out! Book your next visit to Centara Mirage Beach Resort Dubai today and let the games begin!
Enter a world of wonder at Centara Mirage Beach Resort Dubai and book your stay for the experience of a lifetime. The resort is an ideal destination for a family-friendly summer staycation, where you can enjoy a thrilling water park with lagoon pools, a lazy river, kids' splash play area, waterslides, and much more. When you're done soaking up the water pleasures, relish culinary delights at the multiple enticing dining venues across the hotel. To enhance the joy of this splendid getaway, Centara Mirage Beach Resort Dubai is offering discounted room prices of up to 20%, ensuring you and your family have a summer to remember! Available now until September 30th, 2023. Up to 20% off on room prices, inclusive of Breakfast.
Centara Mirage Beach Resort Dubai is extending its signature Thai hospitality offering with the launch of a special summer package at the resort's Spa Cenvaree that will delight guests of all ages. The Spa Cenvaree boasts a team of highly trained therapists offering tantalizing treatments, such as the salt pot muscle melter massage. This summer, the Spa Cenvaree has crafted a menu that takes the best from traditional Thai treatments and adds a pop of playful innovation for younger clients.
The Family Package aims to bring generations together for a beautiful bonding experience, with treatments tailored towards pampering grandmothers, mothers, and daughters. Younger guests will be delighted by the 90-minute Kid Candy experience, where masks and scrubs scented with playful flavors, including bubble gum, toffee apple, blueberry candy, and chocolate, will evoke memories of their favorite treats.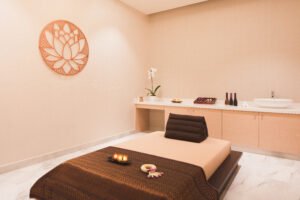 The Spa Cenvaree's signature Natural C package will leave guests with brighter, smoother skin. The soothing treatment includes a body scrub using a gentle exfoliator with citrus enzymes to slough away dead skin cells, and a relaxing massage to promote rejuvenation. For an adults-only experience, parents in need of a little downtime can leave their children in the care of the professional nannies at Centara's Kids Lounge as they embark on their own journey towards ultimate relaxation. The price of the Spa Cenvaree's special summer package is AED 630, discounted from the regular price of AED 1,300.
Centara Mirage Beach Resort Dubai beckons families to create lasting memories this September with an array of exciting activities, gaming adventures, discounted room rates, and rejuvenating spa experiences. Don't miss your chance to make this September a truly unforgettable one at this remarkable family-friendly resort.
Visit the Website for more details.