Step into the future as Krasota Dubai unveils its newest production, "Imaginary Future." This avant-garde gastro-theatre promises to take you on a captivating journey that seamlessly fuses culinary artistry with technological innovation and visual storytelling. Starting on the 21st of November, "Imaginary Future" pushes the boundaries of imagination and creativity, offering a glimpse into what lies ahead for humanity.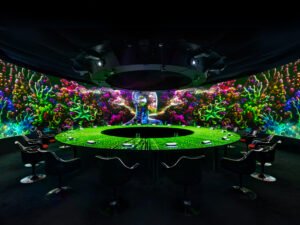 "Imaginary Future" is a seven-act spectacle that blurs the lines between reality and fantasy, offering a futuristic vision of the world. At the heart of this experience is a meticulously crafted seven-course meal, designed by the award-winning Chef Vladmir Mukhin. Each course is harmoniously intertwined with the unfolding acts of the show, offering a unique exploration of future gastronomy. The question at the core: What will food be like in the future? Brace yourself for a culinary adventure that challenges norms and tantalizes your taste buds with innovative dishes.
The show delves into a future where human life and artificial intelligence collaborate to advance space exploration, where voyages to Mars and other planets lead to interplanetary civilization. Themes explored include new food rituals, future plant production, the pursuit of time control, a world where cyberpunks reign with eternal neon night celebrations, and the emergence of technology in ocean exploration. "Imaginary Future" is not just a performance; it's an immersive experience where guests can interact in real time with the storyline, creating a unique blend of reality and fantasy.
Enter the gastronomical theatre, an auditorium with a large circular table for 20 diners, surrounded by pixel-perfect 3D multimedia projections across the curved walls and adorned table. Krasota Dubai, a pioneer in fine dining and a part of the White Rabbit Family alliance, has brought together a highly experienced team of tech innovators, culinary artists, and visual designers to create this visionary venture in Dubai.
After the success of their premiere show, "Imaginary Art," which brought international artists' paintings to Dubai's epicurean scene, "Imaginary Future" takes immersive dining to new heights, offering a story filled with enchantment and interactivity.
Don't miss the opportunity to be part of this extraordinary journey into the future of gastronomy and art. "Imaginary Future" is set to redefine your dining experience, inviting you to explore a world where food, technology, and imagination collide in a breathtaking spectacle.
Tickets for this ground-breaking gastronomical performance are available to purchase on the official website ticket.krasota.art or by calling the Krasota Dubai restaurant Box Office at +971 4433-12-58.
Visit the Website for more details.