The thrill of the open sea combined with the breathtaking views of Dubai's iconic skyline awaits with LOVE BOATS UAE's latest November offerings. Catering to both Dubai visitors and adventure enthusiasts, LOVE BOATS UAE invites you on an unparalleled tour of Dubai's most prominent landmarks aboard their cutting-edge speedboats.
Setting itself apart as the premier tour and speedboat company in Dubai, LOVE BOATS UAE takes pride in its fleet of state-of-the-art speedboats. These vessels are designed to navigate the Arabian Gulf, ensuring a safe, stable, and thrilling journey for all passengers. Equipped with top-notch safety measures, electronic devices, and life jackets, LOVE BOATS UAE prioritizes passenger safety without compromising on the adrenaline rush.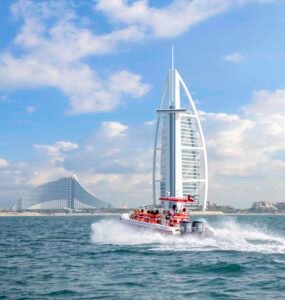 Select from a variety of tour options tailored to suit every preference and timeframe:
100 Mins Speedboat Tour – "The Blast Ride"
90 Mins Speedboat Tour – "Adrenaline Fun"
75 Mins Speedboat Tour – "Atlantis Panoramic"
60 Mins Speedboat Tour – "Marina Skyline"
Each tour promises a unique perspective of Dubai's renowned landmarks, including the Dubai Marina, Bluewater Island, Ain Dubai, JBR, Atlantis, and the majestic Burj Al Arab.
Safety remains paramount at LOVE BOATS UAE. With vessels accommodating 12 to 20 passengers, every journey is supervised by a team of industry experts, ensuring a safe and enjoyable experience for all thrill-seekers.
Aside from the thrilling tours, LOVE BOATS UAE presents exclusive promotions not to be missed:
"Watch Dubai New Year 2024 – Fireworks Live Aboard!" Be part of an unforgettable New Year's Eve with a breathtaking view of fireworks from three iconic locations: Atlantis, Burj Al Arab, and Burj Khalifa. Experience all three spectacular displays from the comfort of a single spot aboard LOVE BOATS UAE.
"Early Bird Discount" Begin your day with an adrenaline rush and a 20% discount when you book the 9 AM tour. Set sail early, witness the beauty of Dubai's skyline, and embrace the thrill of a morning speedboat ride.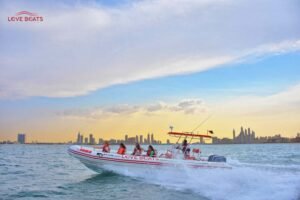 Your adventure starts at LOVE BOATS UAE's kiosk in Dubai Marina Walk, opposite Spinneys supermarket. Look out for an experience that will create lasting memories against the stunning backdrop of Dubai's skyline.
Prepare for a thrilling and safe voyage while exploring Dubai's most celebrated landmarks. LOVE BOATS UAE ensures an experience that blends excitement, safety, and panoramic views—a perfect adventure for all visitors and adrenaline enthusiasts alike.
Visit the Website for more details.