Dubai, get your dancing shoes ready because the party of the year is about to hit Hotel Indigo Dubai Downtown's Off The Wall bar! Prepare to be transported to a world where Arabic nostalgia meets Western disco fever as Disco Arabesquo takes center stage. This sensational event, in collaboration with Hence Management, promises an unforgettable night filled with pulsating beats, infectious rhythms, and non-stop fun. Don't miss your chance to be part of the first-ever Dubai showcase of Disco Arabesquo!
Step into the extraordinary world of Moataz Rageb, the genius behind Disco Arabesquo. With a passion for unearthing hidden musical treasures, Moataz has turned the tables on forgotten Arabic cassettes and vinyl, transforming them into dancefloor bangers. Be prepared to experience a magical fusion of '80s, '90s, and '00s Arabic hits infused with a modern disco twist. Disco Arabesquo is here to ignite your senses and make you groove like never before!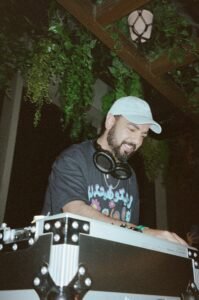 Get ready to surrender to the irresistible beats as Disco Arabesquo makes its dazzling debut in Dubai. Brace yourself for an electrifying three-hour set by the Kuwaiti DJ and music connoisseur, Cascou, who knows exactly how to get the crowd moving. Joined by the mastermind himself, Moataz Rageb, this dynamic duo will deliver an explosive performance that will have you dancing from dusk till dawn. Prepare to unleash your inner disco diva and dance like nobody's watching!
Imagine stepping into Off The Wall, a vibrant and edgy cocktail bar that perfectly embodies the spirit of cultural fusion. This venue, adorned with the stunning artwork of local talents, sets the stage for an unforgettable night. From the moment you enter, you'll be surrounded by an atmosphere that blends urban coolness with hints of tradition. Get ready to be swept away by the captivating ambiance and let the beats take control of your soul.
Hotel Indigo Dubai Downtown has always been at the forefront of discovering and showcasing hidden gems across creative fields. They've done it again by bringing Disco Arabesquo to the Dubai audience. Omar Gamal, Marketing Manager at Hotel Indigo Dubai Downtown, expresses his excitement, stating that Moataz Rageb is a true gem that deserves the spotlight. With their commitment to providing unique and unforgettable experiences, Hotel Indigo Dubai Downtown continues to be the go-to destination for those seeking something extraordinary.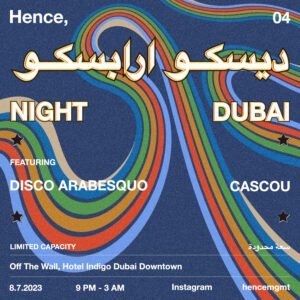 Dubai, get ready to unleash your inner disco king or queen at the most anticipated event of the year! Disco Arabesquo is coming to Hotel Indigo Dubai Downtown's Off The Wall bar, bringing you an unforgettable night of Arabic nostalgia meets Western disco fever. With Moataz Rageb and Cascou at the helm, prepare to embark on a musical journey like no other. Get your tickets now and be part of the hottest party in town. This is your chance to let loose, dance like nobody's watching, and immerse yourself in a night of pure musical bliss. It's time to dance, groove, and create memories that will last a lifetime!
The countdown to the Disco Arabesquo extravaganza has begun! Secure your spot by booking your tickets online or by reaching out via call or WhatsApp at +971 56 422 7120.
Insatgram: @hotelindigo
Visit the Website for more details.