Say hello to your dream summer getaway without even leaving the city! Get ready for an enchanting spa-cation at the fabulous Coya Spa & Salon, where serenity, relaxation, and pure indulgence come together in a swirl of magic. Leave those everyday worries behind, as you embark on a journey to the heart of Mirdif, where a luxurious day of pampering awaits to elevate your summer to cloud nine!
Imagine walking through the doors of Coya Spa & Salon, and all your stress instantly melting away. No, you're not in a dream; this is your reality! Step into an oasis of tranquility, where every corner is designed to whisk you away from the hustle and bustle. It's a one-way ticket to paradise, and it's calling your name.
Ladies, listen up! This one's especially for you! Coya Spa has crafted the perfect pampering package, aptly named the "Ladies Day Out." It's like they read our minds and put together the ultimate recipe for relaxation. Get ready to be swept off your feet and treated like the queens you truly are. Let the magic begin! Picture this – you're enveloped in a soothing Moroccan bath, the aroma of delicate flowers filling the air, and all your worries rinsing away. Next up, a 45-minute massage that will leave you in a state of pure bliss. Tight muscles? Stress? Consider them gone!
Time to light up like a summer sun! Your skin will thank you as you indulge in a bespoke express facial tailored just for you. With nourishing ingredients and expert care, get ready to glow from within and turn heads wherever you go.
We know summer can be a little harsh on those fabulous locks. Fear not, for Coya Spa & Salon has a special treat for your tresses! A nourishing hair treatment followed by a sleek blow-dry will leave your hair ready for any beach party or city adventure.
It's the little details that make all the difference. Get ready for the royal treatment as your hands and feet get pampered with a luxurious manicure and pedicure. Picture yourself with perfectly polished nails, feeling like a true goddess!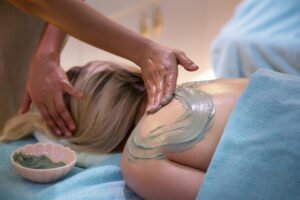 The cherry on top? The Ladies Day Out package comes with a delightful surprise – it's all about you and your preferences! Fancy a full-day spa-cation? You got it! Prefer to spread the bliss over four weeks? Totally doable! Coya Spa & Salon knows that every queen deserves a personalized experience.
Get ready to escape to a world of pure indulgence and relaxation. Coya Spa & Salon is here to make your summer unforgettable – one blissful moment at a time!
Contact Details: Call +971 4 6015555 or Email bookings@coyaspa.com
Instagram: @coyaspadxb