Lucky Voice is about to paint the town pink this October, and it's going to be more fabulous than a unicorn sipping a pink latte in a rose garden! Brace yourselves, because they're unleashing "Ladies Pink Night," a weekly bash that's part karaoke, part cocktail magic, and all about celebrating Breast Cancer Awareness Month in style. Lucky Voice transforms into a pink paradise, making even the most passionate flamingo jealous. The venue gets a vibrant pink makeover, setting the stage for an unforgettable night of fun and purpose.
But the real star of the show? The music, of course! Lucky Voice boasts a karaoke setup that's as expansive as the internet's meme collection. With over 15,000 tracks at your fingertips, you can unleash your inner pop sensation and sing everything from chart-toppers to classics.
And what's a party without the perfect soundtrack? DJs Mark Vee and DJ Jean Pearl are in charge of the beats, ensuring the night is as fresh as the latest viral TikTok trend. Their playlists are your ticket to a dance floor that's hotter than a desert sunrise.
But we're not done yet. Lucky Voice knows how to keep the good times flowing. They're serving up free-flowing drinks that rival the endless streams of cat videos on the internet. Plus, if you're feeling a bit peckish between singing sessions, enjoy a generous 25% discount on delicious bites.
Here's the kicker: Dress up in your favorite pink attire and channel your inner Barbie or Ken. It's not just a fashion statement; it's a chance to win seriously cool prizes. Every Ladies Pink Night in October, the pinkest-dressed guest will score something spectacular!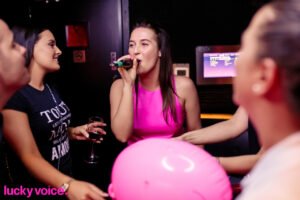 But this night isn't just about fabulousness; it's about making a difference. Breast Cancer Awareness Month is a cause close to our hearts, and by joining Lucky Voice's Ladies Pink Night, you're not only joining the party of the year but also contributing to a crucial mission.
So, gather your squad, dust off your pink outfits, and get ready for an unforgettable night that's got more star power than a Hollywood red carpet. Lucky Voice's Ladies Pink Night: where karaoke, cocktails, and a cause collide in the most glamorous way possible. Don't miss it!
Contact Details: Call 800 58259 / WhatsApp +971 52 991 6979 or Email reservations@luckyvoice.ae. 
Visit the Website for more details.