Get ready to embark on an unforgettable spa adventure at Centara Mirage Beach Resort Dubai's Spa Cenvaree! This summer, they're unveiling a collection of spa specials that will captivate guests of all ages. Prepare to be pampered, bond with your loved ones, and experience traditional Thai treatments with a delightful twist. It's time to dive into a world of relaxation and fun!
Nestled on the breathtaking Dubai Islands, Centara Mirage Beach Resort Dubai has quickly become a haven for those seeking a blissful escape since its grand opening in October 2021. At the heart of this enchanting retreat lies Spa Cenvaree, a sanctuary where skilled therapists weave their magic through a range of tantalizing treatments, including the renowned salt pot muscle melter massage.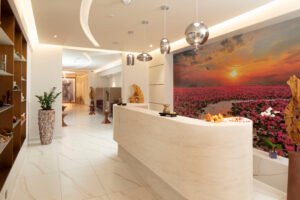 Embracing the rich heritage of Thai culture, Spa Cenvaree has curated an extraordinary summer menu that blends tradition with innovation, ensuring an unforgettable experience for the whole family. Introducing the Family Package—an invitation for grandmothers, mothers, and daughters or sons to come together and create beautiful memories while being pampered from head to toe.
But that's not all! Younger guests are in for a treat with the mesmerizing 90-minute Kid Candy experience. Picture masks and scrubs infused with playful flavors like bubble gum, toffee apple, blueberry candy, and chocolate. It's a sensory delight that will transport kids to a world of sweet sensations, leaving them feeling refreshed and pampered like little princes and princesses.
For those seeking to unveil their inner glow, the Spa Cenvaree signature Natural C package is a must-try. This rejuvenating treatment begins with a gentle citrus enzyme body scrub, banishing dullness and revealing brighter, smoother skin. And as relaxation takes over, a blissful massage will leave you feeling renewed and revitalized.
Parents, they haven't forgotten you! Take a well-deserved break and leave your little ones in the expert care of professional nannies at Centara's Kids Lounge. It's your chance to unwind, recharge, and immerse yourself in a world of tranquility and indulgence. Now here's the best part: the special summer package is available at an incredible price of AED630, a fantastic discount from the regular price of AED1,300. This is an opportunity you don't want to miss!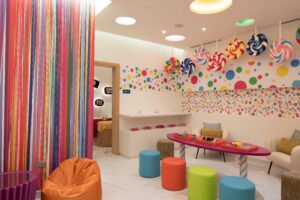 At Centara Mirage Beach Resort Dubai, your experience extends far beyond the spa. Indulge in a feast for the senses with a choice of nine spectacular dining venues, including a rooftop shisha lounge and a beach club. Stay active at the state-of-the-art fitness center or try your hand at thrilling water sports. And for moments of tranquility, prayer rooms are available to nurture your spiritual well-being.
Unleash your inner spa explorer, gather your loved ones, and embark on a whimsical journey of relaxation, bonding, and playful treatments at Spa Cenvaree, Centara Mirage Beach Resort Dubai's haven of pure bliss. Get ready to create cherished memories that will last a lifetime!
To reserve your spa adventure, simply email spacenvareecdd@chr.co.th, reach out via WhatsApp at +971 50 806 3229, or give them a call at +971 04 522 9999. Remember, availability is limited, so be sure to book in advance. (Please note that this offer is not applicable during public holidays.)
Instagram: @centaramiragedubai
Visit the Website for more details.