In a groundbreaking move, Nutridor, a leading food and beverage (F&B) company under TGI Group, has set a new standard in the dairy industry with the inauguration of its AED 75 million state-of-the-art dairy production facility at Dubai Industrial City. This facility, developed in less than a year, marks a significant milestone for Nutridor and its high-quality dairy brand, 'Abevia.'
The newly launched dairy facility, spanning an impressive 100,000 sq.ft., is not just a factory; it's a vision brought to life. It represents a commitment to delivering high-quality dairy products to customers while embracing sustainability. One of the most noteworthy aspects of this facility is its use of solar power, a move that will help the factory avoid carbon emissions equivalent to taking 1,759 cars off the road each year.
Abevia's new factory is not only environmentally conscious but also poised for impressive growth. With the commencement of commercial operations, Abevia's production capacity will skyrocket, doubling to a staggering 120,000 liters of milk per day. This increase is set to meet the growing demand for Nutridor's high-quality dairy products in the UAE and beyond.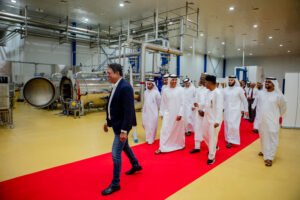 The factory's inauguration ceremony saw the presence of distinguished guests, including government officials, ambassadors, and key industry figures. Notable attendees included His Excellency Mohammed Mousa Alameeri, Assistant Undersecretary for the Food Diversity Sector at the Ministry of Climate Change and Environment of the UAE, and His Excellency Helal Al Marri, Director-General of Dubai Department of Economy and Tourism, among others.
This factory is not just about producing dairy; it's about creating value and opportunities. Nutridor expects to generate AED 110 million in revenues from the factory's operations. Moreover, it will create over 200 new direct and indirect jobs, contributing to the Emirati talent pool and supporting the UAE's economic expansion and diversification.
The new facility aligns with the UAE's Net-Zero 2050 strategy, designed to ensure zero waste and reduce carbon emissions significantly. With its strategic location near key transportation hubs, including Al Maktoum International Airport and Jebel Ali Port, it promises to provide greater access to new markets for Abevia.
Abevia's commitment to excellence has not gone unnoticed. The brand earned 'Superbrands' status in the UAE in 2022 and 2023. Furthermore, Nutridor recently received the coveted Food Safety System Certification FSSC 22000, reflecting its dedication to the highest international standards in the industry.
Nutridor's AED 75 million investment in the Abevia dairy factory represents a significant leap forward for the UAE's dairy industry, with a strong focus on sustainability, quality, and growth. This visionary initiative is a testament to Nutridor's commitment to delivering high-quality dairy products while contributing to the UAE's economic development and environmental goals. Abevia's star is undoubtedly on the rise.
Visit the Website for more details.