Dubai's fashion enthusiasts, get ready for an autumn and winter season like no other! The Outlet Village, your go-to destination for top-notch fashion and lifestyle brands at irresistible prices, is bringing the runway to life with a series of stunning fashion shows and inspiring workshops. From the latest trends to creative endeavors, there's something for everyone.
Every Saturday at 6:15 pm, The Outlet Village will transform into a fashion haven. Step into the world of elegance as leading brands such as Calvin Klein, Tommy Hilfiger, Lacoste, Ted Baker, Armani Outlet, and more showcase their stylish seasonal collections. These are not just any runway shows; they are a chance to witness the latest designs and enjoy unbeatable deals right at your fingertips.
Take inspiration from the runway directly to the store. All the featured brands have their outposts at The Outlet Village, so you can grab exclusive deals and discounts to upgrade your wardrobe as the seasons change.
For those who want to embrace their creative side and make a sustainable fashion statement, The Outlet Village offers a range of workshops. Here's a glimpse of what you can expect:
Elevate Your Old Clothes: Do you have old outfits in your wardrobe that you don't know what to do with? Bring them to The Outlet Village and unleash your creativity. Cut, paint, paste, and transform them into something entirely new. It's a perfect opportunity to give a new life to items too sentimental to part with.
Photography Session: Learn the art of striking model-worthy poses and creating captivating photographs. Discover the techniques to transform your presence in front of the camera, and even take home a high-quality digital photograph of yourself.
Jewelry Making: Unleash your inner jewelry designer. Skilled jewelry makers will guide you in crafting original statement pieces that perfectly complement your winter style. Use colorful beads, stones, and eye-catching materials to create unique jewelry.
Fragrance Making: Explore the world of perfumery and create a signature scent that's uniquely yours. This guided session will help you blend delicate notes to make a fragrance that announces your arrival and lingers in your wake.
Make-up Workshop: Dive into the world of cosmetics with a professional makeup artist. Learn the latest tips, tricks, and trends to elevate your makeup game.
Skin and Hair Workshop: Discover the best ways to care for your skin and hair with hands-on guidance. Learn about your specific skin and hair type and explore the latest product lines and trends in the world of skincare and haircare.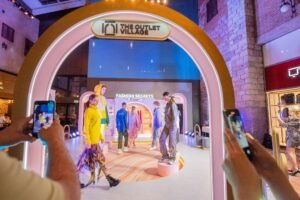 The Outlet Village is known for offering renowned labels at incredible prices, including brands like Dolce & Gabbana, Hugo Boss, Carolina Herrera, Nike, Adidas, and Lacoste. Don't miss out on the fantastic offers, discounts, and entertainment that await you at this chic shopping destination this autumn and winter.
So, whether you're a fashion aficionado, a DIY enthusiast, or someone looking to upgrade your style game, The Outlet Village is the place to be this season. Explore the latest trends, get creative, and make the most of the exceptional deals on offer. Your fashionable adventure awaits!
Visit the Website for more details.