Nestled in the heart of Downtown Dubai, Ting Irie isn't just a restaurant; it's a lively fusion of spirited ambience, pulsating beats, and vibrant Caribbean flavors. This November, Ting Irie invites you to a gastronomic adventure, blending modernity with traditional Jamaican dishes.
In the vibrant district of Souk Al Manzil, Downtown Dubai, Ting Irie stands as the UAE's first Jamaican restaurant, offering a contemporary twist to Caribbean cuisine using authentic island ingredients. Beyond being a dining spot, Ting Irie promises an immersive experience that transcends the ordinary.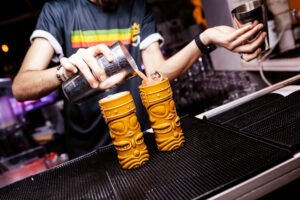 Happy Hours: Kickstart the week with Ting Irie's Happy Hours, where the infectious joy of Jamaica infuses every moment. From Sunday to Friday, between 12:00 pm and 8:00 pm, enjoy 50% off selected beverages. It's the perfect setting for engaging conversations and uplifting vibes.
3 Likkle Birds Ladies Night – Every Wednesday: Wednesdays at Ting Irie are dedicated to ladies, offering a delectable 2-course set menu with unlimited select beverages. Gents, fear not! The King's Feast package provides a sumptuous 3-course meal paired with unlimited selected beverages.
Skankin Thursdays: Thursdays turn into a musical journey with "Skankin' Thursdays." Groove to Reggae, R&B, Hip-hop, and Dancehall beats while indulging in Ting Irie's famous dishes and unlimited selected drinks for AED 195 per person from 8:00 pm to 12:00 am.
Dutty Wine Brunch – Every Saturday: Saturdays come alive with the "Dutty Wine Brunch." Dive into an Afro-Caribbean extravaganza, grooving to infectious beats while indulging in delectable dishes and a tempting selection of beverages.
Throwback Sunday: On Sundays, take a trip down memory lane with "Throwback Sunday." Groove to Old School tunes, savor a 3-course meal featuring iconic Jamaican dishes, and sip on unlimited selected beverages for AED 265 per person from 8:00 pm to 12:00 am.
Ting Irie in Downtown Dubai offers more than just a meal; it's an invitation to experience the soulful vibes and rich flavors of Jamaica. Join the festivities and make November a month to remember at Ting Irie.
Visit the Website for more details.