Get ready for an engineering extravaganza like no other! The United Arab Emirates is all set to host the 25th edition of the Gulf Engineering Forum in February 2024, and it promises to be an event of monumental significance. Under the theme "Smart Engineering for a Sustainable Future," this forum is gearing up to shape the future of engineering in a remarkable way.
The official announcement was made during a high-profile press conference held at the headquarters of the UAE Society of Engineers in Dubai. Eng. Abdullah Yousef Al Ali, President of the UAE Society of Engineers, and Eng. Mohamed Ali Alkhozaae, Secretary-General of Gulf Engineering Union, stood at the forefront of this announcement, accompanied by a multitude of local and Arab media outlets.
This prestigious event aligns seamlessly with the UAE's vision, strategies, and national projects aimed at achieving leadership, quality, and excellence in every facet. It goes beyond that; it seeks to instill a culture of innovation, a cornerstone for comprehensive and sustainable development across sectors.
Eng. Al Ali emphasized the UAE's commitment to the engineering sector, providing resources and support to nurture national talents and develop human capital within related institutions and companies. The result? Steady progress toward raising awareness about sustainability issues across diverse fields.
The UAE Society of Engineers plays a pivotal role in nurturing a culture of innovation, a critical element in elevating performance and international competitiveness to a leading position. It serves as a platform for creative minds in the engineering sector, with major engineering events like the Gulf Engineering Forum taking the forefront in these efforts.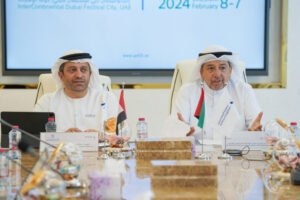 Recognized for its esteemed status across previous editions, the Gulf Engineering Forum stands as a valuable platform uniting industry leaders, decision-makers, researchers, and experts in the engineering sector from local and regional levels. It facilitates discussions on crucial issues, challenges, and sustainable solutions. Furthermore, it fosters collaboration, explores new horizons, strives for leadership and excellence, and contributes to creating a sustainable and improved future in the engineering sector.
The Forum's agenda will revolve around four main pillars:
Infrastructure and Construction Systems
Robotics and Smart Systems
Bioengineering and Biomedical Engineering
Cybersecurity in Engineering Systems
Expect enlightening panel discussions, workshops led by industry experts and decision-makers, exhibitions, MoU signings, and bilateral meetings between participating delegations.
Mark your calendars for February 7-8, 2024, as the InterContinental Dubai Festival City will play host to the Gulf Engineering Forum. The participants include representatives from government and semi-government organizations, AI and technology companies, scientific research institutes, engineers, researchers, and local and international policymakers, among many others.
The 25th Gulf Engineering Forum is not just an event; it's a journey towards a smarter, more sustainable future. Stay tuned for updates, and get ready to be part of this groundbreaking experience!
The 25th Gulf Engineering Forum promises to be a beacon of innovation, a platform for collaboration, and a catalyst for sustainable progress in the world of engineering. Don't miss the chance to be a part of this transformative event!
Visit the Website for more details.