VistaJet, the premier global business aviation company, is embracing the spirit of Diwali with a host of exclusive offerings that bring tradition, rejuvenation, and the joy of gifting to new heights. As part of their recently launched Wellness program, VistaJet is curating a multifaceted global wellness portfolio, making every member's Diwali celebrations truly unique.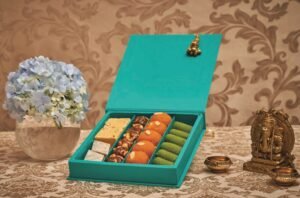 Diwali, often called the "Festival of Lights," is a time of vibrant colors and bright illuminations. It symbolizes the victory of light over darkness and good over evil, celebrating love, togetherness, and prosperity. VistaJet invites you to embark on a journey of wellbeing, relaxation, and memorable experiences with your loved ones this festive season.
VistaJet has a delightful surprise for its members on selected routes. They can now savor a selection of Mithai, traditional Indian sweets and desserts, specially curated for Diwali. These delectable treats are available on flights to India, Qatar, UAE, Singapore, Malaysia, and Indonesia.
The VistaJet Wellness program offers an array of wellbeing experiences that span four continents and encompass over 20 disciplines. Members can embark on a transformative journey of wellness, longevity, and tranquillity with pre-flight, in-flight, and at-destination experiences. In collaboration with J Wellness Circle by Taj Hotels in India, renowned for luxury and impeccable service, VistaJet offers bespoke meditation, spa, and wellness stays tailored to members' needs. These programs draw inspiration from ancient Indian wellness traditions, blending rituals with authentic and pure ingredients, rooted in Ayurveda and Yoga principles.
VistaJet has partnered with Taj Hotels to offer beautifully crafted Diwali gift hampers. These hampers are a wonderful way to share the festive spirit and can be ordered on VistaJet flights departing from New Delhi, Mumbai, Bangalore, and Hyderabad. It's a convenient and heartwarming gesture to connect with loved ones during this special time.
Matteo Atti, Chief Marketing Officer at VistaJet, expressed the company's commitment to making passengers feel at home during their journeys, emphasizing the importance of celebrating cultural and traditional occasions with their diverse global members.
This Diwali, VistaJet is not just an aviation company; it's your partner in celebrating the Festival of Lights, offering a tapestry of experiences that merge tradition, wellness, and the joy of sharing. Join VistaJet and embrace the Diwali spirit like never before.
Visit the Website for more details.