On October 1st, World vegetarian day is celebrated annually to create awareness about the health benefits. A vegetarian diet includes a diverse mix of fruits, whole grains, nuts, and vegetables that supply fiber, vitamins as well as minerals. A Vegetarian diet reduces the risk of chronic diseases like blood pressure, heart diseases ,obesity, and improves mental clarity, and contributes to upgraded mental health. Comparatively, vegetarians have stronger immune systems and this has been found that they live 10 years longer than meat-eaters.
Moreover, a study by Oxford has found that vegetarianism delays the onset of aging.
Well, many food outlets and restaurants provide only vegetarian meals dedicated to this day. It is a good day to show people that you can still enjoy food by going meat-free. It can become a reason to spread a message that nothing is best than a fresh natural food.

For World Vegetarian Day, we visited a few places around Dubai to explore the vegetarian options!


Govindas:– It is run by the Iskcon members based in UAE. Their Sattvic food emphasis on vegetarian ingredients that are fresh, and naturally sourced. "The Bhagavad Gita says that a sattvic diet is good for one's physical, mental and spiritual well-being".Therefore everything here is made without Garlic, Onion, food coloring, and/or preservatives. You would neither miss the onion or garlic taste in any of the dishes nor will you desire meat taste (For Nonveg Lovers). We started from Pani Puri, Paneer tikka, Veg Szhewan Fingers, and veg tiraga sabji and summing up with Rasmalai and Rabdi. You just can't miss this sweet dish! Many oil-free offerings are there to make your meals even healthier! It is located in DSO, Dubai. They also have other branches in Karama and JLT.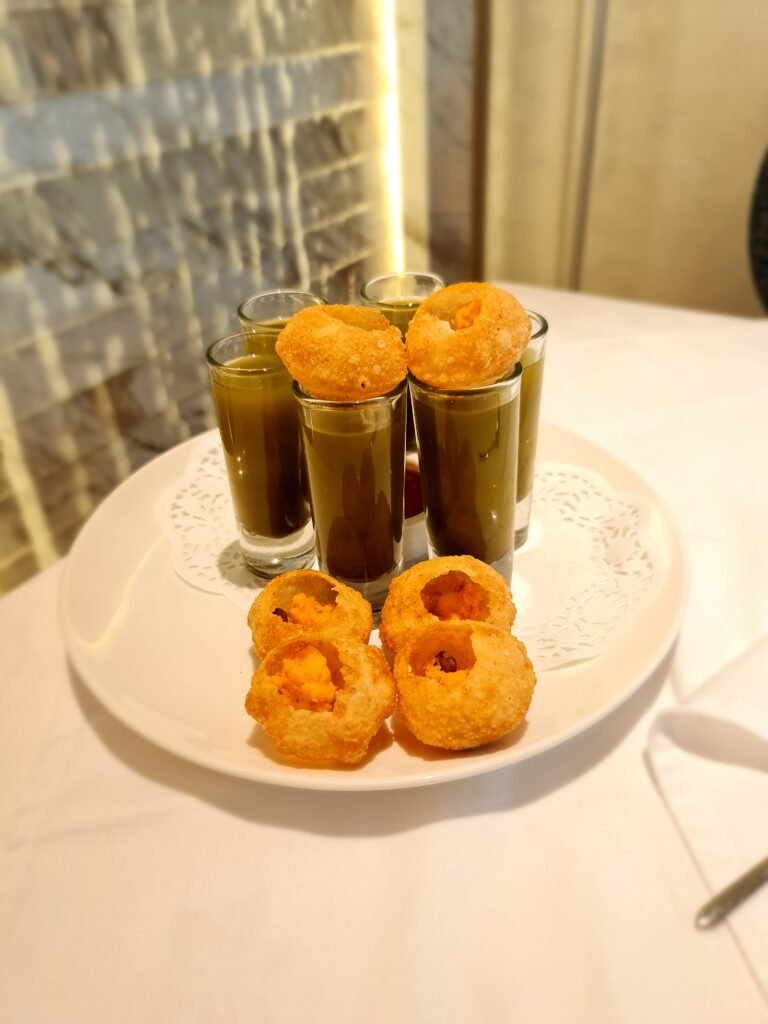 Vego:–This is a 100% vegetarian place having vegan, GF, and Jain options for all kinds of vegetarian lovers. They are having a small seating area and along with that, you can enjoy some great board games there while having your food. They have a variety of Veg Options, Customizable Dishes, Weekend Brunch, and a wide option of eggless cakes and pastries. Apart from that, we tried a few dishes from their menu. I started with Vego Uttampam, Dosa Waffle, which I liked the most, and finally Avo toast, and Crispy Potato Slider. They are located in Mankhol inside Spiceklub Restaurant
Maharaja Bhog -Celebrate Royalty:- The décor, the ambiance, the vibe of the place do justice to its tagline! We went there on a weekday evening, the food tasted good and the service was quick even though the place was almost full. Their service is designed to royally pamper their customers with an exceptional dining experience! Their premium vegetarian 'thali' is an unlimited sit-down buffet with table service and a new menu daily. From the Live paani puri counter, then towards the thalli where all the dishes are served in front of you, and they prepare masala papad and chaas next to your table. This is located in Karama next to Ansar Gallery Mall.
Rasoi Ghar – This place serves food inspired by authentic flavors of Gujarat, Kathiyawad, and Rajasthan. Their kitchen is see-through and every day a new menu is served. The food tastes well even with lots of ghee in it. Their way is very simple while serving food. First, you would be served a plate with all the starters in it then they will serve the Main thali dish. This place is located in the Karama area Opp to Burjuman Mall. It's a big spacious place to enjoy yourself with your family.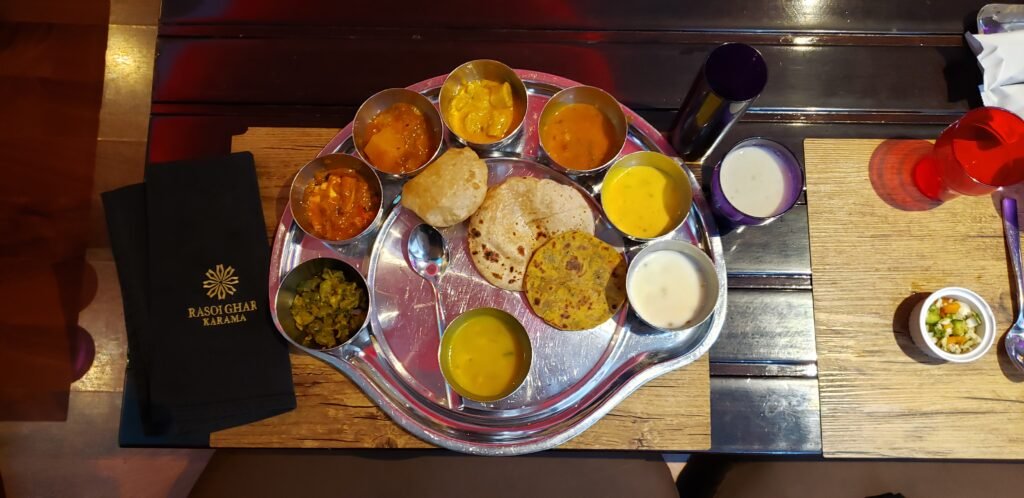 Mami's Illam –This is the perfect place for wholesome South Indian Food. A lady runs this business and all the dishes are their creation. Starting from Idlis to dosa to thali everything tastes so good, just like your traditional home-cooked food. We tried their thali which tasted delicious as here you can get cuisines at an affordable price. It would become difficult for a single person to finish it. It is located in Discovery Gardens.
Padmanabha– Tired of eating junk food ?? Why not try one of the best Gujarati-Rajasthani Premium Thali. It has an open and closed sitting area and a Lake view. Thali consists of four different subzi, three different types of dals, interesting starters which consist of chaat also. You also get two tasty desserts and don't forget the kulfi separately. Different types of options of rice and khichdi are also available. The best part of this thali is you can have unlimited of it. It is located in Jlt (Jumeirah lake tower).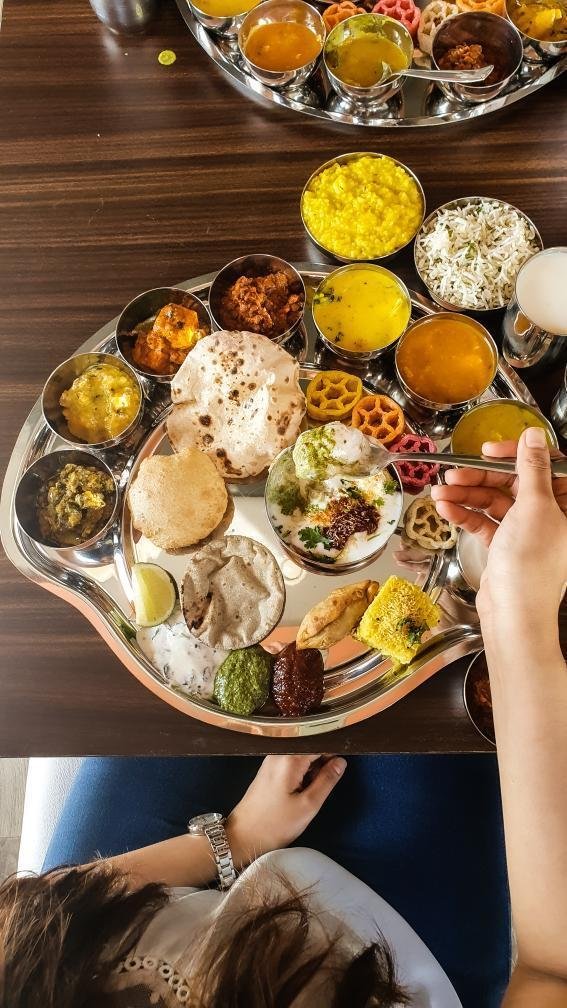 All in all, we had a wonderful, cultured and rich gastronomical experience ,so do give it a try!!