As the sun begins to set on another scorching summer, there's a glimmer of excitement in the air for all those seeking the perfect escape. Brace yourselves because Summersalt Beach Club is throwing open its doors on September 1st, promising a renewed seaside haven that's set to redefine your leisure experiences.
Nestled along the pristine beachfront of Jumeirah Al Naseem, Summersalt Beach Club is more than just a place to unwind; it's a symphony of relaxation, entertainment, and culinary excellence. Imagine sipping a cocktail while gazing at the iconic Burj Al Arab, all while indulging in luxury and leisure. Summersalt Beach Club ensures that every moment spent here is an experience worth cherishing.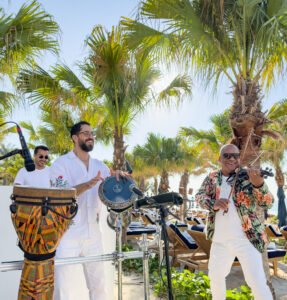 In anticipation of its grand reopening, Summersalt Beach Club unveils a meticulously curated beachside menu. Prepare your taste buds for a tantalizing journey through Latin American flavors, featuring delicate bites, sumptuous sushi, and the freshest seafood. Whether you're craving a laid-back seaside lunch or a sophisticated dinner, this culinary experience will surpass your expectations and tantalize your senses.
The menu is a treasure trove of delights, including Ceviche de Lubina y Ají Amarillo (Sea bass with yellow chili tiger milk and crispy calamari), Tataki de Bife de Chorizo (Wagyu beef striploin tataki with chimichurri, teriyaki, and chili sauce), and Bacalao Negro Caramelizado (Miso-caramelized black cod). Don't miss out on Summersalt's Signature sushi, featuring options like Salmon Aburi with Yuzu Chives, Sea Bass with Shiso Salsa, and Canadian Lobster with Unagi. While dining on the open terrace, you can soak in iconic views of the Burj Al Arab and uninterrupted sea vistas.
Ditch the ordinary and embrace the extraordinary with Summersalt's Day Passes. Whether you're yearning for a weekday escape or a weekend retreat, this beach club offers the luxury you crave. Ladies, there's a special treat for you throughout September—a day pass from Monday to Thursday for just AED 250, ensuring a day of elegance and leisure.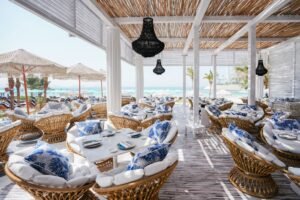 Summersalt Beach Club offers an array of day pass options, whether you desire a leisurely lunch or access to the pool and beach. It's time to plan ahead for an unparalleled beach escapade that stands out from the rest.
Mark your calendars, set your out-of-office messages, and prepare for a luxurious escape like no other. Summersalt Beach Club beckons, and your seaside adventure begins on September 1st. Don't miss out on the chance to be a part of this rejuvenated oasis by the sea!
Contact Details: Call 04 366 7680
Instagram: @summersaltbeachclub