Brace yourself for a sensory journey through the bustling streets of Beirut, right here in the heart of Dubai! Beirut Streets, a captivating Lebanese street food eatery, has arrived in Al Barsha, promising an authentic and immersive dining experience that embodies the essence of modern Beirut.
Imagine strolling along the lively streets of Lebanon's capital, where artful graffiti adorns the walls and charming building shutters captivate your gaze. Now, imagine stepping into Beirut Streets, where every meticulously crafted detail—from the patterned floors reminiscent of Hamra to the sight of electricity cables and inviting corners—transports you to the vibrant and nostalgic scenes of Beirut's bustling urban landscape.
The menu at Beirut Streets is a culinary ode to the rich flavors and vibrant street food culture of Lebanon. From sunrise to midnight, food enthusiasts can revel in a mouthwatering array of classic and creatively curated Lebanese dishes. Indulge in freshly baked Manakish, delicately prepared with a special dough, or savor the enticing selection of twisted street food delights. From sandwiches bursting with flavors to succulent grills, crispy falafels, and an extensive variety of both cold and hot mezzes, Beirut Streets caters to every craving with a fusion of traditional Lebanese cuisine and innovative twists that will tantalize your taste buds.
But the experience doesn't end there. Beirut Streets takes pride in complementing their delectable menu with handcrafted cocktails and irresistible desserts. Be sure to savor the renowned Bachir ice cream, served from an authentic ice-cream cart—a beloved symbol of Beirut's street corners. With generous portion sizes and competitive pricing, Beirut Streets promises an exceptional culinary adventure that satisfies both your palate and your pocket.
Behind this extraordinary culinary venture is Founder and CEO Alaa Shalak, a visionary with over 20 years of experience in the culinary industry. Shalak's expertise, honed during key positions at Zaatar w Zeit and Allo Beirut, has played a pivotal role in shaping the vision and development of Beirut Streets. Speaking about this exciting new venture, Shalak expressed, "We are proud to open our doors and share our distinctive take on the cultural tapestry of Lebanon with the UAE. Our mission is to showcase the warmth, hospitality, and culinary treasures that make our beloved hometown so special. We invite everyone to join us on this cultural journey as we celebrate the vibrant spirit of Lebanon at Beirut Streets."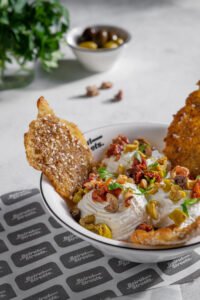 Conveniently situated opposite Mall of the Emirates in Al Barsha 1, Beirut Streets welcomes diners from 8 am to 2 am, providing a captivating and immersive experience of Beirut's streetscape. So, whether you're seeking a leisurely breakfast, a satisfying lunch, or a late-night feast, Beirut Streets is ready to transport you to the vibrant heart of Beirut, where flavors, colors, and energy intertwine.
To discover more about this culinary gem, visit @beirutstreets.uae or call 045859402. Prepare yourself for an unforgettable journey through the streets of Beirut, without leaving Dubai's Al Barsha!
Visit the Website for more details.