As the mercury continues to climb, carine, the renowned French Mediterranean-inspired restaurant, has unveiled its latest offering to beat the heat: a stunning indoor terrace adorned with a pergola. Nestled amidst breathtaking views of Emirates Golf Club and Dubai's iconic skyline, this newly covered terrace promises a cool and vibrant setting for guests to savor the flavors of summer.
Dubai's scorching summers call for a culinary experience that combines refreshing ingredients with exquisite taste. In celebration of this vibrant season, carine presents its carefully curated "Summer Selection" from its modern French menu—an invitation to indulge in the finest flavors of the Mediterranean while enjoying great company and a chilled glass of something exquisite.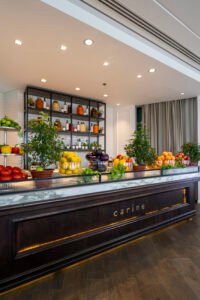 To awaken the palate, carine's Summer Selection features a must-have entrée: oyster with shallot, cucumber, and pickled apple. This delightful combination of flavors dances on the tongue, offering a symphony of sensations. Moving on to the salads, guests can revel in the refreshing watermelon with feta cheese and almond flakes, or opt for the tantalizing lobster salad dressed in yuzu—a perfect addition to any summer lunch.
For a taste of the South of France, carine presents a plate of crispy spicy calamari and zucchini. This dish, ideal for sharing or savoring alone, pairs exceptionally well with a captivating novel or a quiet moment of reflection. As seafood takes center stage during the warmer months, guests can indulge in a grilled seabream served with a vibrant salade verte, or savor the delectable seafood risotto with pistachios—a heartier option for those seeking a more substantial meal.
No meal at carine is complete without a sensational dessert, and the passionfruit cheesecake is a true delight for the senses. Its thin biscuit base supports a velvety, creamy middle, crowned with a zesty passionfruit topping—a signature taste of summer that lingers long after the last bite.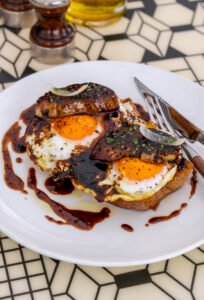 With its mouthwatering French Mediterranean cuisine and a charming ambiance, carine has firmly established itself as one of Dubai's most beloved dining destinations. Helmed by the renowned Chef Izu Ani, the restaurant is celebrated for its impeccable service and creative cocktails, ensuring a memorable experience for every visitor.
Escape the sweltering temperatures and transport yourself to a cool oasis at carine's enchanting indoor terrace. Indulge in the vibrant flavors of the Mediterranean, sip on refreshing libations, and revel in the breathtaking views that Dubai has to offer. Summer has never tasted so enticing!
Contact Details: Call 04 417 9885 or Email reservations@carine.ae
Visit the Website for more details.