Diwali or Deepavali is the "Festival of Lights" and is considered one of the most popular festivals. Diwali symbolizes the "Spiritual Victory of Light over Darkness"," Good over Evil", and "Knowledge over Ignorance".Dubai celebrates Diwali with spectacular fireworks with the world's largest fountain. Apart from enjoying your neighborhood illuminated with colorful lights and decoration, you can do a lot more fun and things with your partner or your family. Design a beautiful Rangoli and add Colorful Diyas to make it look more ethnic and lovely.
This Diwali, Are you craving some Indian food???
Pamper yourselves with those amazing Dishes on the Festive menus and celebrate Diwali with lots of Sweets. Visit restaurants that can make your Diwali more special with the rich ingredients and love in every bite.
Here is a list of restaurants serving Specially Curated Menus with tasty Indian Cuisines and Sweets in Dubai.
1. Sagar Ratna
The Pure Vegetarian Rajasthani Restaurant in Dubai, Sagar Ratna, is offering fresh Desi Ghee Mithai (no preservatives added) for Diwali. Prices of Desi Ghee sweet boxes by Sagar Ratna start at "AED 80 and go up till AED 120".
One can choose from a wide range of sweets that include Kesar Katli, Kaju Katli, Kaju Pista Roll, Anjeer Dry Fruit Burfi, Moong Daal Chakki, Besan Chakki, Mix Mithai, Motichoor Ladoo and much more.
Sagar Ratna
Mag 214, Lake Level 3, Cluster R JLT. Contact: +971 44533364
Near Lamcy Plaza, Oud Metha, Dubai. Contact: +971 43795493
Timing: 8am- 11pm
2. Dhaba Lane
"Relish the Diwali Set Menu" The festive season is in full swing in Dubai, and to celebrate Indian festivities, Dhaba Lane has launched exquisite dishes in its Diwali Festive Menu.
Dhaba Lane has intertwined Indian culture with tradition into their Diwali festive menu bringing dishes from different parts of the country.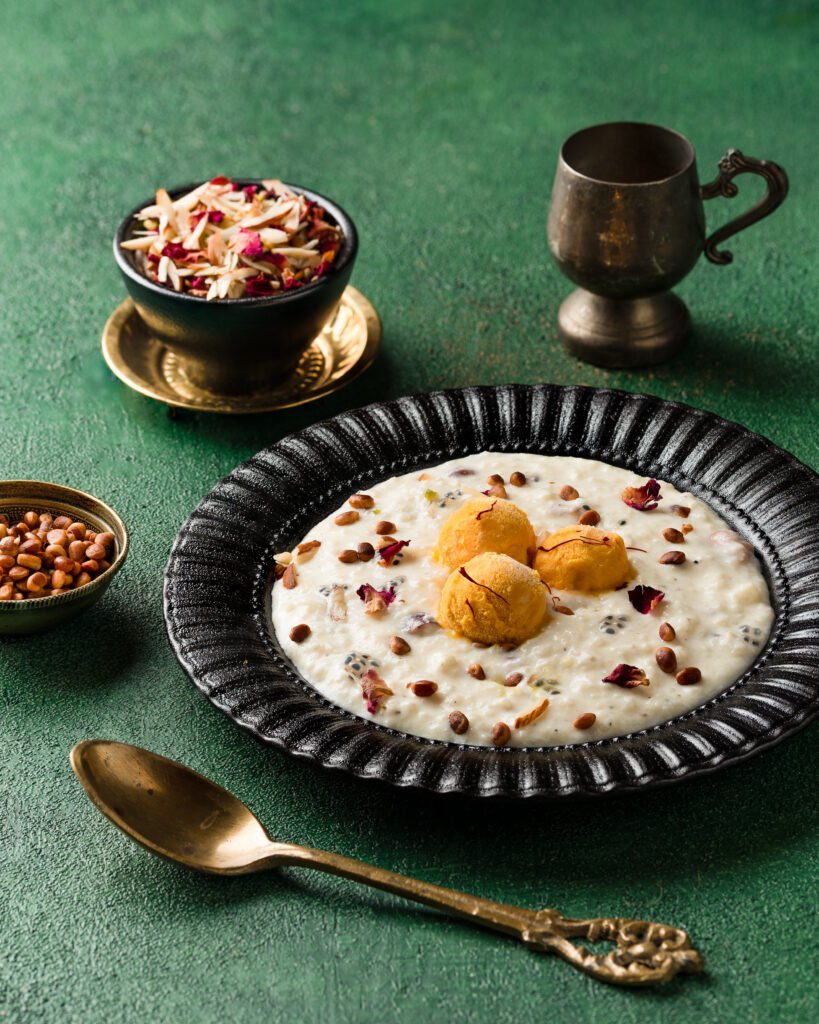 This festive menu has everything you craved for, from Moradabaad's Veg Seekh Kebabs served on a royal platter to Hyderabad's Mutton Biryani in Earthen Pot, from summer Shikanji cooler to Kolkata's Fish Curry Pata, from Palak Patta Chaat with Chai to Dal Makhani and Butter Naan, from everyone's favorite Mango Mule to Gulab Jamun, and much more. Flavorsome dishes from different regions of India bring the essence of Dhaba (Indian Roadside shacks) to your plate amidst an urban and chic set-up.
The set menu includes a Beverage, a Cold Starter, a Hot Starter, a Main Course, Dal Makhni, Biryani, Assorted pieces of bread, and two desserts.
Veg Menu is priced at 52 AED, and the Non-Vegetarian platter is 55 AED. It is available all day, Sunday to Wednesday, from Sunday, 24th October till 30th November
On weekends, the festive menu is available as Ala-carte.
Delve into the satiating palate food this Festive Season at Dhaba Lane.
Visit Dhaba Lane at www.dhaba-lane.com
Dhaba Lane Karama
Address: Opposite Spinney's, Behind Park Regis Kris Kin Hotel, Al Karama, Dubai
12 p.m. to 3:30 p.m.
6:30 p.m. until 12 a.m. (Weekdays)
6:30 p.m. until 1 a.m. (Weekends)
Instagram: @Dhabalane.dxb
Contact Details: +971 43583554
Dhaba Lane Garhoud
Address: Ground Floor, Al Garhoud Views Building, Al Garhoud.
12 p.m. to 5:00 p.m.
7 p.m. until 12 a.m. (Weekdays)
7 p.m. until 1 a.m. (Weekends)
Instagram: @dhabalane.algarhoud
Contact Details: +971 42237233
3. Modern Luxury Indian Restaurant, India Bistro World Trade Center
The modern Indian restaurant, India Bistro at World Trade Centre, known for serving traditional dishes with a modern spin is serving a specially curated Diwali Festive Menu.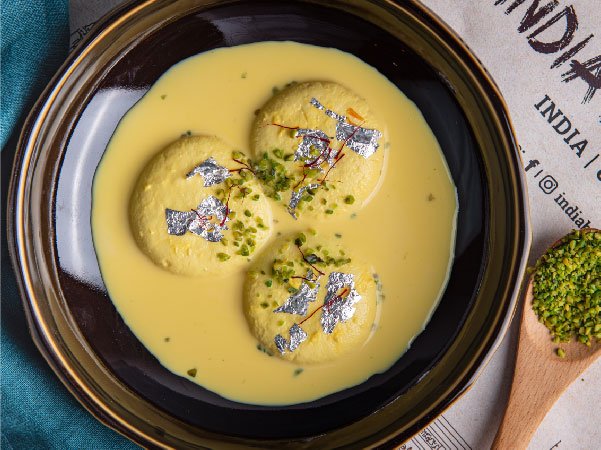 The special Diwali menu includes "two Chaats, two Grills, two Mains, pieces of Bread, Biryani and a Dessert". Relish your festive Indian meal complete with a chic ambiance carved out to serve modern-day discerning diners. Available in vegetarian and non-vegetarian options, the tempting dishes on the festive menu include Pani Puri, Samosa Chaat, Peri Peri Chicken, Zaituni Paneer Tikka, Burrata Butter Chicken, Railway Mutton Curry, Chicken Tikka Masala, Daal Makhni, Purvaanchal ka saag, assorted pieces of Bread, Dum Biryani, Slow Cooked Chicken Awadh Biryani, and Gulab Jamun, priced at AED 89.
Available for Lunch and Dinner from 3rd till 6th November.
Where: India Bistro World Trade Centre
Address: Shop No. 6 Sheikh Zayed Road Dubai WTC, Dubai, UAE
Timings: 12noon-12 am
Call: +971 45488336 / +971 526529353
Instagram: India Bistro UAE
4. Masala Bazaar
Celebrate the Festival of Lights at Masala Bazaar, the Indian dining concept at Park Regis Kris Kin, the hotel that connects the modern and historical Dubai. This Diwali, On November 4 and 5, indulge in a delicious festive dinner buffet featuring a wide selection of India's finest culinary delights for only Dhs79 per person.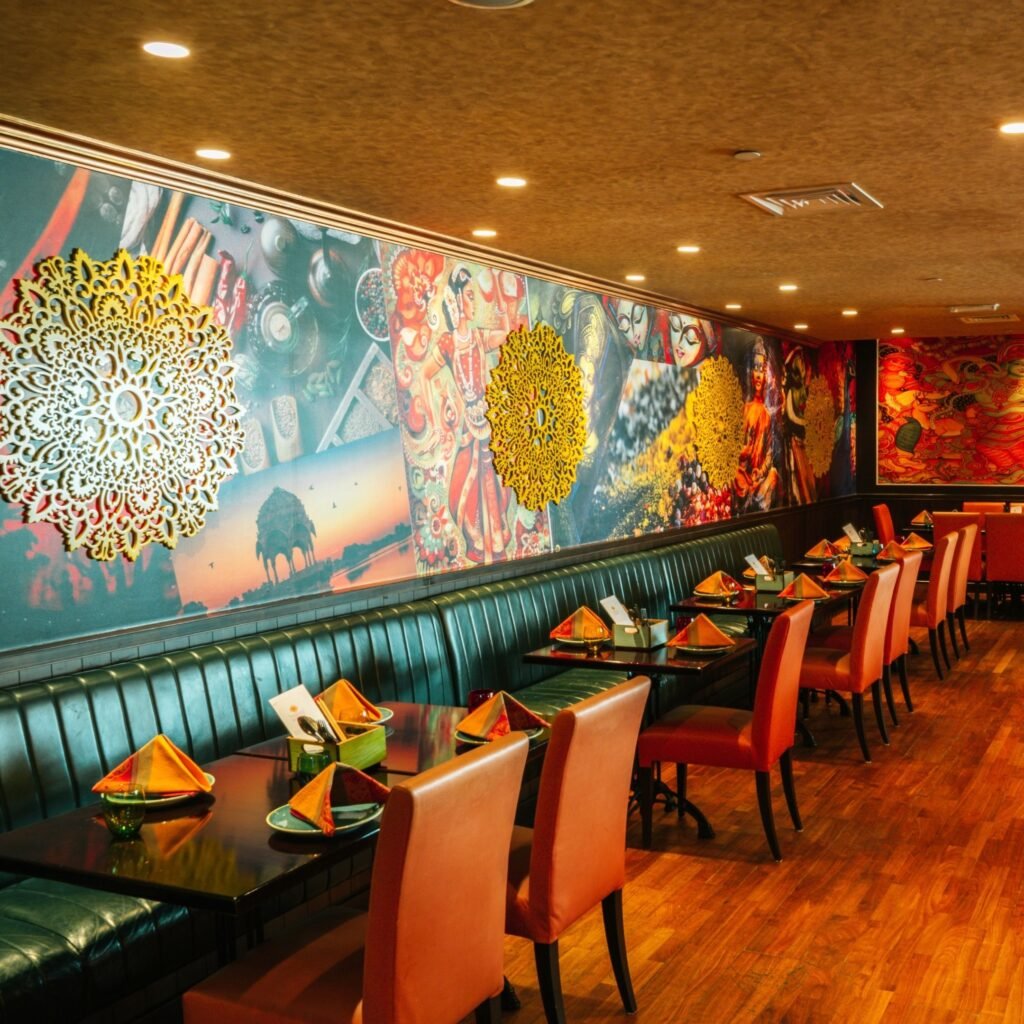 Enjoy special savory starters, appetizers, soup, vegetarian and non-vegetarian dishes, and desserts. Choose from the likes of Chicken Tikka Salad, Vegetable Samosa, Pakora to Mutton Kadai, Paneer Pasanda, and much more. Have a sweet end to your journey with classic favorites including Gulab Jamun, Boondi Ladoo, Jalebi, as well as Decadent Burfi and Rasmalai, along with Chaat and Pani Puri Stations too.
Masala Bazaar is located on the ground floor and takes guests on a culinary journey through the beautiful nation of India, blending age-old recipes with reimagined contemporary twists from North, South, East & West of the Country. Our Chef infuses modern with tradition and color with flavor, creating the perfect licensed neighborhood setting to unwind and delight in a little slice of India. Experience the very best of Indian cuisine over this year's celebrations!
In Dubai, Diwali is that time when all the communities that call Dubai home comes together and celebrates the festival of lights. Enjoy the festivities and make this year a Diwali to remember.
For reservations, please call ­­­­­­­+971 43771184 or email krisprkk@parkregishotels.com
5. Diwali Menu For Two at Sthan
Sthan, which in Sanskrit means 'a place', is meant to create an ideal environment for food that knows no borders, no boundaries. Sthan, as the name suggests will be unanimous to 'a place that serves the best frontier food. It is also known for serving flavors beyond the borders and is offering a special set Diwali menu from 4th November to 6th November.
At AED 139 (for two), one can choose two Starters, one Biryani, two Main Courses, and two Desserts.
Some of the Menu highlights include "Kadak palak chaat, Machi Ambarsari, Biryani Awadh ki, Achari Paneer, Dhaba da Murgh, Chicken Lababdara and Aloo Tomato Kut".
Finish your festive meal by digging into tempting desserts of Assorted Diwali Sweets and Parle Ji sandwich.
"Priced at AED 139 for two"
Available for Lunch and Dinner
4th November-6th November
Address: Sthan, Zabeel Road, Al Karama, Dubai, UAE
Phone: +97143997775
Timing: 12pm to 12am
Instagram: @sthandubai
6. Sugargram
There's no better way to celebrate than SUGARGRAM DELIGHTS. With the "Festival of Lights" around the corner, Sugargram presents the perfect gifting option that will make this festival shine! A festive box including 25 bite-size cupcakes for AED 135 and 50 bite-size cupcakes for AED 300 in 8 delicious flavors! These include Mrs. Weasely (Red Velvet), Jelly Jennifer (Peanut Butter Jelly), Sasha Speculoos (Lotus), Basic Becky (Chocolate Chip), Oreona Grande (Oreo), Fudge Judy (Chocolate), Holly Ho Lightly (Festive Batter), Love Rosie (Rose and Nutella filling) and Jennifer Appleston (Apple Crumble).
The limited-edition sleeve, specially made for the festive season, is inspired by the "Festival of Lights". The occasion sleeve shows a delicious "Jalebi", representative of the sweet joy and love shared on the occasion. The sleeve says "You're my Jalebi baby". 🎵 "Lookin' like a snack, Lookin' like a whole meal" 🎵 Sugargram is the real deal!
Sugargrammers can now order their festive box on Deliveroo and ChatFood. Whether these goodies are for you, or for your beloved ones, they will surely make this festival shine with sweetness.
The Sugar fam can place their orders by visiting https://order.sugargram.me/delivery/sugargram-bct
Fact Box
Brand: Sugargram
Offer: Diwali Cupcake boxes
Price: AED 135 for 25 bite-size cupcakes and AED 300 for 50 bite-size cupcakes.
Order: Deliveroo, ChatFood
7. Bombay Borough
Celebrate the Festival of Lights with gourmet Mithai boxes from Bombay Borough
Celebrate Diwali with Bombay Borough's gourmet Mithai (sweet) boxes that reminisce a journey through India's authentic sugary flavors while adding an epicurean flair. The all-day bar and eatery have exclusively launched its intricately designed Mithai box to relish during the vibrant festivities for AED 95 (all-inclusive) per box.
The box includes three pieces of 3 distinct Mithais (a total of 9 pieces), each representing different subcontinent regions with their own story to tell. The Dark Chocolate Kaju Ladoo is inspired by North India's all-time favorite sweet 'Kaju Katli', which is infused with Bombay Borough's house-made dark chocolate. The Filter Coffee Malai Ladoo is a quintessential, lusciously soft 'Malai Peda' with Southern India's favorite, malty 'Filter Coffee'. Last but not least is the Cocoa Peanut Chikki Ladoo, a delightful combination of crunchy peanut butter with dark cocoa that provides a nostalgic ode to the famous 'Peanut Chikkis' from Western India.
Every Mithai has been exquisitely hand-made under the guidance of the eatery's culinary team, emphasizing the rich heritage of the sweet and scrumptious flavors. By reflecting their cultural significance, the Mithai box acts as a token of gratitude and religious observance and as a symbol of enchanting hope and community.
Perfect for family gatherings and corporate giftings, the Mithai Box is now available for pre-orders and corporate orders by calling +971 43271555.
It can be ordered online between 29th October and 5th November via Zomato, Deliveroo, Talabat, Careem, and Noon Food.
8. Farzi Cafe
STEP INTO THE LIGHT: DIWALI AT FARZI CAFÉ
Dubai's much-loved modern Indian bistro is launching a limited edition meat-free menu that shines a new light on traditional feasting flavors. Head to Farzi Café this Diwali for an exclusive feast elevating traditional Indian flavors to the dizzy heights of modern gastronomy. Throwing trademark theatrical flair at the Festival of Lights, the modern Indian Bistro will glitter from the glow of diyas and candles as well as wall hangings backlit by strings of fairy lights. This year Diwali takes place from 4-8th November.
To compliment dazzling decorations, a specially designed meat-free menu priced at 149AED per person will include all those much-loved Diwali dishes #Farzified Starting the celebrations in style, a Minestrone Shorba, takes the classic Italian soup and serves it with Basil-Stuffed Khari and Aromatic Puffs of Rosemary Air. Choice of the second course includes a Paneer Tikka and trio of peppers served to sizzle from the tandoori with a sharp n' sweet mint chutney. Creamy Dahi kebab with hash Brown Tikki and Tomato kut, and Golden Arancini made from Rice and Dal for a decidedly Indian twist.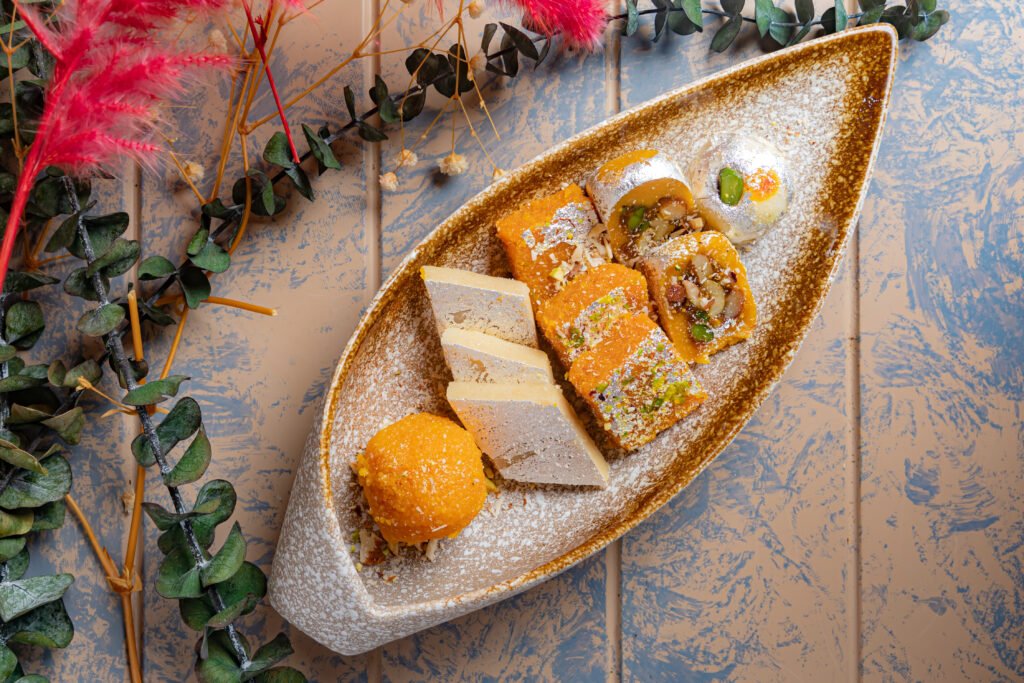 A selection of sharing-style main dishes includes Pillowy Bao Buns Stuffed with Chili-Laced Paneer. India's comfort food answer to risotto, khichdi made with nutty pearl barley; Rajasthani classic curry, kahdi, and more culinary mash-ups in the form of Desi Chowmein and a veg fried rice with extra spice.
Farzi's Diwali feast will end on a sweet-filled high with a spectacular Mithai platter designed to be passed around between loved ones. Traditionally offered to the gods then shared with friends and family, the dessert will showcase all the best Diwali sweets from cardamom-rich Moti Choor Ladoo to pretty-laced Jalebi to diamond-shaped Kajukatli.
The Diwali menu at Farzi Café will be available from 4-8th November 2021 and is priced at 149AED per person
Website – www.farzicafe.ae.
For reservations –
City Walk – +971526892012
Mall of Emirates – +971504075590
9. Celebrate the Auspicious Occasion of Diwali at the Taj Hotels in Dubai
This November, the award-winning Taj Dubai and Taj Jumeirah Lakes Towers, will be elevating your Diwali celebrations; From a month-long royal set-menu dinner at Bombay Brasserie to a weekend of family-style jubilations at Shamiana and curated sweet hampers for gifting loved ones, guests can choose from an extensive line-up of festivities.
Bombay Brasserie, Taj Dubai
Experience the grandeur of Diwali at Bombay Brasserie, the Burj district's Designer Indian Kitchen, invites guests to celebrate Diwali all month long! Award-winning Executive Chef Vikas Milhoutra and his team have put together a royal four-course set-menu accompanied by a selection of a la carte festive mocktails and cocktails. Spoilt for choice, guests can indulge in a selection of starters, sharing mains and desserts. Highlights from the menu include Kasundi Fish Tikka, Murg Ki Chap, Subz Shami Kebab, Awadhi Mutton Korma and Dal Kabila. For dessert, delightful festive treats like Gajar Halwa, Kesar Kulfi and Matka Phirni provide the perfect round up to your Indian feast. On Diwali, guests will be treated to live food stations including a Chaat Corner, a Kulfi Martini trolley and a traditional mithai (sweet) box with Bombay Brasserie's compliments.
Date: 1st November until 30th November
Time: Dinner from 18:00hrs – 23:00hrs
Price: AED 295 per person including a welcome drink and four-course set menu
Location: Bombay Brasserie, Taj Dubai
Shamiana, Taj Jumeirah Lakes Towers
Experience the traditions of the festival of lights. Shamiana, recognized as Dubai's Best Indian Restaurant by BBC Good Food Magazine Middle East invites guests to explore the culinary heritage of India on the occasion of Diwali. Guests can enjoy a three-day celebration starting with dinner on the 3rd of November. Executive Chef Diljith Kaiprath and his team have put together an exquisitely crafted four-course menu with highlights including Jheenga-e-Angara, Banarasi Gosht, and the popular Chicken Hara Pyaaz. Alternatively, vegetarian guests can enjoy the Nawabi Vegetable Pulao, Saag Paneer and Beetroot Asparagus Poriyal along with fresh tandoori breads. Bringing a sweet end to dinner will be a sumptuous selection of classic Diwali desserts like Pistachio Kulfi and Beetroot Halwa.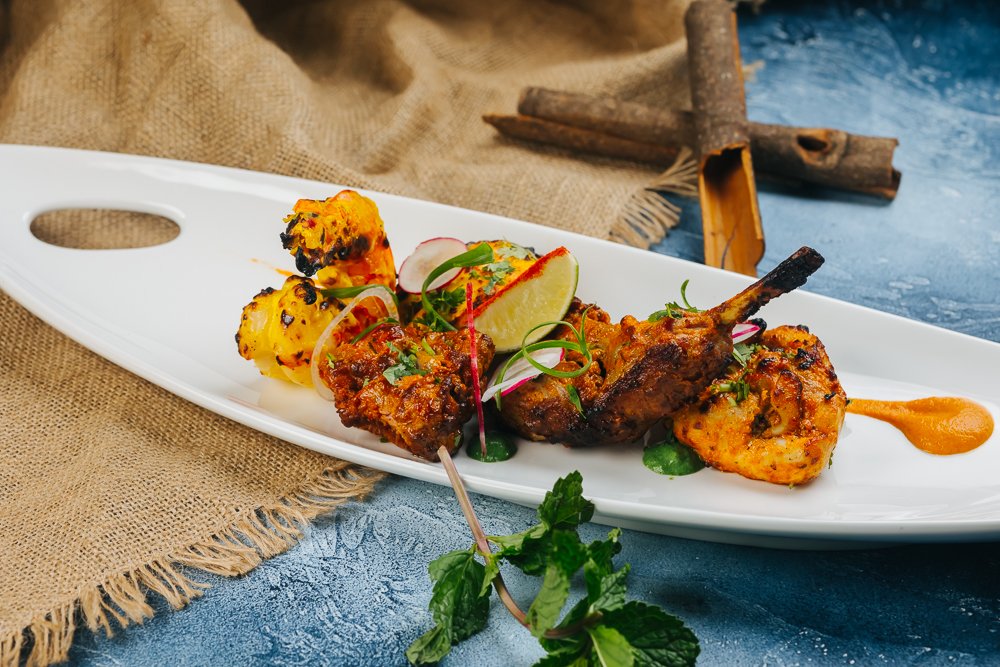 Date: Wednesday 3rd November and Thursday 4th November
Time: Dinner from 18:30hrs – 22:30hrs
Price: AED 175 per person for a four-course set menu dinner
Location: Shamiana, Taj Jumeirah Lake Towers
For those looking at brunching over the Diwali weekend, Shamiana will also be offering an unlimited family-style brunch of appetizers, live stations, mains, and desserts featuring special festive dishes. Guests will have the option of choosing from three beverage packages, including soft, house and sparkling.
Date: Friday, 5th November
Time: Brunch from 12:30hrs – 16:00hrs
Price: AED 175 per person (soft beverages) | AED 300 per person (house beverages) | AED 375 (sparkling beverages)
Images – Supplied