Eid Al Adha, also known as the Festival of Sacrifice, is a time for reflection, gratitude, and togetherness. In the spirit of this festive season, we bring you a delightful roundup of the best food and beverage (F&B) offers that will add a delicious touch to your Eid celebrations. Whether you're seeking traditional flavors, innovative culinary creations, or a fusion of both, this article is your guide to savoring delectable delights while making lasting memories with your loved ones. Get ready to indulge in an array of enticing offers that will make your Eid Al Adha celebration even more memorable.
F&B Offers
1. Palace Downtown
Prepare to enter a realm of traditional Arabic architecture and charm perfected blended with elegance and comfort at Palace Downtown this Eid Al Adha. Giving guests unrivalled experiences on every visit, this iconic property boasts some of the most sensational dining destinations, impeccable service, and breathtaking surroundings in the city.
Offering picturesque views of the iconic Burj Khalifa and Dubai Fountain, Palace Downtown invites guests to step into its majestic setting to enjoy world-class luxury as they feast upon tantalising international cuisines and refreshing experiences during the upcoming Eid Al Adha celebrations.
Contact Details: Call +97144287961 or Email DineAtPalaceDowntown@addresshotels.com
Visit the Website for more details.
2. OAnjo ,Dubai
OAnjo, Dubai's premier fine-dining destination serving an incredible blend of Portuguese and Japanese taste sensations, is delighted to announce its tempting Eid Al Adha set menu. Located on the 24th floor of Sheraton, Mall of the Emirates, and overlooking Dubai's magnificent skyline, this superb dining venue offers unforgettable experiences with its culinary masterpieces.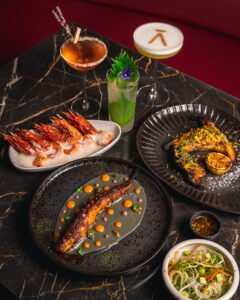 OAnjo is excited to welcome food connoisseurs to feast upon an excellent three-course menu this Eid, which is bursting with exciting flavours, making it the perfect spot to create cherished memories with loved ones.
Contact Details: Call +971 4 377 2007 or WhatsApp +971 52 587 9530
Visit the Website for more details.
3. Cleo
Embark on a remarkable gastronomic odyssey at Cleo, where the flavors of Levantine cuisine take center stage. Set in a beautiful Mediterranean architecture next to a stunning view of the Burj Khalifa, delight yourself in a special a la carte dinner set menu featuring a delicious array of hot & cold mezze, and mouthwatering main courses that will transport your taste buds to new heights.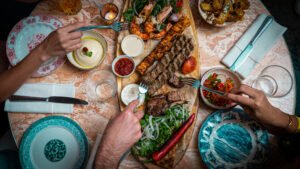 Complete your epicurean adventure with a tempting dessert, all at an exclusive price of AED125. As you savor each bite, surrender to the captivating melodies of Ahu & The Band. Cleo's culinary concept offers a refreshing twist on traditional Eastern Mediterranean dishes, blending Lebanese specialties with Middle Eastern favorites. From the moment you step in, you'll be immersed in the vibrant atmosphere that has made Cleo a beloved dining destination among locals.

Contact Details: +971 4 871 1111
Visit the Website for more details.
4. Katsuya
Your Friday dinner plans are sorted as Katsuya invites you to experience an evening of culinary excellence and vibrant ambiance. The upscale celebrity hotspot, renowned for its combination of Master Sushi Chef Katsuya Uechi's authentic cuisine and the masterful craftsmanship of Head Chef Pavel Nigai, proudly maintains its commitment to delivering the finest culinary experience in the city.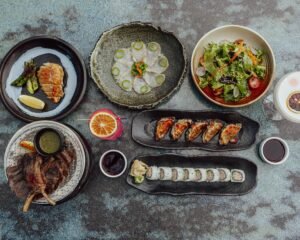 From 8pm onwards, let the vibrant beats of DJ Dipole fill the atmosphere with alluring lounge vibes, perfectly complementing your culinary journey and fashioning an evening that will leave an indelible mark on your senses. Indulge in the finest flavors of Katsuya and let the vibrant energy of the night elevate your Eid celebrations.
Visit the Website for more details.
5. Muchachas Mexican Cantina
Have a fiesta at Muchachas the much loved Mexican Cantina in Holiday Inn Express. Enjoy happy hour all day long and get a fantastic 20% off on food orders. Calling all guests to immerse themselves in the vibrant flavours of Mexico!
When: Wednesday 28th June 2023
Contact Details: Muchachas Mexican Cantina – Holiday Inn Express, Safa – +971 04 511 9333
Visit the Website for more details.
6. Cuisines Restaurant
Feast on a delectable Wednesday Eid Lunch, Thursday Eid Dinner, Friday Eid Dinner and Saturday Eid Mega Brunch, featuring a wide range of Arabic as well as Surf & Turf favorites.
When: Wednesday 28th June 2023
Contact Details: Cuisines Restaurant – Crowne Plaza Dubai Jumeirah – +971 04 702 7000
Instagram: @crwoneplazajumeirah
7. Spice Island Restaurant
Indulge in a 4-day Eid buffet dinner and delightful weekend brunches, all starting from AED 99. Plus, enjoy the convenience of 'Eid Full Ouzi' with free delivery, a full Ouzi meal (9/10kg) for only AED 899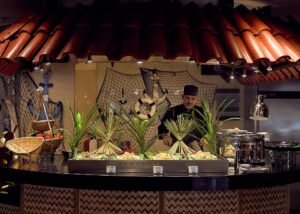 When: Wednesday 28th June 2023
Contact Details: Cuisines Restaurant – Crowne Plaza Dubai Jumeirah – +971 04 702 7000
Visit the Website for more details.
8. Krema Desserts
Krema, the homegrown cloud speciality desserts brand, is taking Dubai's dessert scene by storm with its chef-led concept and unique, exciting flavours. Co-led by Joseph El Hajj Corporate Chef and Hassan Salam Executive Pastry Chef from Alabbar Enterprises, Krema stands out from the crowd with its dedication to artistry, creativity, quality, and taste.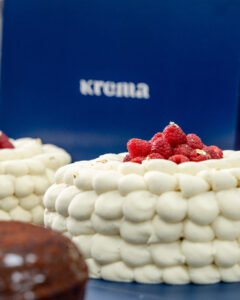 Instagram: @kremadesserts
9. Ganache Chocolatier
Decadent velvety caramels, nutty pralines with nuts sourced from internationally renowned brand, Carpo, and a wide selection of nostalgic flavours inspired by the region, Ganache Chocolatier's bespoke chocolates come in different forms and designs in over 100 varieties. Evoking vivid flavor profiles, each piece oozes richness with every bite as you embark on a journey of indulgence layered around natural ingredients with refined aromas.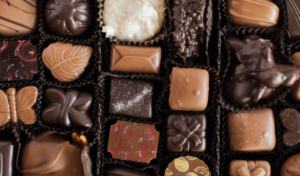 Instagram: @byganachechocolatier
10. Hudson Tavern
Hudson Tavern speakeasy at the Hyde Hotel Dubai presents "Sip and Sounds," an evening of exquisite live music, elevated bar bites, and carefully crafted cocktails. This is not your average mid-week night out. From 8pm until midnight every Wednesday, indulge in delicious Americana cuisine and sip on Hudson Tavern's exquisite selection of beverages, each one designed to complement your meal and send your taste buds into a frenzy.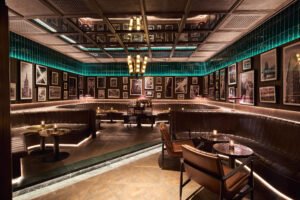 Hudson Tavern isn't just about the food and drinks. It's about the soulful and sultry sounds of Charley Ry, set against the dimly lit ambiance of the restaurant, creating an unforgettable experience for all. With her velvety vocals and magnetic stage presence.
Visit the Website for more details.
11. Dukes the Palm

For the upcoming long-weekend, the award-winning Dukes the Palm, A Royal Hideaway Hotel, unveils its Eid Al Adha promotions at two of its world-class dining destinations: the Great British Restaurant and Khyber. The property, situated in the heart of Palm Jumeirah, opens its doors to a world of luxury with deluxe amenities to enjoy this Eid long-weekend.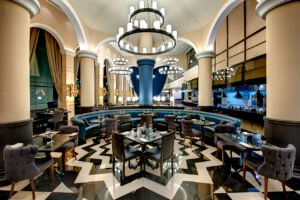 From the best of British cuisine at the Great British Restaurant to authentic Indian at Khyber, Dukes the Palm's premiere outlets promise to immerse guests in immemorable dining experiences.
Instagram: @dukesthepalm
Visit the Website for more details.