Diwali, the festival of lights, is just around the corner, and what better way to celebrate than by indulging in a shopping spree? As the entire nation gets ready to embrace the festive spirit, we at ICONIC Episode have scoured the market to bring you an exciting compilation of the best Diwali offers and deals along with a exciting gift guide section for your family and loved ones. Whether you're looking for dazzling discounts on fashion, last minute gift ideas, irresistible sales on electronics, or mouthwatering discounts on home decor, our roundup has got you covered. Get ready to light up your celebrations with these incredible offers that will make your Diwali truly special.
F&B
1. Address Grand Creek Harbour
Address Grand Creek Harbour invites you to embark on a winter wonderland journey with the enchanting 'Winter Soiree' Afternoon Tea at The Patisserie this Diwali. Set against the majestic backdrop of Dubai Creek, this winter-themed extravaganza promises to add a touch of class and grace to your festive afternoons.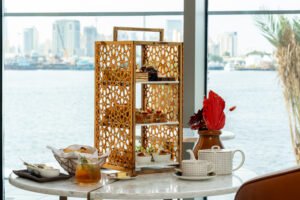 Boasting the most stunning views in a venue that exudes all the qualities of refined elegance, this is a not to be missed experience to take your festive dining to new heights. As you indulge in the delectable menu, you'll be serenaded by live piano music between 4:00 PM and 7:00 PM daily, except on Mondays and Wednesdays. 
Visit the Website for more details.
2.  Novotel Dubai Al Barsha
Get ready for a magical culinary journey to the colourful streets of India as Novotel Dubai Al Barsha gears up to celebrate the Festival of Lights. A dazzling treat to the taste buds awaits with a specially curated Diwali Buffet at the property's all-day dining restaurant 365.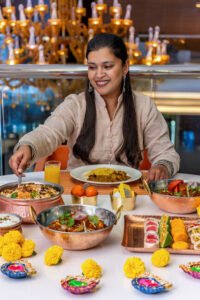 For just AED 125, guests can embark on a culinary adventure featuring a wide selection of Diwali delicacies. With scrumptious options for both vegetarians and non-vegetarians, there's an irresistible treat for every palate to savour. Novotel Dubai Al Barsha is inviting guests to immerse themselves in the festive spirit and create cherished moments with loved ones this Diwali.  
Visit the Website for more details.
3. Khyber
Khyber is all set to celebrate the Festival of Lights with a special Diwali Set Menu. Kicking off from November 8th to 12th between 5:00 to 11:00 p.m., the award-winning North-Indian restaurant is offering guests an irresistible four-course family set menu that promises to whisk guests away to the vibrant and colourful streets of North India this Diwali.
Adorned with a captivating blend of warm tones, intricate terracotta archways, and ornate tapestries, the award-winning North-Indian restaurant offers a unique combination of modern elegance with the charm of the Mughal era. Khyber's unparalleled ambiance guarantees an exquisite dining experience that will make this year's Diwali truly a memorable one.
Instagram: @khyberdubai
4. The Stables
Prosecco Friday at The Stables promises exceptional music, delectable food, and delightful drinks this Diwali. It's an exciting addition to Dubai's nightlife and dining scene that your readers will adore, offering a perfect start to the weekend with free Prosecco for ladies, live music, and a buzzing atmosphere.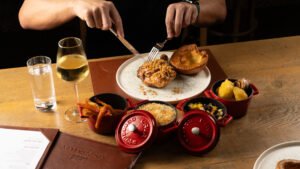 Kick-start your weekend with a glass (or several glasses) of Prosecco at the Stables Prosecco Fridays. 3 free complimentary glasses of Prosecco for women, 5 PM to 8 PM, Bottles at a discounted price of AED 110.00 until 11 PM.
Instagram: @thestablesdubai
5. Aamara
 Aamara, brought to you by the award-winning Passion F&B Group (Tresind, Avatara, Carnival), is here to dazzle your palate during the Festival of Lights with an exclusive 10-course Diwali tasting menu priced at AED 185 (all inclusive) per person.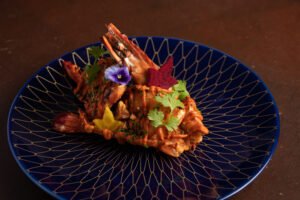 So embark on an unforgettable culinary adventure and create cherished festive memories.From November 3rd to November 16th, 2023, you can savour this special Diwali tasting menu at Aamara, a fusion of rich traditional flavours of Indian cuisine infused with the exotic influences of the Silk Route.
Instagram: @aamara.ae
6. Dhaba Lane
Celebrate Diwali with Dhaba Lane, Dubai's renowned Punjabi restaurant, offering a 5-course set menu at just AED 69 per person. Available from November 8th to 18th, the menu features a soup, a chaat, a selection of starters and main courses, breads, rice, and a dessert.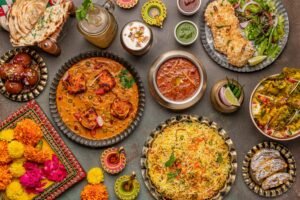 Experience the true flavors of India in a traditional Dhaba setting and make your Diwali celebrations truly special. Don't miss this culinary journey from November 8th to 18th at Dhaba Lane.
Instagram: @dhabalane.dxb
7. Punjab Grill
If delicious food and royal Indian ambience is what you are searching for this Diwali, look no further than Punjab Grill – a Michelin-Guide Select restaurant- serving modern Indian cuisine, is offering a special Diwali Menu.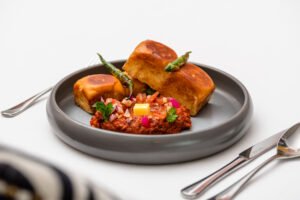 Prepare to be dazzled by Executive Chef Sandeep Ail's culinary wizardry as he artfully combines tradition and innovation to create an extraordinary festive menu to celebrate the spirit of the Festival of Lights. Available between 9th and 19th November at both Punjab Grill's Dubai and Abu Dhabi locations, this menu offers dishes that will light up your gastronomical experience just as the festival intends to.
Instagram: @punjabgrilldubai @punjabgrillabudhabi
8. Pincode
PINCODE by Chef Kunal Kapur, located in the heart of Dubai Hills Mall, is set to light up the Diwali festivities with an exquisite Diwali Menu from November 8th to November 14th. This special menu, priced at just 129 AED per person, is a culinary experience that mirrors the spirit of Diwali itself.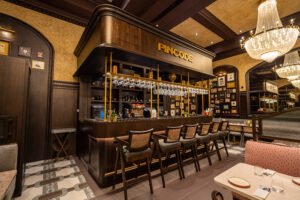 Join PINCODE by Kunal Kapur this Diwali season to celebrate with family and friends in a vibrant and welcoming setting. Immerse yourself in the festive spirit while savoring the flavors of India and experiencing the essence of Diwali. 
Instagram: @pincode.uae
9. Yoko Sizzlers
 In case you want to move away from traditional food this Diwali, head over to UAE's oldest Sizzlers joint to sizzle yourself with a three course set menu. Starting at AED 85 Yoko Sizzlers is  offering one sizzler, a soup, a dessert and a soft drink. Choose from the wide varieties of veg, meat, beef, prawns or chicken sizzlers.  
At Yoko Sizzlers, you can choose between deep grilled pieces of meat, chicken, fish or vegetable patties that are served with french fries, mashed potatoes, mushrooms, tomatoes, carrots and more.
Instagram: @yokodubai
10. Yummy Dosa
Yummy Dosa, specializing in Mumbai-style street food and offering 99+ varieties of fusion dosa, is thrilled to spice up your Diwali with its latest creation, the FireCracker Dosa!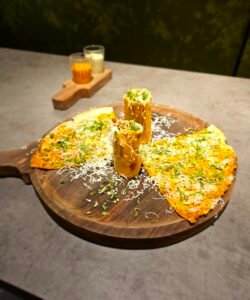 This explosive dosa is a flavor-packed blend of spicy Schezwan sauce, creamy cottage cheese, fresh veggies, and tangy tomato sauce, offering you the perfect Diwali flavor. Priced at AED 29, this limited-time Fire Cracker Dosa at Yummy Dosa will certainly add some sizzle to your celebrations. Join Yummy Dosa for a flavor explosion!
Instagram: @yummydosa
11. China Bistro & Art of Dum
Just in time for the festive season, Foodlink Group's Pan Asian restaurant, China Bistro and Indian Cloud Kitchen, Art of Dum, have decided to roll out their 'To-Go' special catering menus to make your festive parties hassle-free.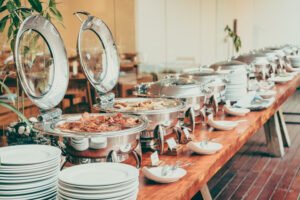 The catering menu includes a selection of starters, mains, desserts, and add-ons such as beverage stations and live stations for Dimsums, Baos, sushi, and Khao Suey. This Festive season, let the delicious food from China Bistro and Art of Dum, paired with Foodlink's catering expertise, make you the star hosts of the season.
Instagram: @chinabistrouae @artofdumdubai
12. Bombay Borough
In celebration of Diwali – the festival of light, Bombay Borough, the all-day Indian bar and eatery in DIFC, is introducing an exclusive brunch with a set menu that pays homage to the essence of community, culinary and festive traditions from all corners of the subcontinent.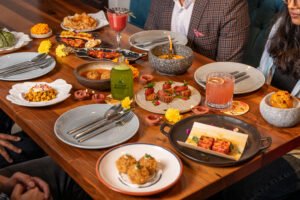 Bombay Borough's exclusive Diwali brunch is ideal for experiencing heartwarming group celebrations that highlight the joyous spirit of Diwali by bringing together regional delicacies and transporting diners into the magical moments of every Indian home during the festivities.
Visit the Website for more details.
13. Bombay Bungalow
With Diwali just around the corner, Bombay Bungalow – the Michelin-led modern Indian restaurant, is set to be the ultimate destination for a memorable and enchanting Diwali celebration. Ushering in the spirit of joy, unity, and prosperity, Bombay Bungalow introduces a tantalizing spread available this Diwali from November 6th until November 13th promising an authentic Indian experience like never before.
Meticulously designed to ensure a truly authentic experience, prepare to transport your tastebuds and immerse in a culinary affair this Diwali at Bombay Bungalow. 
Visit the Website for more details.
14. The Cinnamon Club
Experience the magic of Diwali at The Cinnamon Club, Dubai's modern Indian fine dining destination, nestled within Park Hyatt Dubai. As the vibrant lights of Diwali illuminate the city, guests are invited to a celebration that transcends tradition and culinary excellence.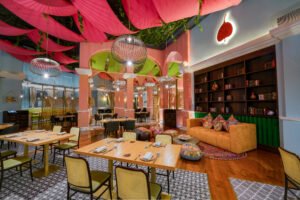 To mark the occasion, The Cinnamon Club has introduced an expertly crafted set menu available for a limited period from November 10th to 14th. Head Chef Kamini Jha and her expert team have put together a carefully curated offering specifically for the festival of lights, featuring a special thali-style dinner fitting for the Diwali celebration. 
Visit the Website for more details.
15. TAJ JUMEIRAH LAKES TOWERS
Taj Jumeirah Lakes Towers, the award-winning hotel of the Taj brand in the Middle East, will host a special Indian feast celebration at Shamiana. Enjoy a memorable dining experience at Shamiana that explores the diversity of Indian cuisine this Diwali.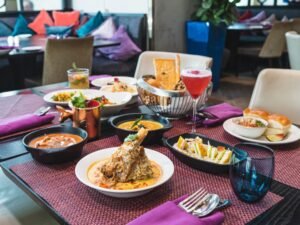 Discover signature dishes that highlight India's culinary heritage at Shamiana, the international outpost of Mumbai's iconic restaurant, known for its world-class cuisine and approachable service. Guests can celebrate with a vibrant menu at the table which includes both Non-Vegetarian and Vegetarian options. Date: 15th October – 30th November 2023 Price: AED 175 per person
Additionally, there will be a Diwali Special Brunch taking place on 11th and 12th November from 12:30 pm – 3:30 pm. The brunch menu will include a selection of kebabs, tantalizing Seekh Kebab, and appealing Amritsari chole with kulcha and many more delectables like this
Visit the Website for more details.
16. Chutney's 
This Diwali, enjoy the festivities of the occasion in its true fervour at Chutney's Restaurant  from the 8th to the 12th of November. The 5-star dining restaurant has organised a five-day festive extravaganza which includes a Diwali Special Set Menu serving a spread of authentic North Indian dishes, while the restaurant brings the Indian festival to life.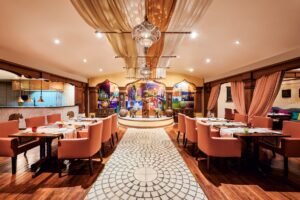 Get ready to immerse your taste buds in a compelling journey with Chutney's meticulously crafted Diwali Special Menu, available for lunch and dinner at AED 150 for vegetarians and AED 160 for non-vegetarians.

Visit the Website for more details.
Gift Guide
1. Kashkan by Ranveer Brar
Kashkan, the renowned culinary venture by celebrity chef Ranveer Brar, is all set to illuminate the festival of lights with a delightful range of healthy, sugar-free Diwali sweets. Emphasizing on health and natural sweetness, the brand has crafted an exclusive collection of sugar-free treats, perfect for celebrating the festivities guilt-free.
The much-anticipated Diwali sweet assortment boasts a careful curation of confectionaries that cater to diverse tastes and dietary preferences. Notably, the Kaju Katli is ingeniously prepared with a nourishing jaggery base, ensuring an authentic taste without compromising on health. 
Instagram: @kashkanbyranveerbrar
2. Kamat
Dive into a culinary extravaganza this Diwali with Kamat, the UAE's pioneering maestro of elevated Indian vegetarian dining since 1992. With a rich heritage of over three decades, offering an impressive range of over 350 dishes, Kamat is set to make this Diwali extra special with its handcrafted collection.
Kamat unveils an enchanting array of festive sweets from 1st November. The exclusive Diwali gift hampers and boxes will be available at all nine Kamat outlets across the UAE. Kamat warmly invites everyone to celebrate the festival of lights with these handcrafted delights.
Visit the Website for more details.
3. Mudra
Mudra is illuminating this Diwali with a splendid collection of luxurious, consciously crafted, and 100% natural beauty and wellness products inspired by Ayurveda from across the globe. This Diwali, revel in holistic wellness and craft your very own unique gift box. Simply select the products you believe would be perfect for your family and friends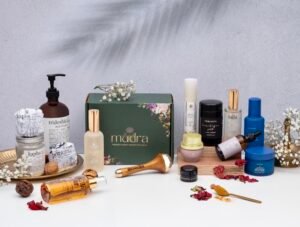 This festive season, gift the profound goodness of Ayurveda to your cherished ones, and make their Diwali truly extraordinary!
Visit the Website for more details.
Staycation & Parks
1. Mango House Seychelles, LXR Hotels & Resorts
Mango House Seychelles, LXR Hotels & Resorts invites guests to embark on an extraordinary journey this Diwali. Break away from routine and bask in the glow of Diwali at one of the most enchanting destinations in the world. 
Mango House offers guests a chance to step away from the traditional Diwali celebrations and embark on an extraordinary journey to a tropical paradise. Take this opportunity to break free from the routine and embrace Diwali in a completely new style!
Visit the Website for more details.
2. Sheraton Maldives Full Moon Resort & Spa
Nestled on the picturesque Furanafushi Island in the North Male Atoll is the Sheraton Maldives Full Moon Resort & Spa. Visitors can discover stretches of white sandy beaches, and beautiful accommodations that cater to every kind of traveler. For the culinary enthusiasts, the resort is a haven with its 7 dining establishments and bars, each offering delectable dishes from around the world and for those seeking ultimate relaxation, the award-winning Shine Spa awaits.
The offers, excluding accommodation, are worth US$ 98 (approximately AED 360) and US$ 148(approximately AED 543) per person per day. Room rates start at US$ 209 (approximately AED 767) per night. 
Visit the Website for more details.
3. Tilal Liwa
Tilal Liwa Desert Retreat, perched at The Empty Quarter's edge, invites you to celebrate the festival of lights from November 9 to 13, 2023 at this special avenue to natural beauty and solitude.Celebrating the victory of light over darkness, Diwali is a time for family and friends to gather, exchange gifts, and enjoy delicious feasts— and there's no better way to celebrate it than unwinding in a desert retreat and gathering around a bountiful table.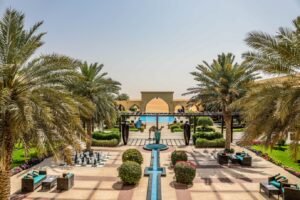 Three hours away from Dubai and not far from Abu Dhabi city proper, Tilal Liwa Desert Retreat is a unique destination located in the sands of Liwa amid rolling sand dunes and an unspoiled desert landscape. This hotel boasts pet-friendly rooms, three dining venues, an infinity pool overlooking the desert, and family-friendly desert activities.
Visit the Website for more details.
4.. The Green Planet Dubai
 The Green Planet Dubai, the only indoor tropical rainforest in the Middle East welcomes guests at its newly launched 'Nature Park' to discover the magic of Diwali from Wednesday, 8th November to Sunday, 12th November 2023.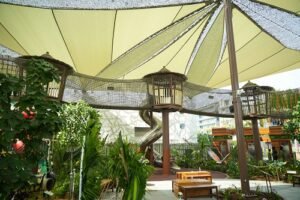 Guests can enjoy Diwali activities with The Green Planet Dubai's Nature Park Day Pass for only AED 69 per person from 10:00AM to 6:00PM or can extend their journey with a standard Green Planet Dubai Day Pass to access to both the indoor rainforest and the Nature Park, at AED 175 per person. 
Visit the Website for more details.
As our Diwali offers roundup comes to a close, we hope that you've found this guide to be a valuable resource in making your festive season truly unforgettable. With a plethora of discounts and deals at your fingertips, it's time to embark on a shopping journey that will light up your home and your heart. From all of us at ICONIC Episode, we wish you a joyous and prosperous Diwali filled with love, laughter, and the satisfaction of incredible savings. May the festival of lights bring you endless happiness and good fortune. Happy Diwali!