Are you ready for a gastronomic adventure that transcends borders and tantalizes your taste buds? Asia Asia Business Bay, the award-winning restaurant, bar, and lounge, invites you to indulge in a sensory culinary journey like no other. Nestled in the heart of Dubai's Business Bay, this exquisite establishment offers a tempting array of weekly dining deals that will transport you across the ancient Spice Route through both gastronomy and stunningly designed interiors.
Asia Asia Business Bay offers an opulent experience with delectable Pan-Asian cuisine. You'll find both indoor and al fresco dining options, all overlooking the glittering waters of the Dubai Water Canal. As soon as you step inside, you'll be captivated by the restaurant's ability to transport you to another world, thanks to its collection of hand-sourced collectible antiques, furniture, and art from around the globe. It's no wonder Asia Asia has been a long-time favorite, loved for both its ambiance and elevated menu.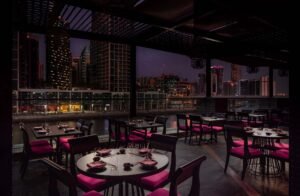 Taste of Asia
Ready to embark on a culinary journey that combines oriental fusion with international flavors? Look no further than "Taste of Asia," available daily from 6 PM onwards. This specially curated menu offers a four-course set menu that includes mouthwatering dishes like Crispy Sweet Potato, Truffle Salmon Carpaccio, Spicy Tuna, Indonesian Chicken Satay, and more. Finish on a sweet note with the delectable Matcha Fondant with Coconut Ice Cream. All of this can be savored for just AED250 per person.
Go Geisha Ladies' Night
Calling all Geishas! Asia Asia's award-winning Ladies' Night, held every Thursday evening from 6 PM to 1 AM, is the perfect way to unwind with friends. For just AED225 per person, ladies can enjoy a three-course set menu along with three handcrafted beverages. The menu includes delights like Avocado Maki, Khao Soi, Caramel Set Cheesecake, and more. Pair your meal with stunning views of the downtown skyline for a truly unforgettable evening.
Spice Route Evening Brunch
Step into the world of the ancient Spice Route every Friday and Saturday from 8 PM to 11 PM with Asia Asia's Spice Route Evening Brunch. For AED275 per person (soft beverages), AED325 per person (house beverages), AED375 per person (crew and teachers package), or AED475 per person (prosecco), you'll enjoy a four-course menu paired with unlimited beverages. Highlights include Beef Tartare, Black Cod Croquettes, and an array of other mouthwatering dishes. Live performances, musicians, and sparkler shows will elevate your weekend experience.
Sushi Sunday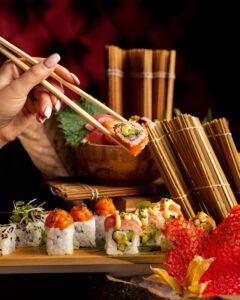 End your weekend on a high note with Sushi Sundays at Asia Asia. Available every Sunday from 2 PM to 6 PM, this culinary delight offers unlimited sushi, dim sum, and a bottle of grape for just AED330 per couple. Indulge in freshly prepared sushi rolls, nigiri, sashimi, and delicious dim sum options, all crafted with precision and using the finest ingredients.
Whether you're seeking a romantic date night, a fun evening with friends, or a weekend celebration, Asia Asia Business Bay has something special in store for every occasion. Don't miss out on these exclusive weekly offers that promise to elevate your dining experience.
So, are you ready to embark on an exotic culinary journey? Asia Asia Business Bay awaits, ready to transport you through the flavors of Asia and beyond.
Instagram: @asiaasiauae
For reservations at Asia Asia Business Bay, please visit: https://dubai.asia-asia.com/contact-bookings-business-bay/