Get ready to embark on a gastronomic journey that will delight your taste buds and leave you craving for seconds! Welcome to our extraordinary indoor brunch roundup, where culinary wonders await. Picture yourself stepping into a cozy, sunlit space filled with the tantalizing aromas of sizzling bacon, freshly baked pastries, and perfectly brewed coffee. As you take your seat at a beautifully adorned table, your eyes widen with anticipation as you gaze upon a vibrant buffet spread, boasting an array of delectable dishes that cater to every palate and preference.
So grab your friends, loosen your belt, and prepare for a brunch feast that will have you saying, "Brunch is always a good idea!"
THAI KITCHEN
Transport to Thailand's vibrant islands and the iconic Golden Triangle with The Thai Kitchen's all-new Sawasdee Sunday Brunch, coming right in time to create unforgettable summer memories while showcasing the mouth-watering original flavours and traditions of the lively country. The family-style brunch incorporates the best of Thai cuisine's signature taste elements such as sweet, sour, salty, and spicy, ensuring gastronomes get an authentic experience with a unique and exciting experience to perfectly end the weekend while they take in the views of the stunning venue, overlooking the greenery of Park Hyatt Dubai.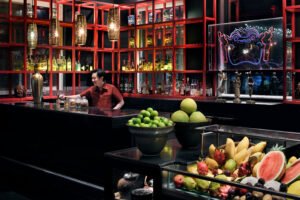 Date: Every Sunday
Time: 12:30pm – 4pm
Contact Details: call +971 4 602 1814
Visit the Website for more details.
AMAZÓNICO
Escape the desert heat in Amazónico's lush green oasis as they introduce their brand new, highly anticipated Tropicalia Weekend Parilla. The Latin-American restaurant plans to add some fire to your summer with a barbecue sharing-style menu where premium cuts of meat, grilled over charcoal take centre stage. The feast begins with an array of bites such as Pan de Queso, Arepas and Patacones accompanied by a range of dips and toppings including Guacamole, Pulled Veal and a Chicken Avocado salad.

To round things off, Amazónico's ultimate summer dessert, Piña Rostizada, is sliced up tableside fresh from the grill and served alongside homemade coconut and vanilla ice cream. The cool indoor atmosphere is complemented by a lively mix of their signature Electro-pical beats for a vibrant afternoon ambiance. Launching on Saturday, July 15th, Amazónico's new Tropicalia lunch is promising an elevated weekend lunch unlike any other.
Date: Every Saturday and Sunday starting from July 15th
Time: 12:00 pm to 3:00 pm
Visit the Website for more details.
BABYLON
The gates of Babylon are calling brunch-goers to start off the weekend right with 'Let Them Have Brunch.' Enjoy a Saturday brunch that promises exceptional gastronomy, immersive entertainment, and an electric party atmosphere like no other. Offering a decadent blend of exquisite food and beverages complete with a masterfully choreographed series performances, the Saturday fête is set within the luxurious indoor space, ideal for beating the heat of Dubai.
Timings: Every Saturday, 1pm-4pm; after-party from 4pm-5:30pm
Contact Details: Call 04 352 7750
Instagram: @babylondifc
Visit the Website for more details.
PRIME68
Prime68, the iconic steakhouse situated on the 68th floor of the JW Marriott Marquis Dubai, invites guests to its exquisite Saturday brunch, providing the perfect indoor brunch venue away from the summer heat. With summer temperatures rising, Prime68 offers an oasis of culinary delight in a cool indoor space to enjoy. Guests can escape the sweltering outdoors and indulge in a lavish brunch experience without compromising on comfort.
Guests can indulge in a sumptuous buffet or choose from an à la carte menu that includes an enticing range of appetizers, mains, and desserts. From prime cuts of perfectly grilled steaks to fresh seafood delicacies and vegetarian options, every dish is prepared with the utmost attention to detail and culinary expertise.
Time: 12.30PM to 4.00PM
Contact Details: call +971 4 414 3000/ +971 4 414 2000 or Email jwmmrr@marriott.com
Visit the Website for more details.
Observatory Bar & Grill
With the heat soaring sky high, Observatory Bar & Grill Dubai welcomes brunch-goers to cool off indoors with a fabulous Sky High Brunch offering to enjoy. Every Saturday, the brilliant dining venue offers the perfect escape from the rising temperatures. Step into the serene atmosphere of the 52nd floor of the iconic restaurant at Dubai Marriott Harbour Hotel & Suites, where a world of epicurean delights, extravagant views and cool ambiance await.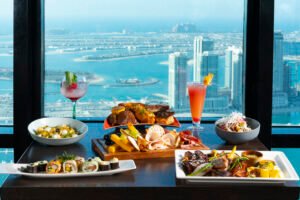 While savoring the exquisite flavors, guests can enjoy overlooking the stunning panorama of Dubai Marina and Palm Jumeirah. Let the breathtaking views serve as a soothing backdrop as you escape from Dubai's summer temperatures.
Day: Every Saturday
Time: 12:30PM to 3:30PM
Contact Details: Call +971 4 319 4000 or Email eatatharbour@marriott.com.
Visit the Website for more details.
Spice Route Brunch
Discover the multi-award-winning Spice Route Brunch as it takes you on a journey through the Spice Route of Asia and the Far East. There is plenty on offer to satisfy everyone from meat eater to vegan. Enjoy the iconic brunch on a Friday evening with the backdrop of the downtown skyline and stunning views across the Dubai Canal. Indulge in a four-course menu with unlimited beverages as you embark on the ancient spice route.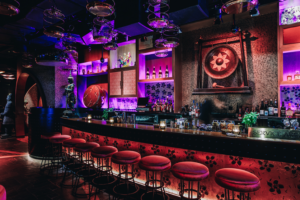 Day: Every Friday
Time: 8PM to 11PM
Visit the Website for more details.
GIARDINO'S
The Into the Jungle Brunch at Giardino promises unique experiences for the entire family within the comfortable settings of the fashion-inspired venue that extends throughout the expansive terrace.
Timings: Every Saturday, 1pm to 5pm
Entertainment: DJ / Magician / Kids activities
Visit the Website for more details.
MOGAO
Fresh to hit the Dubai Silicon Oasis community in January this year, Mogao by Socialicious has whipped out a brand-new summer menu for foodies and friends of the city. With a penchant for using organic produce and only premium quality ingredients for all in-house delights, the friendly neighbourhood hot spot brings home a tasty selection of summer-special hand-crafted menu dishes for lucky guests.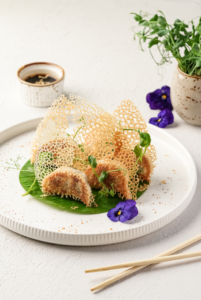 The new summer drinks selection has been artfully crafted with classics and refreshing summertime beverages infused with home-grown herbs from the restaurant's kitchen garden, so that guests can sip the lengthy afternoons away. Reminiscent of beach holidays in Thailand, order the Mango Colada mocktail or the Kaffir Lime Crush, muddled with strawberries and lime. For a livelier summer afternoon, discover the special Rose Garden Sangria that combines red apple, orange, green apple and delicate floral notes of rose wine and the subtle heat of vodka, or the Coffee Creamsicle treat that is made up of vodka, Kahlua and fresh cream. You're welcome!
Instagram: @mogaodubai
Visit the Website for more details.
Mr Toad's
Hop along to Mr Toad's at Premier Inn Dubai Barsha Heights for Tipsy Toad's, a new Saturday night brunch featuring live music, unlimited food, free-flowing drinks and an unbeatable atmosphere. Join us every Saturday (starting 15 July) from 7pm to 10pm for family fun, great value eats and your choice of drinks package, with prices from AED195 per person.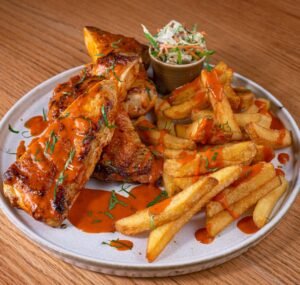 Tipsy Toad's exciting sharing menu includes unlimited servings of cold appetisers and hot snacks, including shrimp cocktail, Greek salad, caprese salad, nachos, beef sliders, fish and chips, buffalo wings, pizza, bunny chow, onion rings and potato wedges, washed down with free-flowing hops, grape, bubbly or soft drinks.
Visit the Website for more details.
GODIVA
Godiva, the world-renowned Belgian Chocolate Café, is delighted to announce its delectable offerings for the summer season at its incredible location in the stunning Rixos Premium Dubai. Prepare to satisfy your cravings and indulge in a heavenly assortment of mouth-watering treats, ranging from delightful crêpes and freshly baked croissants to heavenly waffles and their signature Chilled Chocolixer drink.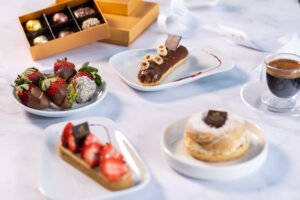 Whether you're seeking a quick snack or a delightful dessert experience, Godiva has something extraordinary in store for you.
Instagram: @godiva
Visit the Website for more details.
Ossiano
From the French coast to international waters, savor an array of seasonal ingredients and surprising delights at every turn. Experience extraordinary moments, from a glowing plankton narrative to the fusion of French and New York cultures. With accolades such as ranking 87th in The World's 50 Best Restaurants 2023, Ossiano promises an unforgettable dining experience.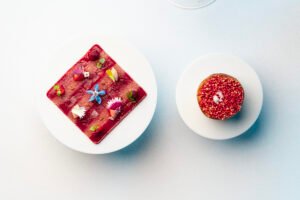 Available until Winter 2023, the 11-wave Escale menu will continue to pay homage to the riches of the sea and coastal land with all ingredients sustainably sourced from the oceans or within 50km of a coastline. Reservations for Ossiano's Escale are open now, Tuesday –Sunday, 6:00pm-1:00am (last seating 9:00pm). The experience consists of 11 waves, priced at AED 1,250.
Visit the Website for more details.
Republic Adda Bar & Lounge 
Republic Adda Bar & Lounge in Dubai's Business Bay offers Citizen Brunch Sundays, serving a variety of delicious Indian street food. Guests can enjoy stunning views of Burj Khalifa, live entertainment, and a vibrant atmosphere with hot and cold starters, mains, live stations, desserts, and beverages. 
The menu features a fusion of classic and modern Indian dishes, including their unique twist on the classic butter chicken. A kids' corner and live DJ complete the perfect weekend experience. 
Contact Details: Call +971529247596 or Email DXBBB_Republic@Hilton.com
Visit the Website for more details.
The Courtyard
The Courtyard, a popular dining destination in Vida Creek Harbour, is proud to announce the launch of its new food and beverage menus just in time for the summer. Combining urban chic with stunning views, this outstanding eatery offers picturesque views of the Dubai Skyline in a lush and cooled al fresco setting.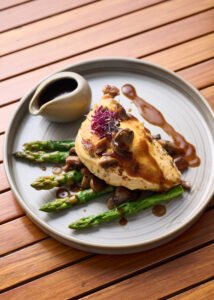 Launching the menus, which have been thoughtfully curated to offer guests a diverse range of dishes that showcase a fusion of flavours and cultures, The Courtyard is giving guests even more excuses to plan their next trip to the Creek. The Courtyard is open daily from 8.00am to midnight and welcomes guests of all ages, including pets.
Contact Details:  Call +971 4 428 8888 or Email hithere.creek@vidahotels.com.